United Nations Women states that one in three women face sexual assault at least once in their lifetime. The numbers in India are staggering too, with a rape occurring every 20 minutes. However, there was no platform that documents cases of sexual harassment.
So when Elsa D'Silva set out to create a community-based platform for Indians to share their experiences, she knew it had to be a full-fledged business. Even more so because Kingfisher Airlines, where she was managing the route network, was going through a tough time. The airline eventually shut and D'Silva went full-time into putting up SafeCity to make cities safer by encouraging equal access to public spaces for everyone, especially women, through data and technology.
The website lets users anonymously provide details of what happened, where, and when the incident took place. These complaints get aggregated as hot spots on a map indicating where the problems are occurring.
"Most women and girls do not talk about abuse for a multiple of reasons – fear of society, culture, victim blaming, fear of police, tedious formal procedures, and so on. As a result, the perpetrator gets bolder over time and we accept it as part of our daily routine. This leads to under communication and under-reporting of the issue," says D'Silva.
"If there are poor official statistics, the problem is not visible and is not a true representation of the actual problem. Therefore we need to break our silence and document every instance of harassment and abuse in public spaces so that we can find the most effective solutions at the neighbourhood level," she adds
Perception of the police's insensitivity, as well as cultural backlash, deter people from reporting. They feel more comfortable using the site, D'Silva claims. By representing the information on a map of hot spots, SafeCity is moving the focus away from the "victim" to the location. People can view the issue through a different lens.
Users can also sign up for alerts either based on location or category of harassment. This lets people understand the safety landscape of an area and make the most informed decision for themselves. For example, they can decide on the time of the visit, the method of transport to use, and if they need to be accompanied by someone, or even what clothes to wear.
On the site, there are also instances where people have offered help to those reported in the "comments" section. In Bangalore, a man offered to walk with a lady through an unsafe area.
Today, people make choices for pretty much everything based on reviews – books, movies, restaurants, and hotels. But we have nothing for personal safety. Safe City is creating this database, and it can be used in several ways.
Complaints to the authorities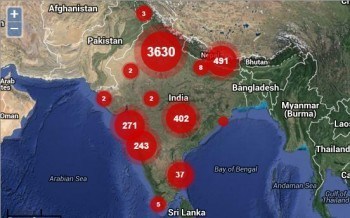 SafeCity was launched in December 2012, a few days after the horrific gang-rape of a student in Delhi. Since then it has collected 5,500 stories from over 50 cities in India and Nepal.
The data from this site is used to undertake local campaigns to find neighborhood solutions. Safecity has a direct link with the Goa state police where a person can lodge a complaint to the authorities directly. The police also receive a data file every fortnight for planning their patrolling strategy. In a suburb in Mumbai, based on complaints on SafeCity, a local Member of Legislative Assembly (MLA) released funds for installation of surveillance cameras at key junctions.
The startup also provides workshops for different age groups and demographics to educate on the issue, covering laws and personal rights as well as challenging cultural norms and attitudes. So far it has trained 3,000 people spanning the ages of 9 – 60 years.
Towards a safer world
SafeCity revealed that it bagged funding from True Global Venture's founder Dusan Stojanovic. The funding is in the form of a donation.
With this, it aims to collect 100,000 reports on personal experiences of sexual harassment. "This is important for our main offering that is the crowdmap as we wish to identify larger trends of harassment in public spaces. To do this we will be collaborating with other NGOs for data input, conducting workshops to educate, and improving our technology to be more user-friendly," says D'Silva.
While presently run on grants, it wants to organize more school and corporate workshops to earn revenue this year. The founder thinks this will also increase the users of its site. It also aims to launch apps and introduce other methods of reporting a crime like using the Twitter handle @pinthecreep.
The startup will also launch the service in Bangladesh, Cameroon, and Kenya.
Source : https://www.techinasia.com/[/fusion_builder_column][/fusion_builder_row][/fusion_builder_container]