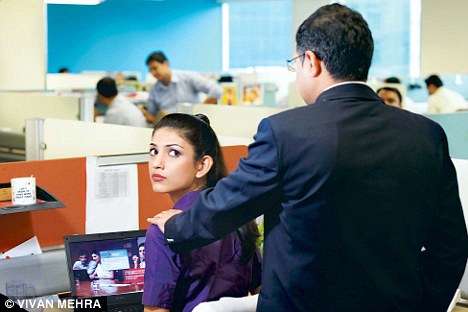 Sexual misconduct includes harassment outside office: HC
Sexual misconduct is an umbrella term for any misconduct of a sexual nature that is of lesser offense than felony sexual assault particularly where the situation is normally non-sexual and therefore unusual for sexual behavior, or where there is some aspect of personal power or authority that makes sexual behavior inappropriate.
The Delhi High Court recently stated that a man can be accused of sexual harassment at workplace even in cases where the misconduct has been committed outside the office premises.
"If an officer indulges in an act of sexual harassment with an employee, it would not be open for him to say that he had not committed the act at workplace but at his residence and get away with the same," a Bench headed by Justice A K Sikri said.
The court referred to the recent phenomena of senior officials of the private sector running their businesses from their residences with the advancement in information technology.
"An officer or teacher may work from the accommodations allotted to him. He would not be allowed to say that it is not a workplace," the Bench also comprising Justice Vipin Sanghi said, adding "a person can interact or do business conference with other persons while sitting in some other country by means of video conferencing."
The court passed its order on a petition filed by suspended Director of National Academy of Audit and Account S K Mallick, facing departmental inquiry for allegedly indulging in sexual harassment with his senior woman officer.
Mallick had contended that he could not be accused of sexual harassment at workplace as the alleged misconduct took place not at the workplace but at an official mess where the woman officer was residing.
But the court turned down a plea of Mallick.
"The conduct rules clearly stipulates that a government servant shall not indulge in any act of sexual harassment with any woman at workplace. The expression 'any woman' is broad enough to include a woman who may be senior in status as well," the court said.
In the case, Mallick had allegedly entered the room of the woman officer at Shimla in an inebriated condition on March 30 last year and misbehaved with her.
The woman filed an FIR the next day and also intimated senior officials of the conduct of Mallick, leading to a departmental inquiry against him.
Mallick was suspended in May on the basis of criminal case pending against him. He then approached the Central Administrative Tribunal (CAT) seeking to stay the departmental inquiry contending that the alleged misbehaviour did not come fall under the ambit of sexual harassment at workplace.
He filed a petition before the HC after the CAT refused to stay the departmental proceedings.