Description
Refractor Telescope
Bresser 80/640 EQ Doublet
The achromatic objective lens in the BRESSER  collects 30% more light than a 70mm telescope and already makes the first details on Mars visible. The rugged aluminum tripod gives secure footing on almost any surface and is easily and quickly set up thanks to its clever design.
This refractor telescope is equipped with an equatorial mount (also known as a parallactic mount). This allows for the compensation of earth rotation and the exact following of the celestial object observed.
Refractor Telescope Specifications
Product-No:46-80908 SkyLux
Article Name: BRESSER 80/700
Focal Length, Focal Ratio: 700mm, f/8.7
Front Lens Ø (Clear Aperture): 80mm
Resolving Power in arcseconds: 1.4
Electronic Eyepiece: attachable
Recommended Maximum Visual Power: 175x
Counterweight(s): 1 pc. standard
Accepts Eyepiece Barrel Ø: 31.7mm (1.25″)
Standard Eyepiece(s): RK-20mm, K-9mm
Magnification with eyepiece: 37.5x and 83x
Erecting Image Diagonal: 90 degree correct – so that your view is correctly oriented
Optical Design: Fraunhofer
View Finder Scope: Red DOT finder
Tube Body: Alloy
Telescope Mounting: Equatorial EQ- SKY
Telescope Tripod: Steel Tripod
Packaging type: CARDBOARD
Accessories Tray: INCLUDED
Shipping carton weight: 11 Kg
Shipping carton dimension: 100 x 35 x 17 cm3
The following items are FREE with the refractor telescope listed above. [ Subject To Availability ]
Star Chart Software
Bresser Rotatable planisphere
Magnitude 5 Star Atlas
Micro Fiber (Anti-Static) Cleaning cloth
Optics Cleaning Fluid
COLOUR POSTER 17.5″ x 22.5 " one
110 Messier Object Locator A4 size front back colour print
109 Deep Sky CALDWELL Catalogue A4 size front back colour print
Star Dial – Identifying Stars & Constellations
Various Astronomical Post-Card (SET-3)
Desiccant Cap – Refillable Desiccant Cap To Protect Fine Optics
Astronomical Telescope – user guide
The Moon Map Poster B/W chart unfold to 22″x26″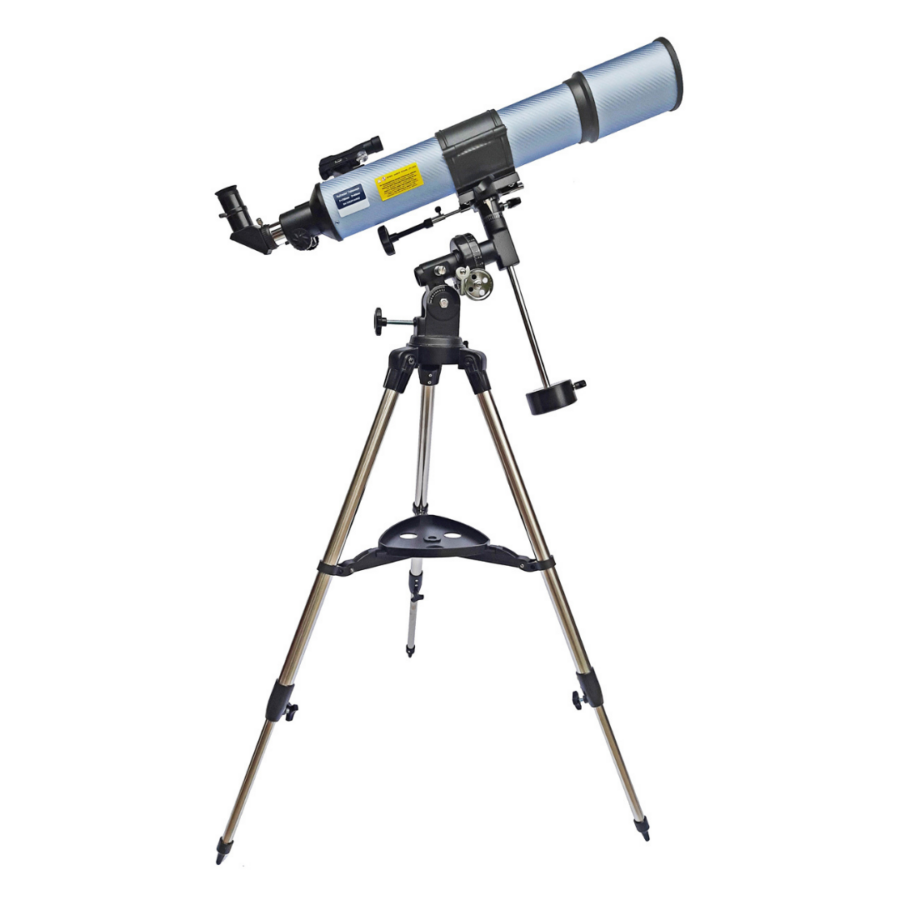 Refractor Homepage Binoculars and telescopes
The Bresser Messier AR-80/640 Nano Refractor Telescope is a complete beginner's telescope. It's a 3-inch achromatic refractor that's bundled with everything a newcomer needs to get started: a manual altaz mount, a red dot finder, a star diagonal and a 26mm Plössl eyepiece.
Its 3-inch aperture is more than adequate to allow observations of a wide range of celestial objects, its altaz mount is intuitive to use and the whole thing is a doddle to set up.
Achromatic doublet lenses, like the ones in this scope, are made from two types of glass that work together to minimise chromatic aberrations – an unwanted effect that produces coloured halos around bright objects.
More expensive optics have a number of special coatings applied to reduce reflections and increase light throughput, but this lens assembly has only one coating of magnesium fluoride (MgF2) – the minimum required.
The inside of the seamless aluminium optical tube is nicely blackened, though and has a single baffle to help reduce unwanted internal reflections.
What's In The Box
Bresser 80/700 Refractor Telescope
EQ mount
High Quality Eyepieces RK-20 mm & K-9 mm
Height Adjustable Steel Tripod
Counter Weight
Counter Weight Shaft
90 Degree Erect Image Diagonal
Red Dot Finder
Accessories Tray