Description
Explore scientific 102/600 Doublet Refractor Telescope
Explore scientific 102/600 telescope comes with a 25mm Plossl eyepiece, a 90° diagonal for more comfortable viewing, and a red dot viewfinder to aid in object location.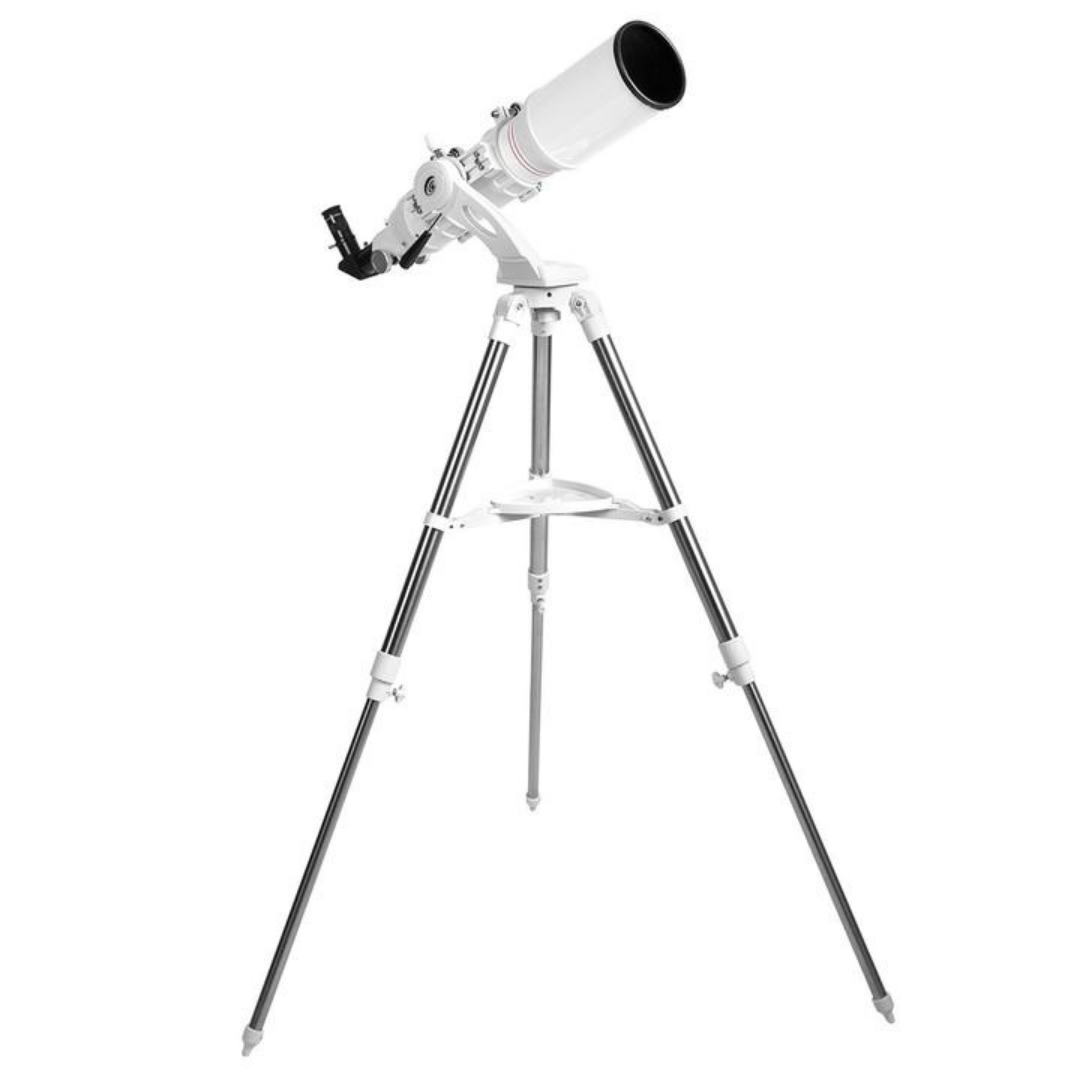 Smartphone Adapter for Explore Scientific 102/600 Telescope
How many times have you wished you could center your smartphone's lens right over the center of the eyepiece lens to grab an image of the Moon or a bright planet? It's not easy to handhold it as you will find out if you try.
This handy adapter works with any smartphone, holding it securely with a set screw to a standard size barrel 1.25-inch eyepiece. And with 35 soft silicon rubber suction cups, it will hold your smartphone firmly in the precise position, allow you to center the camera's lens.
Explore scientific 102/600 Doublet Refractor Telescope's Features
TELESCOPE SPECIFICATION

Model No.

EXPLORE FIRSTLIGHT 102MM DOUBLET REFRACTOR WITH TWILIGHT NANO MOUNT – FL-AR102600TN

Comes With

Smartphone Adapter
40mm draw tube focuser
1.25″ 90° Diagonal
One 25 mm Plössl Eyepiece
One 10 mm Plössl Eyepiece
Red Dot Viewfinder
T-Adapter for M42 T-Rings
Computer Software

Highest Useful Magnification
150x
Focal Length
600mm focal length
Focal Ratio
f/5.8
Adapter
40mm draw tube focuser
Optical Diameter
102mm

Eyepiece 1.25″OD

25 mm Plössl

Magnification with eyepiece
24x
Mount Type
Twilight Nano Alt/Az mount
2x Barlow lens
Buy Separately – Highly Recommended

Finder

Red Dot View Finder

Accessories Tray
Included
Tube Weight
2.9 kg
The following items are FREE with the telescope listed above. [ Subject To Availability 

Magnitude 5 Star Atlas

Micro Fiber (Anti-Static) Cleaning Cloth

Optics Cleaning Fluid

COLOUR POSTER 17.5″  X 22.5 "  One

110 Messier Object Locator     A4 Size Front Back Colour Print

109 Deep Sky CALDWELL Catalogue A4 Size Front Back Colour Print

Star Dial – Identifying Stars & Constellations

Various Astronomical Post-Card (SET-3)

Desiccant Cap – Refillable Desiccant Cap To Protect Fine Optics

Astronomical Telescope – User Guide

The Moon Map Poster B/W Chart Unfold To 22″X26″