Description
MAVIC AIR 2 Fly More Combo
Up your game with the DJI Mavic air 2 best prices in India which provide ultra-clear details through its 1/2-Inch image sensor and produce 4k/60fps videos and 48MP photos. Mavic Air 2 Fly more combo takes power and portability to the next level, offering advanced features in a compact form factor. Intelligent shooting functions and excellent image quality put aerial masterpieces within reach. Safer, smarter flight enables you to up your game while fully enjoying the creative process. With a max battery life of 34 minutes, DJI Mavic Air 2 grants more than enough time to compose the perfect shot. A midrange drone with flagship features, the DJI Mavic Air 2 Fly More Combo combines a foldable and portable frame, a high-end camera system, and a host of accessories to get you flying quickly. The 3-axis gimbal sports a 1/2″ CMOS sensor capable of capturing 8K Hyperlapse time-lapse shots, 4K60 video, 240 fps slow-motion 1080p video, and up to 48MP stills.
Meet DJI Mavic Air 2
DJI Mavic Air 2 Fly more combo, the successor to Mavic Air, comes with enhanced battery life, a Smart-photo feature, and an HDR panorama. Mavic Air 2 combines a powerful camera with intelligent shooting modes for stunning results. Creative aerial photography has never been this easy.
Master creative aerial shots thanks to effortlessly smooth 4K/60fps video.
With 4k/60fps video shooting, Epic is Easy
Powerful Performance
Mavic Air 2 is packed with a ton of enhanced smart features
With the next level content image quality, master creative aerial shots thanks to effortlessly smooth 4K/60fps video and 48 MP photos
Mavic Air 2 supports Hyperlapse in 8K, allowing you to warp time and space for especially stunning footage. You can achieve this shot without complex post-processing. Choose from Free, Circle, Course Lock, and Waypoint modes, select the shooting location, and the DJI Fly app will do the rest.
QuickShots Imagination Simplified
Explore your world without limitations.
Capture cinematic video clips automatically with QuickShots. With just a few taps, Mavic Air 2 plans and flies a complicated aerial route for a professional-quality shot. Add music, effects, and filters with super-intuitive Story templates so you can share your masterpiece directly to social media.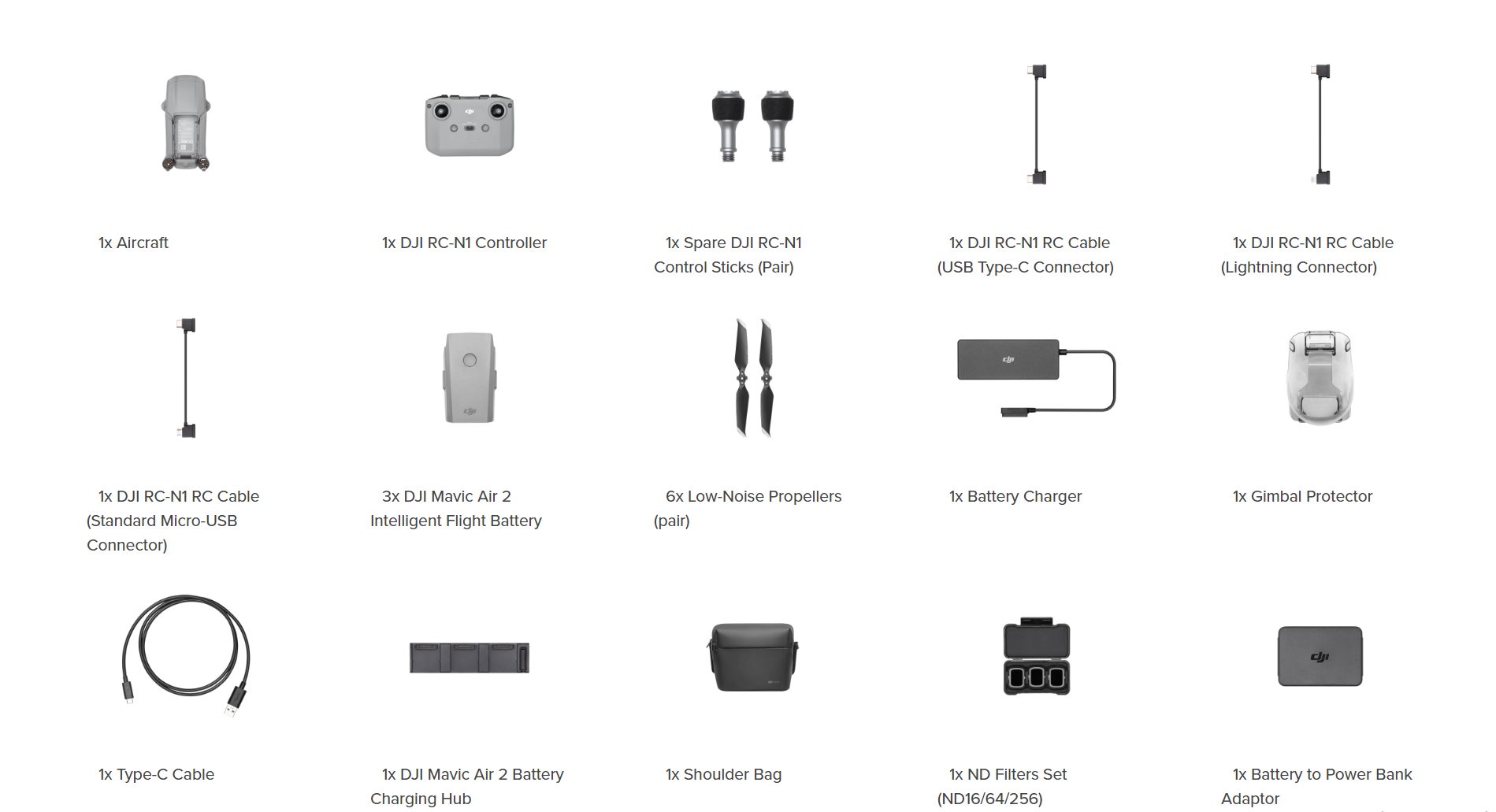 DJI Mavic Air 2 Fly More Combo
Product Details Specification
Frequently Asked Questions (FAQs)