Description
JBL BAR 500 5.1-channel soundbar
The JBL Bar 500 Pro 590W Bluetooth Sound Bar with Remote might help you enlighten your thoughts with some nice music. This soundbar, which is precisely engineered to produce an unrivalled 590w of output, makes you crank up the rock and roll. This device produces 3D sound that transforms your home into a theatre thanks to Dolby Atmos. It is designed with PureVoice Dialogue Enhancement Technology to further improve your cinematic experience. As implied by the name, this feature enhances the voice, making it sharper and more distinct. It enables you to always hear the dialogue, regardless of how loud the background noise is. Dance to the music because this entertainment system includes a 10-inch subwoofer. Each sound is given an enhanced touch, allowing you to focus on the bass. It features built-in compatibility for AirPlay, Alexa MRM, and Chromecast, making it simple to access more than 300 online music streaming services.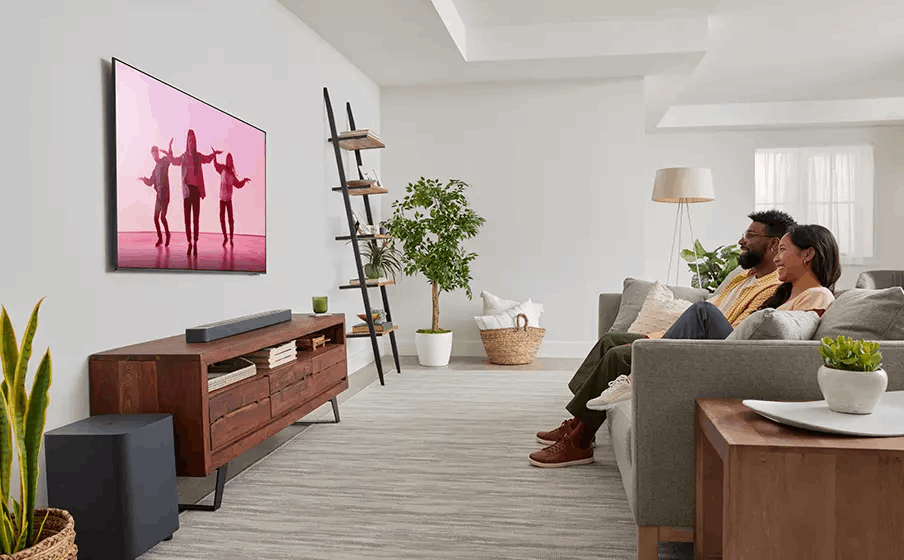 Dolby Atmos® and MultiBeam™ Surround Sound
Immerse yourself in theater-quality 3D surround sound. Hear extraordinary sound effects from everywhere in the room, without the need for extra surround speakers.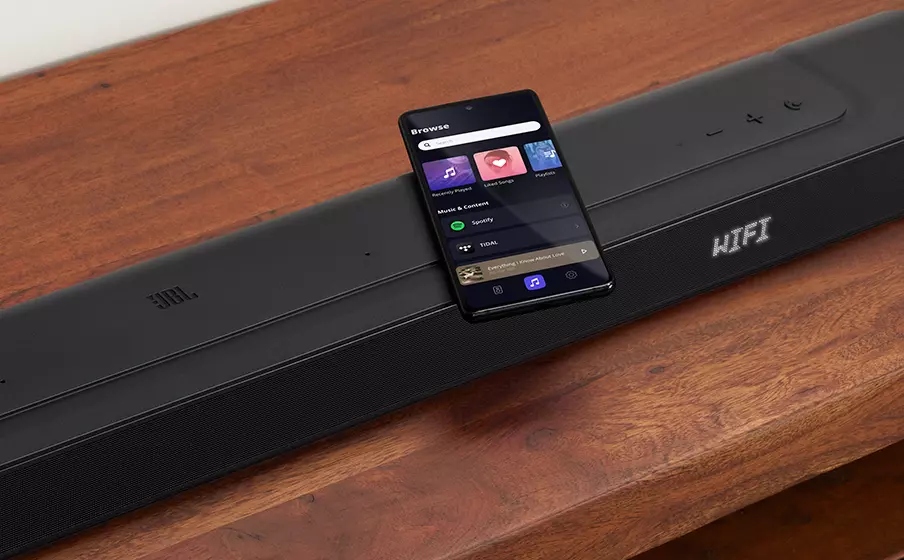 Built-In Wi-Fi with AirPlay, Alexa Multi-Room Music and Chromecast built-in™
Get ready to explore. Access over 300 online music streaming services through AirPlay, Alexa MRM and Chromecast built-in™. Enjoy all of your favorite audio content, Internet radio, and podcasts in high definition. The Wi-Fi connection also allows automatic software updates, so you can always enjoy the latest features.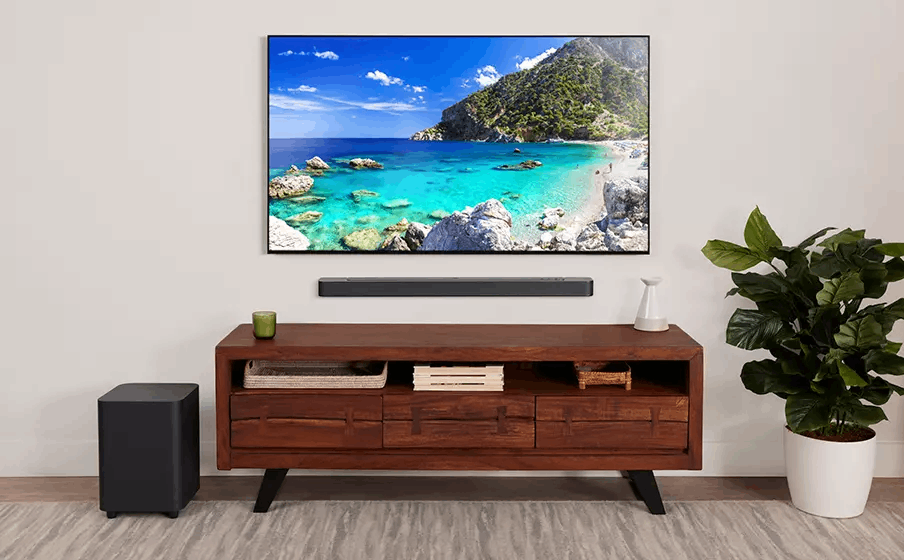 590W output power
With 590 watts of total system output power, the JBL Bar 500 transforms your movies, music and games into immersive sound experiences.
Amazing 3D sound with thrilling bass
What's on the menu tonight? Movies, music or gaming? The JBL Bar 500 brings your movies to life with MultiBeam™ and Dolby Atmos® 3D surround sound. While PureVoice technology optimizes voice clarity to ensure you never miss a word. Feel the thrilling bass from the wireless 10" subwoofer. And with AirPlay, Alexa Multi-Room Music (MRM) and Chromecast built-in™, you've got over 300 easy streaming options to choose from, whether you want to dance or you're ready to relax. Whatever you're in the mood for, the JBL Bar 500's got you covered
Operating Power Consumption (Main)

Stand-By Power Consumption (Main)

TOTAL POWER OUTPUT RMS (W)

OTHER FEATURES

590W output power
HDMI specification
HDMI input: 1
HDMI eARC: 1
HDMI HDCP version: 2.3
HDR pass through: HDR10, Dolby Vision
Wireless specification
Bluetooth version: 5.0
Bluetooth profile: A2DP 1.2, AVRCP 1.5
Bluetooth transmitter frequency range: 2400MHz –
2483.5MHz
Bluetooth transmitter power: <15 dBm (EIRP)
Wi-Fi network: IEEE 802.11 a/b/g/n/ac/ax (2.4GHz/5GHz)
2.4G Wi-Fi transmitter frequency range: 2412 – 2472 MHz
(2.4 GHz ISM Band, USA 11 Channels, Europe and others 13
Channels)
2.4G Wi-Fi transmitter power: < 20 dBm (EIRP)
5G Wi-Fi transmitter frequency range: 5.15 – 5.35GHz,
5.470 – 5.725GHz, 5.725 – 5.825GHz
5G Wi-Fi transmitter power: <23dBm (EIRP)
2.4G wireless transmitter frequency range:
2406 – 2474MHz
2.4G wireless transmitter power: <10dBm (EIRP)
General specification
Model: BAR 500 (soundbar unit)
BAR 500 SUB (subwoofer unit)
Sound system: 5.1 channel
Total speaker power output (Max @THD 1%): 590W
Power supply: 100 – 240V AC, ~ 50/60Hz
Soundbar output power (Max @THD 1%): 290W
Subwoofer output power (Max @THD 1%): 300W
Soundbar transducer: 4x (46×90)mm racetrack drivers, 3x
0.75" (20mm) tweeters
Subwoofer transducer: 10" (260mm)
Networked standby power: < 2.0 W
Operating temperature: 0°C – 45°C