Insta360 X3 Essential Kit
Pocket-Sized 360° Video
With its improved 1/2-inch sensor and larger touchscreen, the Insta360 X3 360° Camera is able to record high-definition video with both its 360° and its single-lens mode, making it the ideal compact action camera for a variety of scenarios. The X3 features a design that is ready for action and software that is powered by AI to provide a user-friendly experience for the creation of dynamic content in any setting. Its tough IPX8 design is naturally waterproof up to 10 meters (33 feet) and includes an internal, rechargeable 1800mAh battery to improve the amount of time that may be spent shooting.

The X3's dual 360-degree lenses are capable of easily capturing up to 5.7K video and 72MP still images. You have the option to switch to shooting with a single lens and capture 4K video at frame rates of up to 30. Turn on the MaxView option to take photographs with a resolution of 2.7K that cover an extraordinarily broad angle of 170 degrees.

While you switch between different capture modes, artificial intelligence-powered technologies will automatically reframe your photo in 360 degrees. "Me" Mode offers the illusion of an invisible selfie stick and is capable of recording video in resolutions up to 1080p at frame rates of 30 and 60 frames per second. This technique produces a result that is analogous to 5.7K reframing and is compatible with both the 16:9 and 9:16 aspect ratios. This artificial intelligence interface eliminates the need to reframe your movie in post-production while simultaneously capturing aerial angles and third-person perspectives, independent of the configuration of the selfie stick.

The X3 is capable of recording stereo audio with a reduction in wind noise and an augmentation of 360 degrees. The X3 records music that is more realistic and well-balanced than its predecessor because to its incorporation of four internal microphones and an improved audio algorithm. It also gives you the ability to use Voice Control 2.0 to change the settings of your camera even when it is mounted in an inaccessible location, such as on a selfie stick or head strap. The new 72 MP 360 Photo and 360 photographs have now received a significant improvement. Now you can capture still images with 72 megapixels and greater detail than ever before.

The X3's 6-axis gyroscope and FlowState Stabilization stabilize footage. 360° active HDR mode stabilizes your video while preserving details in the highlights and shadows for more vibrant footage of action sports like ziplining and mountain biking. Horizon lock keeps your video's horizontal plane steady and lets you rotate freely while maintaining the skyline level.
Stunning 4K Single Lens Mode Want to shoot first-person videos without reframing? Single Lens Mode lets you immediately publish wide-angle films on social media. Upgraded to 4K30fps. MaxView can shoot 170° video at 2.7K.

Shoot up to 8K 360-degree timelapses and 4K resolution, 120 frames per second, slow-motion bullet time videos.
Pre-recording mode starts a recording 15 to 30 seconds before the shutter is depressed, which helps anticipate the action before it occurs. This makes sure you record the precise moment you catch the largest fish of the day or the best wave to surf. When enabled, the camera constantly records audio and video for the chosen duration, but it only saves to your SD card when you push the shutter.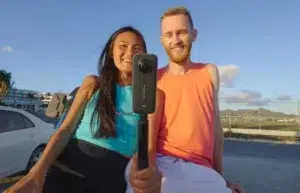 You can quickly edit videos for social media using the Insta360 software on your smartphone. It has new modes and effects. Simple templates like Nose Mode, Sky Swap, and Street Lapse are offered in a continuously updated collection of unique effects. Using AI facial recognition and pre-set effects, the app can use the Photo Animator to convert your 360° photographs into animated videos.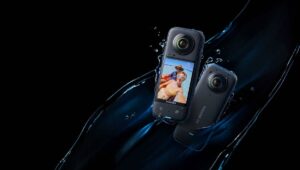 In the Box:
Insta360 Rechargeable 1800mAh Battery for X3
Charging Cable
Protective Pouch
Lens Cloth