Description
Feelworld F6 Plus Monitor
The F6 Plus from Xboom is the perfect monitor for those who need an easy-to-use utility on-camera monitor such as gimbal operators, or shooters who are always on the go. F6 Plus Camera field monitor features with an interactive touch screen that makes setting up incredibly intuitive, as well as custom 3D Luts loading that enables you to deliver more stunning works.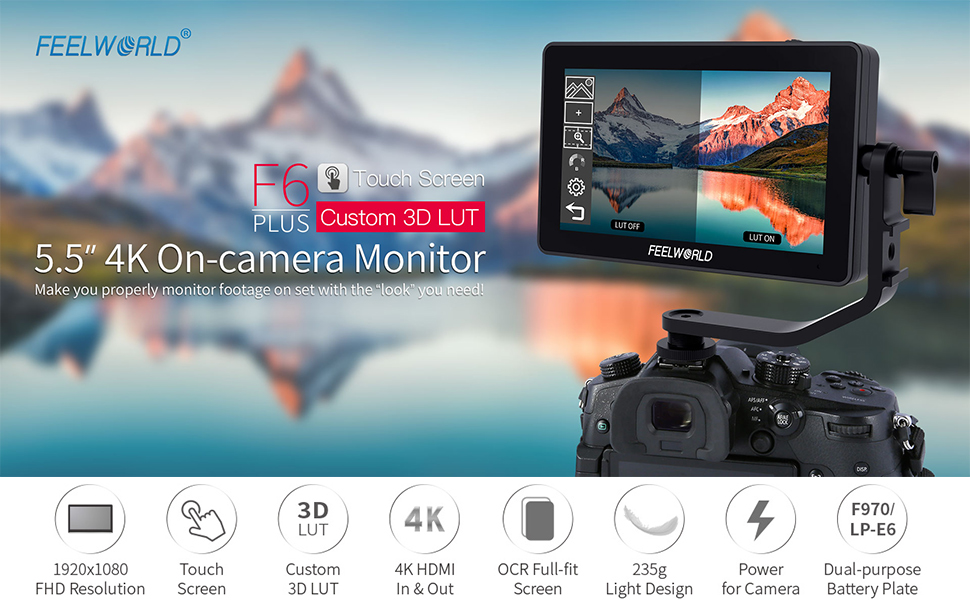 Monitoring Tools with Quick Accessibility:
it's small, lightweight and has great image quality.
FEELWORLD Monitor is a powerful monitoring tool for professional filmmakers. With its small and lightweight design, it is easy to use and has great image quality. It features a 5.5-inch touch screen with fast settings and 3D LUT, making it ideal for both gimbal and camera setups. It has a full HD 1920×1080 resolution, with Rec.709 professional color calibration, and accurate color reproduction.
Let Your Video Shooting Become Easier
One of the key features of the FEELWORLD monitor is its 4K HDMI input/output without delay, which allows for quick and easy connectivity to other devices. It also comes with a 360° tilt arm for better monitoring angles, instead of the traditional hot shoe mount. The monitor has an 8.4V DC out, allowing for real-time power charge for the camera, and built-in battery plates for F970 and LP-E6 batteries.
FEELWORLD Monitor is A Must-have Accessory for Your Shooting Setup.
The FEELWORLD monitor is a must-have accessory for your shooting setup. It allows you to see your shots in perfect definition, ensuring accurate focus and exposure. Whether you are using a shoulder rig, gimbal, tripod, or handheld setup, the FEELWORLD monitor is an essential tool for monitoring your shots.
Easy Multi-angle Monitoring
One of the biggest challenges when shooting low-angle or high-angle shots is monitoring what you are shooting. The FEELWORLD monitor makes this easy by allowing you to install it where you can conveniently see it. This makes it an ideal tool for evaluating your shot, especially if the camera is constantly rotating on a gimbal/stabilizer or mounted on a crane rig/jib.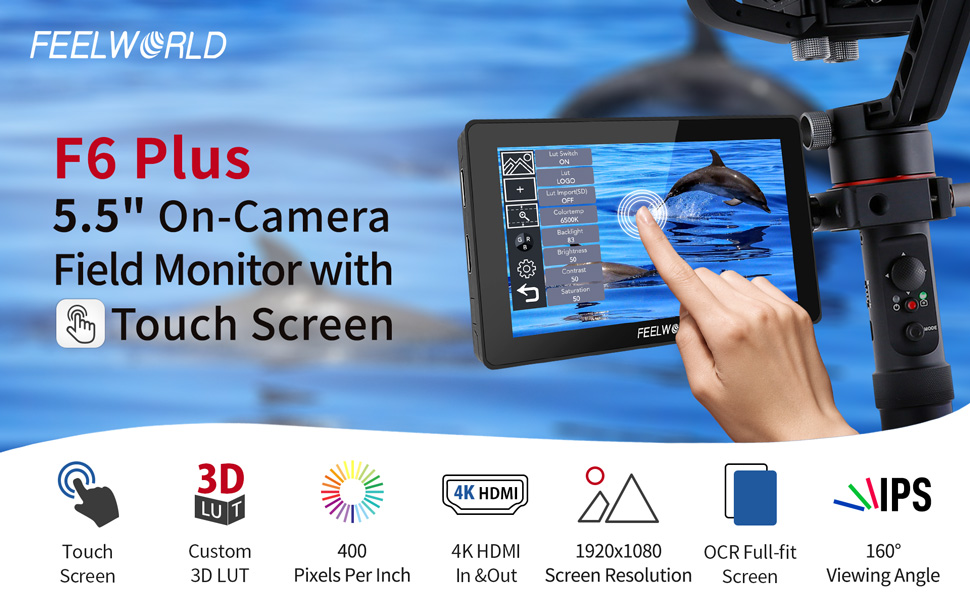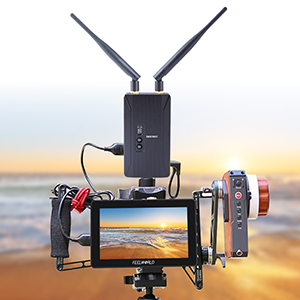 HDMI Output Application
It can connect to wireless transmitter, transmission to film crew director monitoring at the same time. Without the cable more flexible to transition between scenes effortlessly for outdoor shooting.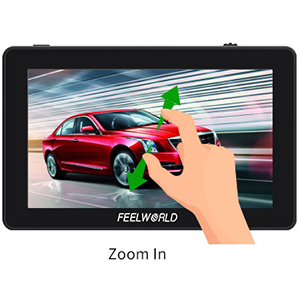 3D LUT Color Calibration and Real-time Preview
This monitor is a full touch screen monitor with 3D LUT. When the monitor and touch are both on, continuously click the screen twice to enter the main menu.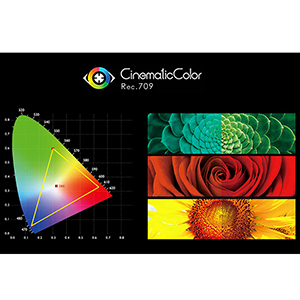 Professional Color Calibration, Accurate Color Reproduction
FEELWORLD uses the professional Rec.709 HD color standard, and uses the color calibration technology, with the professional instrument calibration at the factory.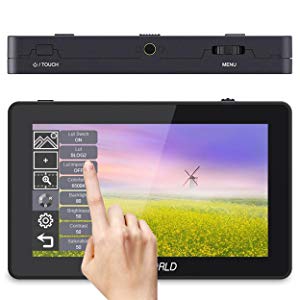 Easy Touchscreen Controls
The built-in monitor is also an interactive touch screen that makes setting up the F6 PLUS incredibly intuitive. All of the functions are at your fingertips, allowing you to use simple tap and swipe gestures to change function settings. You can easily and intuitively zoom in and out of your shot with the pinch-to-zoom gesture.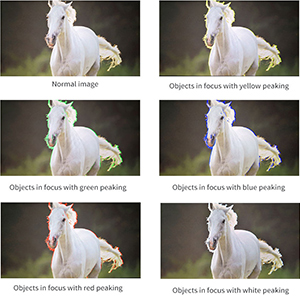 Peaking Focus Assist
The Peaking Filter is used to aid the camera operator in obtaining the sharpest possible picture. When activated, the internal processor will display a colored highlight on the screen where sharp edges appear. You can switch the putline color between red, green, blue, yellow, white according to different tone of the subject.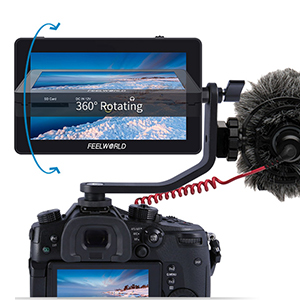 Better Monitoring Angle, Extention Microphone Mounting
Every F6 PLUS monitor will ship with a cold shoe mounted Tilt Arm. Shooters will have a secure way to position their monitor while maintaining a low profile. Allows the F6 PLUS monitor to rotate 360 degrees for viewing convenience Secure and lightweight mounting.
| | |
| --- | --- |
| Operating Temperature | 12 to 87°F / -20 to 55°C |
| Storage Temperature | -22 to 149°F / -30 to 65°C |
| | |
| --- | --- |
| Dimensions | 5.8 x 3.7 x 0.8″ / 14.8 x 9.3 x 2 cm |
| Weight | 0.52 lb / 235 g |
| | |
| --- | --- |
| Package Weight | 1.47 lb |
| Box Dimensions (LxWxH) | 7.25 x 5 x 3.5″ |
feelworld f6 plus on-camera monitor, feelworld f6 plus price in india, feelworld f6 plus review, feelworld f6 plus specifications