Xbox Series X
The Xbox Series X is a high-performance gaming console developed by Microsoft. It features a custom-designed AMD Zen 2 processor, 1TB of storage, 16GB of GDDR6 memory, and a 52 CU @1.825GHz RDNA 2 graphics processor. The console is designed for 4K gaming and supports ray tracing, variable refresh rate, and fast load times. It also features a new Xbox Velocity Architecture, which combines the power of the CPU, GPU, and SSD to allow for even more immersive gaming experiences. It was released on November 2020.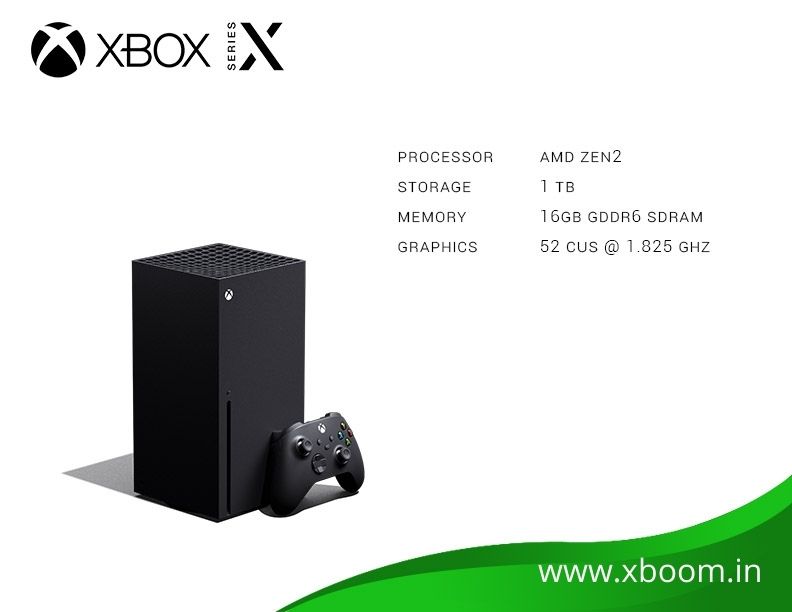 Power your dreams
Our fastest, most powerful console ever is designed for a console generation that has you, the player, at its center. Everything revolves around you and your commands. Select the player mode and get going.

Most powerful Xbox ever
Explore the rich new worlds and enjoy the action like never before with the unmatched 12 teraflops of raw graphic processing power.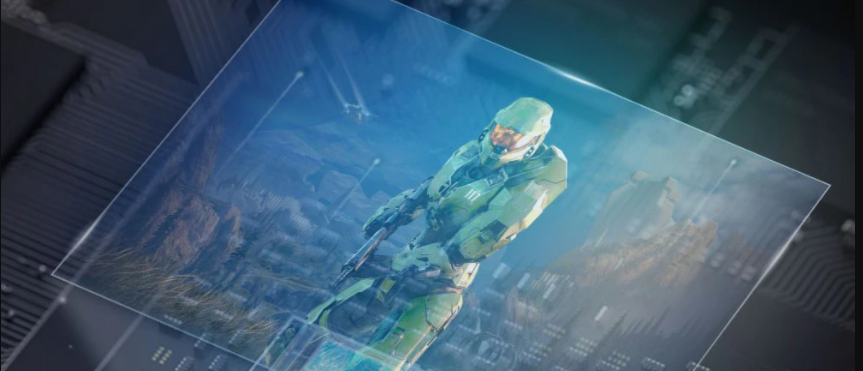 Change the game
Thousands of games across four generations
Play across four generations of Xbox- including Xbox One, Xbox 360, and Original Xbox titles with backward compatibility.
With the power and speed of the Xbox Series X, many of these games will look, feel and play better than ever.

Play more, Wait for less
At the heart of Series X is the Xbox Velocity Architecture, which pairs a custom SSD with integrated software for faster, streamlined gameplay with significantly reduced load times. Experience richer, more dynamic living worlds unlike anything ever seen before. Experience ultra HD quality in the graphics.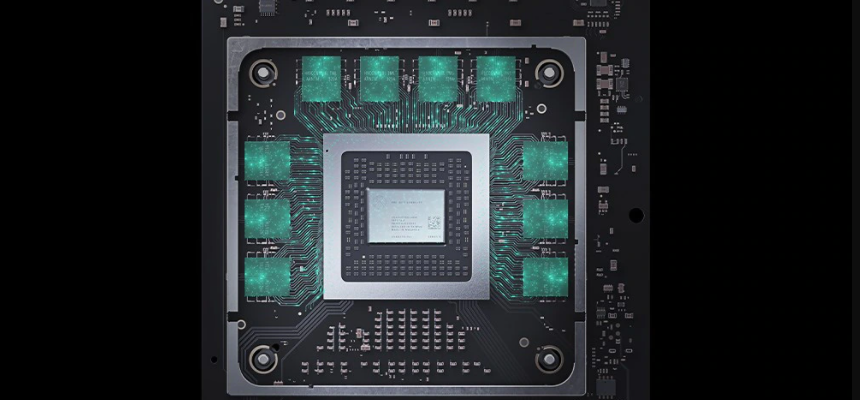 Split motherboard
A split motherboard keeps the console's internals evenly temperature controlled, allowing for an even higher output of power.
Looks, sounds, plays better
DirectX ray tracing delivers a heightened sensory experience—and advantage—with hyper-dynamic living worlds full of true-to-life lighting, shadows, reflections, and acoustics.
Heat sink chassis
This unique, non-electronic component merges parallel cooling with innovative design to increase the reliability and performance of the Xbox Series X.
Custom Zen 2-based CPU: 
The Xbox Series X features a custom-designed CPU based on the Zen 2 microarchitecture. This allows for faster and more efficient processing, which results in improved performance and smoother gameplay.
RDNA 2-based GPU:
 The Series X also features a custom-designed GPU based on the RDNA 2 architecture. This allows for improved graphics performance and more detailed visuals, as well as support for hardware-accelerated ray tracing. Ray tracing is a technique that simulates the behavior of light in a scene, which results in more realistic lighting and shadows.
8K resolution and high-dynamic range (HDR) gaming:
The Series X is capable of displaying games at 8K resolution, which is four times the resolution of 4K. This results in a much more detailed and sharp image. It also supports HDR, which is a technique that expands the range of colors and brightness that can be displayed on the screen. This results in more vibrant and lifelike colors.
Xbox Series X Specifications
The Xbox X series allows gamers to explore the action like never before with the unmatched 12 teraflops of raw graphic processing power. With the power and speed of The Xbox X series, many of the games will look, feel and play better now.
Dimensions
5.94 x 5.94 x 11.85 in (15.1 x 15.1 x 30.1cm)
Weight
Processor
CPU: 8X Cores @ 3.8 GHz (3.66 GHz w/SMT) Custom Zen 2 CPU
GPU: 12 TFLOPS, 52 CUs @1.825 GHz Custom RDNA 2 GPU
SOC Die Size: 360.45 mm
Process: 7nm Enhanced
Memory & Storage
Memory: 16GB GDDR6 w/320 bit-wide bus
Bandwidth: 10GB @ 560 GB/s, 6GB @ 336 GB/s
Internal storage: 1TB Custom NVME SSD
I/O throughput: 2.4 GB/s (Raw), 4.8 GB/s (Compressed, with custom hardware decompression block)
Expandable storage: Support for 1TB Seagate Expansion Card for Xbox Series X|S matches internal storage exactly (sold separately). Support for USB 3.1 external HDD (sold separately).
Video Capabilities
Gaming resolution: True 4K
High Dynamic Range: Up to 8K HDR
Optical Drive: 4K UHD Blu-Ray
Performance target: Up to 120 FPS
HDMI features: Auto Low Latency Mode. HDMI Variable Refresh Rate. AMD FreeSync.
Sound Capabilities
Dolby Digital 5.1
DTS 5.1
Dolby TrueHD with Atmos
Up to 7.1 L-PCM
Ports & Connectivity
HDMI: 1x HDMI 2.1 port
USB: 3x USB 3.1 Gen 1 ports
Wireless: 802.11ac dual-band
Ethernet: 802.3 10/100/1000
Accessories radio: Dedicated dual band Xbox Wireless radio
Frequently Asked Questions
Both consoles deliver next-generation capabilities powered by the Xbox Velocity Architecture, such as faster loading, the ability to seamlessly switch between multiple games with Quick Resume, richer and more dynamic worlds, and frame rates up to 120fps.
The primary difference between the two consoles is that the Xbox Series X displays games at native 4K, comes equipped with a UHD Blu-ray Disc player, and 1TB of custom SSD storage. Xbox Series S is designed for disc-free gaming at 1440p (with the ability to upscale to 4K), with a custom 512GB SSD. They're priced differently. Both consoles have the option to expand available custom storage via the Seagate Storage Expansion Card.
These are games built by the developer to take advantage of the unique capabilities and performance of next-gen Xbox consoles. These include new titles built natively using the Xbox Series X|S development environment. These games showcase unparalleled load times, visuals, responsiveness, and frame rates up to 120 fps. To see a list of games that will be optimized at launch, go to:
While it's ultimately up to developers to determine how best to leverage the technical capabilities of the two consoles, players typically see resolution as the key difference between Xbox Series X and Xbox Series S.
You definitely can. Xbox Series X|S supports remote play with the Xbox app, which is currently available on iOS and Android phones and tablets.
A 2-meter (6.56 feet) HDMI 2.1 cable is included with all new purchases of the Xbox Series X. The Xbox Series S comes with a HDMI 2.0 cable of the same length.
You can transfer your games from another Xbox device via an existing USB 3.1+ external hard drive to use on Xbox Series X|S. You can play Xbox One, Xbox 360, and original Xbox games directly from the external USB HDD.
You can use the network transfer function as follows:
1.) Press the Xbox button  to open the guide, and then go to Profile & system > Settings > System > Backup & transfer > Network transfer.
2.) Enable the Network transfer for your current and your new Xbox Series X|S to be able to use the feature.
Note- Games optimized for Xbox Series X|S need to be played from the Xbox Series X|S internal SSD or the Storage Expansion Card.
As with all electronics, Xbox Series X|S consoles expel any heat generated during use. And designed the Parallel Cooling Architecture. If you detect some warm air emanating from the exhaust ports, this indicates that the system is working as intended and in line with our expectations.
To ensure your device is achieving optimal airflow, we recommend placing the unit in an open area without any obstructions to the top and back inlets and outlets. If you want to place the device in the entertainment set, then place it in an unrestricted space. Do not place it behind a closed door if possible.
For a standard, non-enclosed media entertainment stand, ensure at least 1.5 inches (approximately 4 cm) of clearance from the top of the console in either vertical or horizontal alignment. We recommend having 4-6 inches (approximately 10-15 cm) of clearance on all sides.
Xbox Series X console, Xbox Series X price in India, Xbox Series X games, Xbox gaming console, Xbox Series X specs, Buy Xbox Series X online
xbox series x price in india, xbox series x specs, xbox series x review, buy Xbox series X, xbox series x buy online