Description
LG C1 55 (139cm) 4K Smart OLED TV
LIGHT UP YOUR WORLD.
SELF-LIT PIXELS HAVE EVOLVED.
LG OLED TV is a joy to behold. Self-lit pixels have evolved to allow even more spectacular picture quality and a whole host of design possibilities, while the latest cutting-edge technologies help deliver unprecedented levels of wonder. This is everything you love about TV — elevated in every way.
Our best OLED ever.
LG OLED evo sets a new standard. The next-generation OLED panel, combined with the computational power of the Alpha 9 Gen 4 processor, takes your viewing experience to another level. The redesigned panel includes an extra layer and a more emissive material. These optimise the structure and refine the wavelengths of light to increase efficiency, while the Alpha 9 Gen 4 processor uniquely tunes the picture for the new panel and enhances everything you watch. The result is a brighter, sharper image and the ultimate viewing experience.
What makes OLED unlike anything else?
The answer is self-lit pixels. A self-luminous display technology that makes all the difference to your viewing experience. Unlike LED TVs that are restricted by backlight technology, LG OLED TVs are capable of extreme realism and unique designs.
SELF-LIT PIXELS.
100 million reasons to love OLED.
When it comes to picture quality, OLED beats LED hands down. That's because OLED has millions of self-lit pixels capable of producing perfect black and accurate color. The result is a viewing experience like no other.
OLED passes with flying colors.
Global testing agency Intertek has confirmed that LG OLED displays have 100% color fidelity. This means that the colors you see on the screen closely match the colors of the original image. So everything you watch looks as the creator intended.
OLED puts LED in the shade.
Put simply, OLED has millions of self-lit pixels that can turn on and off to achieve perfect black and infinite contrast. That black is better than both mini-LED and LED TVs. So it doesn't matter how many thousands of backlights they have, LED TVs will still be in OLED's shadow.
A dazzling display of color.
LG OLED TVs achieve full Color Volume thanks to the excellent color reproduction technology of LG TVs. With 100% Color Volume, LG OLED can express 100% of the DCI-P3 spectrum across a 3D color space that covers the TV's full luminance range. This means that colors remain vivid and lifelike with full saturation no matter how bright or dark the display.
OLED Cinema.
The award for best picture goes to…
LG OLED TV produces an award-worthy performance every time you watch thanks to its incredibly sharp picture. And with perfect black and 100% color fidelity, movies are seen how they're meant to be seen.
A transformative TV experience.
Dolby Vision IQ intelligently adjusts picture settings based on content genre and ambient surroundings, while Dolby Atmos delivers multi-dimensional surround sound — a powerful combination that produces breathtakingly cinematic results.
The director's vision brought to life.
FILMMAKER MODE™ turns off motion smoothing while preserving the original aspect ratios, colors, and frame rates. This accurately delivers the director's original vision, so you experience the film the way they intended.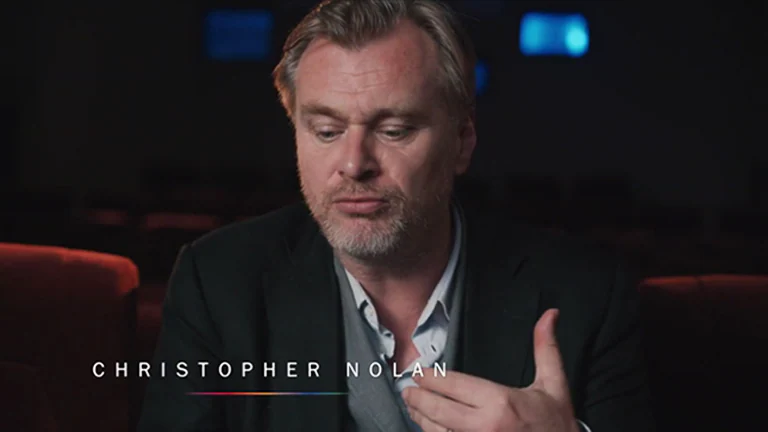 OLED Gaming.
It's game over for the competition.
LG OLED TV puts you ahead of the game with swift response, the latest gaming features for a smoother playing experience. This is the ultimate TV for your gaming setup.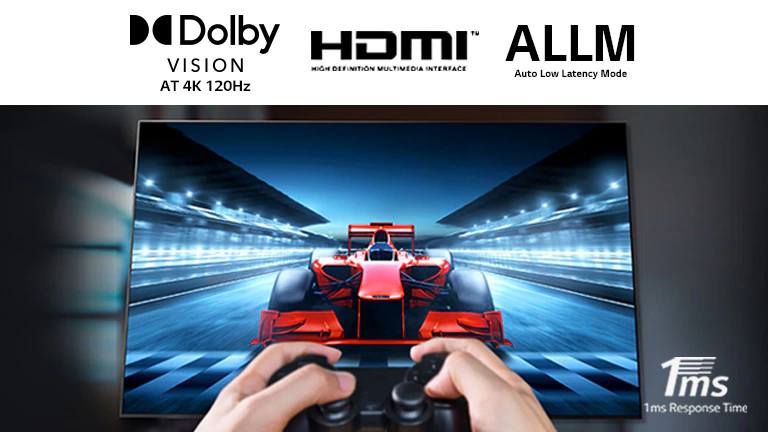 Play at the highest standard.
LG OLED TVs are capable of a 1ms response time, while support for ALLM and eARC meets the latest HDMI 2.1 specifications. These features allow fast-moving content in higher resolution and smooth, synchronized graphics to give you a more lifelike experience and a better chance of winning. Additionally, OLED C1 and G1 are now the world's first TVs to support the incredible Dolby Vision® HDR at 4K 120Hz for gaming, enhancing the playing experience to previously unseen levels.
Complete and convenient control over game settings.
Game Optimizer provides optimized settings for various game genres including FPS, RPG, and RTS. You can access everything in one place for greater control over picture and sound. And toggle NVIDIA G-SYNC, and AMD FreeSync™ technologies. The new Game Dashboard is a simplified menu that lets you quickly check or make adjustments to certain game settings on the fly — all during gameplay. While the dashboard is open, you can go back to the optimizer to access more settings or change the color of the gaming style head up display.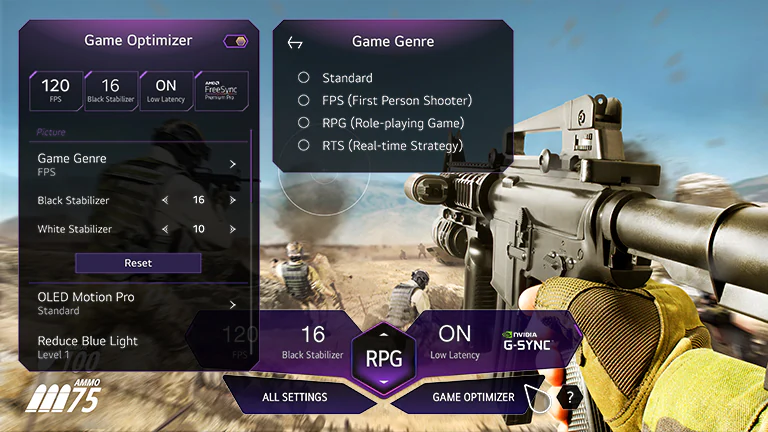 OLED Sport.
TV in a league of its own.
LG OLED TV shows every play in all its realistic glory. Fast sporting action with smooth motion means being a spectator has never been so spectacular — you've now got a front row seat to all the best sporting events.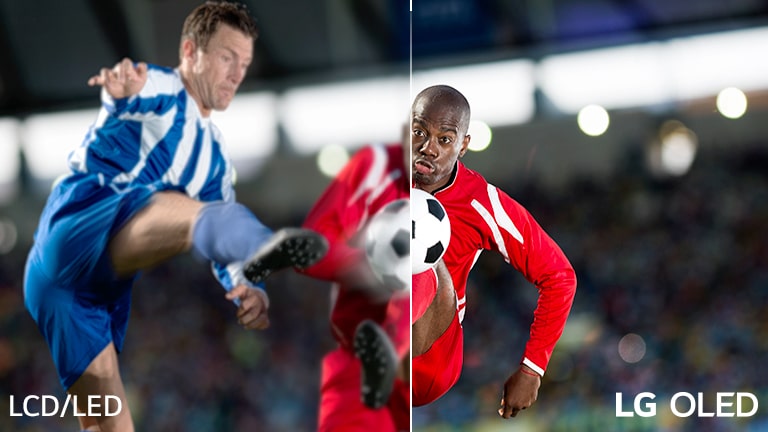 You've never seen movement like this.
Advanced motion handling technology reduces motion blur to deliver smoother action and a clearer viewing experience. Witness the quick and subtle detail of every play even during fast-paced sport.
Never miss your team play.
Sports Alert notifies you before, during, and after games. You'll never have to worry about missing the big plays from your favorite teams, even when you're watching other content.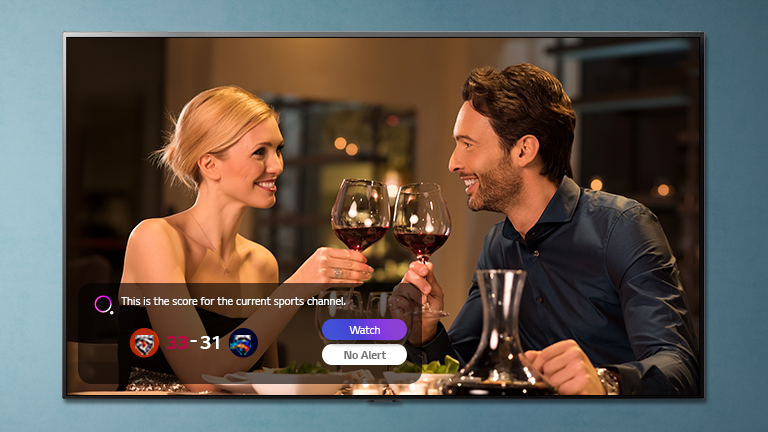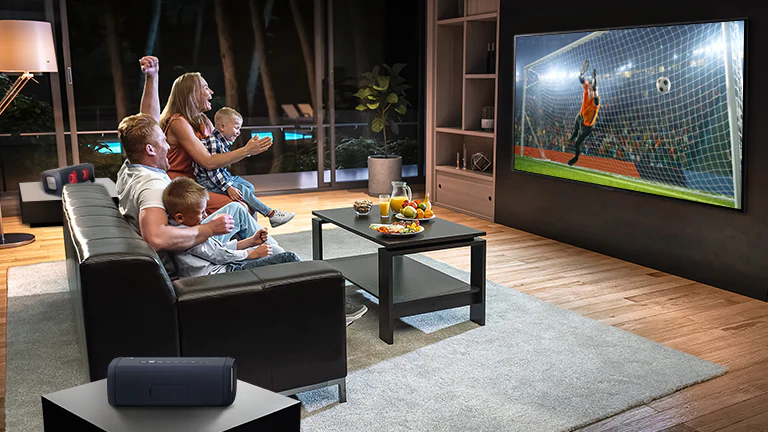 A clear home advantage.
Easily connect Bluetooth speakers for a true wireless surround sound experience. All the action sounds richer and more realistic, bringing the big-game atmosphere to your living room.
Brains that will blow your mind.
At the core of every LG OLED TV is the α9 Gen4 AI Processor 4K, a groundbreaking chip that uses deep-learning algorithms to analyze and optimize content. Every adjustment to picture and sound is automatic, so everything you watch is spectacular.
This is what pro looks like.
Using a vast database of over one million visual data points, the deep-learning algorithm recognizes content, removes noise, and optimizes picture quality. And the new Scene Detection feature can now analyze the type of scene being shown and improve the picture accordingly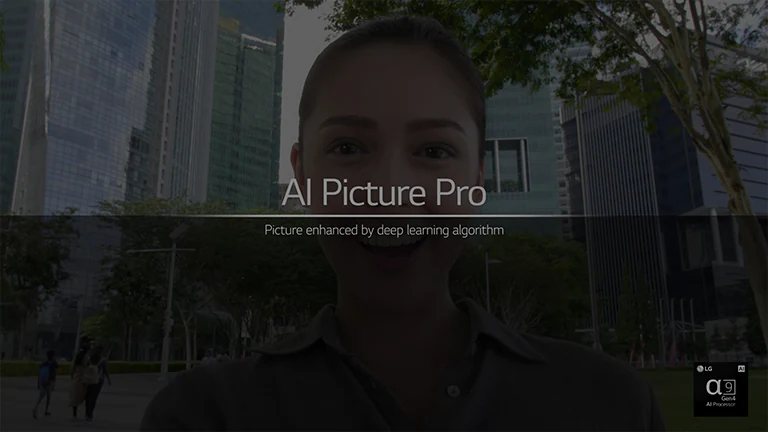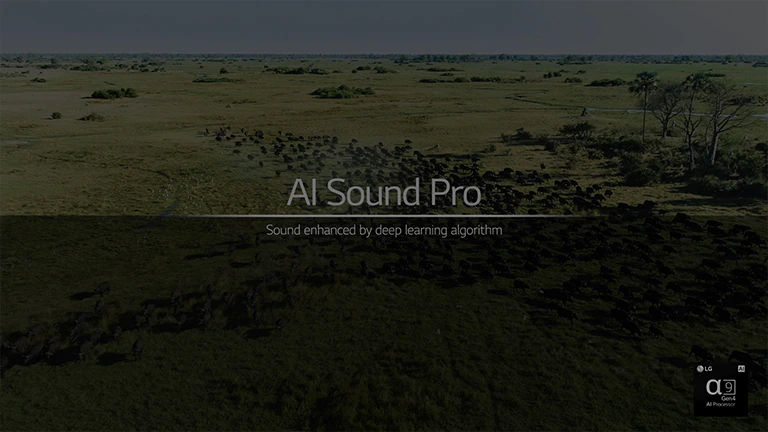 Sound turned up to pro.
By learning from more than 17 million audio data points, the processor identifies voices, effects, and frequencies so it can then optimize the sound by genre for a more immersive experience. And the new Auto Volume Leveling feature maintains consistent voice levels across different types of content.