Description
The Electra 2.0 Stun gun has a toggle switch which enables it to work in three distinct modes, Flashlight, Stun gun and Blinker with Laser pointer. It is a well built and tested tool of defence that can protect users from attackers of all sizes. Being a close proximity weapon, all the user needs to do is bring the stun gun's two metal ends in contact with the attacker's body, the best parts of the body to stun an attacker are the thighs, buttocks, and shoulders. Once stunned, the attacker will take approximately ten minutes to regain complete self-control. Giving users enough time to flee to safety or call for help. The flashlight has a bright and powerful beam of 160 lumens and can easily illuminate close to 150 meters making night time commuting easier than ever. The weapon is rechargeable and takes 3-5 hours to reach a full charge that can last multiple attacks.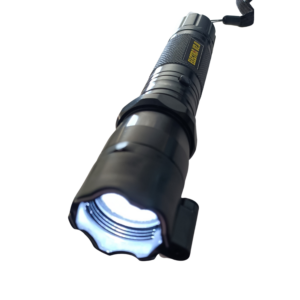 When it comes in contact with the attacker's body, it can make the person feel immense pain and helplessness, without leaving any scar or harming the attacker's body permanently. The effect is only temporary. The attacker goes back to his normal state of motion in ten minutes giving you ample time to run away or call for help.
Features 
Generates a non-lethal electric shock of 5 million volts.
Has an instant effect of immobilization.
Disables the attacker for up to 5 minutes – allowing you time to escape or get help.
Boasts an incredibly powerful flashlight of 160 lumens that can be directed up to 200 meters to help you navigate the dark.
Can handle up to 1000 recharges.
Comes with a built-in safety lock feature to prevent accidents.
Power Supply: Built-in Battery
Discharge: 50000Kv
Power Input: DC 4.8v
Light: 160 Lumens 
Height: 170 mm
Diameter: 35mm
Net Weight:145g
Charging Time: 3-5 hours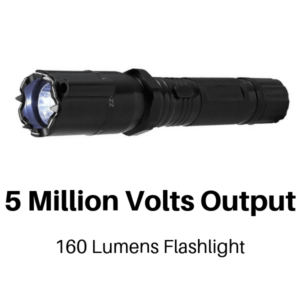 Note – Use the safety switch at the bottom of the device to deactivate taser. It will ensure the weapon is not misused by children. 
Use charging cable to charge the device. The red led bulb glows while charging.
Warning :
To be used only for self-defence purposes.
Do not disassemble the flashlight.
Keep away from children.
The responsibility of using the device for any purpose lies within the user and the device should be used with proper discretion only. 
Stun Guns – Product Explanation Video