Description
Electra Stun Gun 
The Electra Stun gun cum flashlight has a toggle switch which enables it to work in two distinct modes, Flashlight & Stungun. It is a well built and tested tool of defence that can protect users from attackers of all sizes. Being a close proximity weapon, all the user needs to do is bring the stun gun's two metal ends in contact with the attacker's body, the best parts of the body to stun an attacker are the thighs, buttocks, and shoulders. Once stunned, the attacker will take approximately ten minutes to regain complete self-control. Giving users enough time to flee to safety or call for help. The flashlight has a bright and powerful beam of 210 lumens (close to 20 watts) and can easily illuminate close to 200 meters making night time commuting easier than ever. The weapon is rechargeable and takes 12 hours to reach a full charge that can last multiple attacks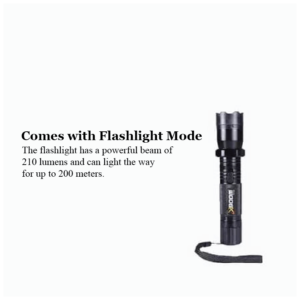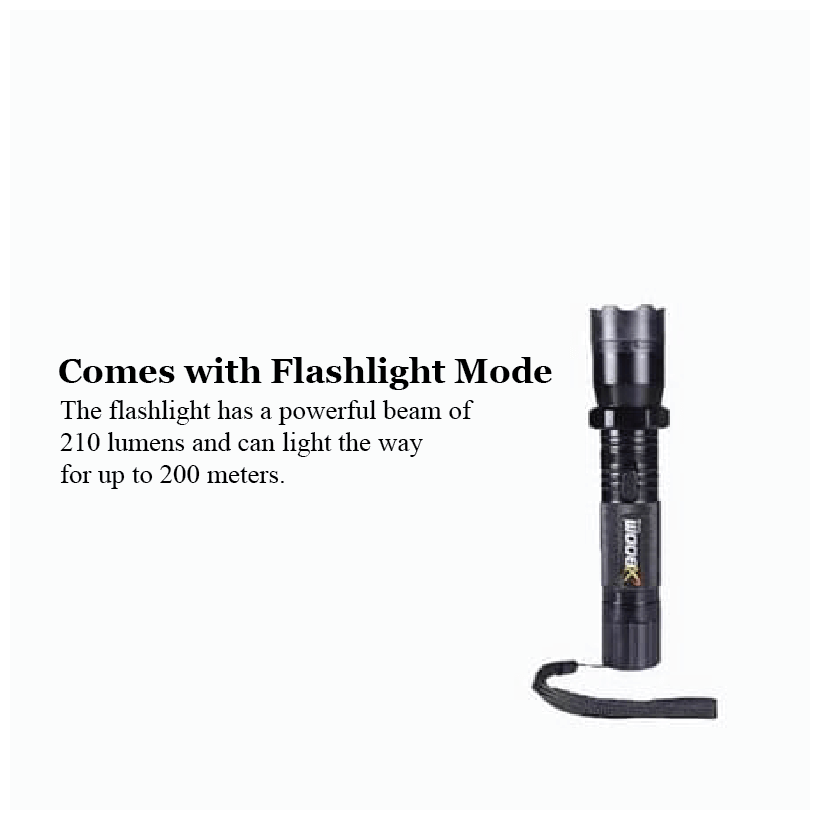 Features:
Generates a non-lethal electric shock of 3.8 million volts.
Has an instant effect of immobilization.
Disables the attacker for up to 5 minutes – allowing you time to escape or get help.
Boasts an incredibly powerful flashlight of 210 lumens that can be directed up to 200 meters to help you navigate the dark.
Can handle up to 1000 recharges.
Comes with a built-in safety lock feature to prevent accidents.
Why Electra Stun Gun?
Ideal for use in enhancement of capabilities of security and law enforcement personnel. The straightforward, yet effective design also enables Electra's use by individuals – including senior citizens, as a tool for personal security.
When it comes in contact with the attacker's body, it can make the person feel immense pain and helplessness, without leaving any scar or harming the attacker's body permanently. The effect is only temporary. The attacker goes back to his normal state of motion in ten minutes giving you ample time to run away or call for help.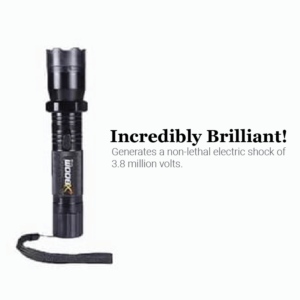 Stun Guns – Product Explanation Video
Applications of the Electra Stun gun
Personal security for ladies, travellers, senior citizens.
Helps to enhance the security capabilities of security personnel.
Protects the assets and cash carried by transporters, cash collectors and logistics delivery agents.
How Do I Use this Electra stun gun?
The Electra stun gun device is built to be straightforward: you have a toggle switch that allows three modes:
The switch is moved to the front to function as only an LED flashlight. The stun gun cannot be used in this mode.
The switch is in the middle preventing use as either a torch or the stun gun.
The switch is moved to the back end to prepare the stun gun for use. The electric impulse is activated by pressing down on the round button on the body of the torch. The torch does not function in this mode.
The Electra stun gun needs to make contact with the attacker's body to be effective, sending a wave of electric shock through their body, without an actual injury. The goal is to prevent the attacker from getting to you and to give you time to regain control of the situation.
The effects are not meant to be permanent; the attacker will regain full functioning within a maximum window of 10 minutes.   
The device comes with a charging cable, and a red LED bulb – which glows when correctly plugged in.
Note: Electra is equipped with a safety switch at the bottom. Using the same will prevent misuse/accidents in the hands of children or other similarly vulnerable persons.
Warning: This product is to be used for self-defence and/or other legally permissible purposes only. The responsibility to ensure that the product is used in a legal manner lies with the user.
Difference between stun gun and taser.
Please read the instruction manual prior to use.
Keep away from children.
No matter how much we emphasize self-defence, it will never be enough. We all are…