Description
DJI Mavic 3 Classic
With powerful flight performance and a Hasselblad camera, Mavic 3 Classic delivers the absolute essence of flagship imaging. Take it on any adventure to create unforgettable work.
DJI Mavic 3 Classic Review
4/3 CMOS Hasselblad Camera
Powerful imaging with true-to-life colors and cleaner night shots. Enjoy 5.1K/50fps or 4K/120fps video recording.
Omnidirectional Sensing
Mavic 3 Classic continually senses objects in all directions and bypasses them quickly and smoothly  for safe, confident flights.
Unmatched Hasselblad Imaging
Hasselblad Natural Colour Solution (HNCS) delivers vivid, natural colors, allowing you to capture breathtaking images during any flight.
O3+ Transmission, 15km Range
With a transmission distance of up to 15 km, fly farther and more stably with peace of mind and a smooth 1080p/60fps live feed.
46-Min Extended Flight Time
Increasing flight time by almost 50% compared to Mavic 2 Pro, Mavic 3 Classic delivers up to 46 minutes in the air for care-free creation.
Extensive Accessories
DJI RC features a built-in 5.5-inch HD display for clear viewing in strong light, professional-grade ND filters for landscape photography, and more, to make results truly stand out.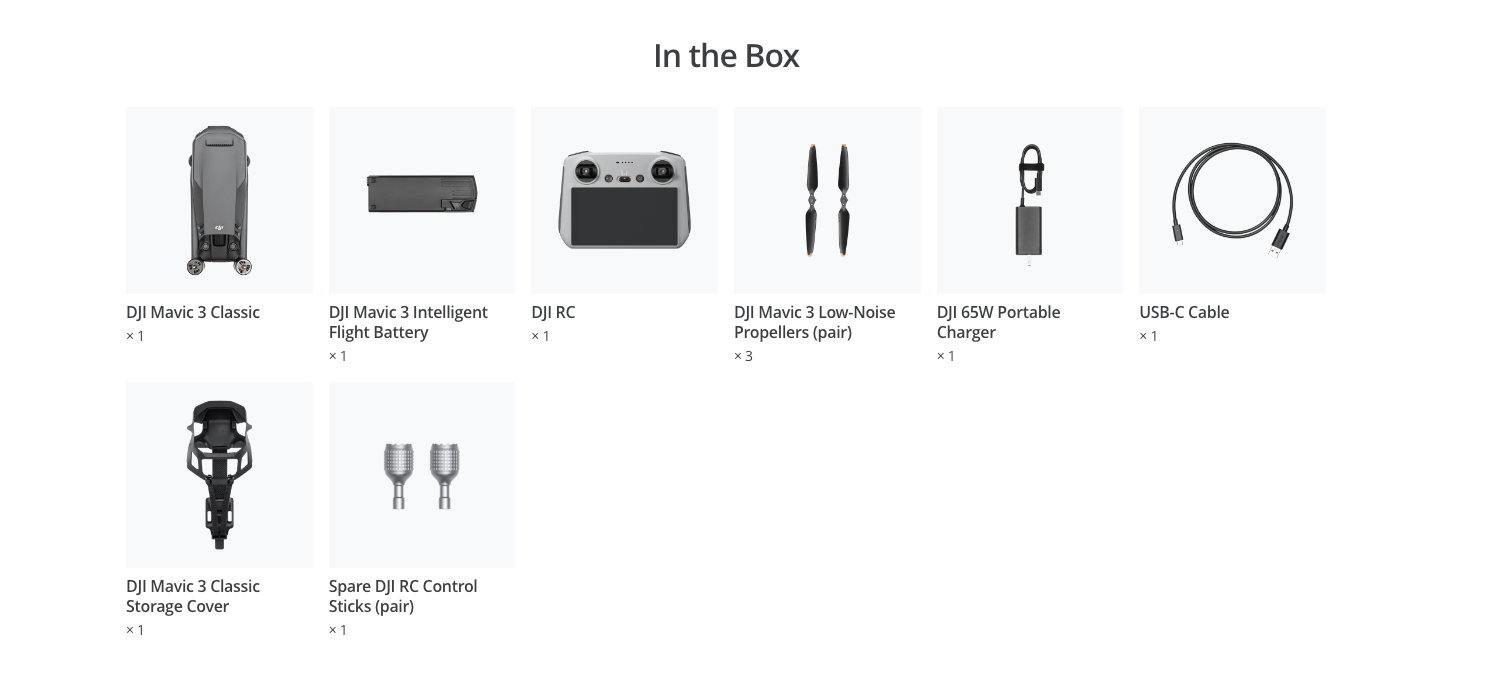 In The Box
DJI Mavic 3 Classic with DJI RC Remote
DJI Fly More Kit: Shoulder/Backpack, 3 pairs of Propellers, 3 Battery Charging Hub, 2 additional Batteries
Intelligent Flight Battery
Storage Cover
2 x Low-Noise Propeller
65W Portable Charger
USB-C Cable
RC Remote Controller
Extra RC Pro Control Sticks
The DJI Mavic 3 Fly More Kit includes two Intelligent Flight Batteries, a 100W Battery Charging Hub, a 65W Car Charger, a Convertible Carrying Bag, and Low-Noise Propellers, providing comprehensive support for your aerial photography experience at a better price than buying these items separately.
1. Intelligent Flight Battery: One Intelligent Flight Battery provides a 46-min* max flight time, allowing you to explore more of your surroundings and fly with greater peace of mind.
2. 100W Battery Charging Hub: Expands the charging interface to three. The battery charging hub enhances efficiency by charging batteries in sequence according to their remaining power level, with more fully-charged batteries receiving power first.
3. 65W Car Charger: A must-have on the go, the 65W Car Charger can charge different devices in the car. It provides a stable output power of 65 W and two output ports (USB-C and USB-A) for charging the Intelligent Flight Battery and remote controller at the same time. It also supports PPS and PD protocols to charge your smartphone, laptop, and other devices.
4. Low-Noise Propellers: Each propeller blade has been put under precise dynamic balancing tests to increase aerodynamic efficiency and output less noise.
5. Convertible Carrying Bag: This well-designed bag can be used as either a shoulder bag or a backpack to meet your needs for short trips.
Tips
* Measured by Mavic 3 Classic flying at a constant speed of 32.4 kph in a windless environment at sea level until the battery reached 0%. Data is for reference only.