Description
Your partner for contemporary agricultural techniques is the 40Pro Agricultural Drone. With the help of this sophisticated drone's cutting-edge sensors and high-resolution image technologies, you may collect precise aerial data required for precision agriculture.
Its GPS-powered autonomous flight and precise positioning capabilities provide accurate data collecting and analysis. Longer flight times allow you to complete missions that span greater agricultural areas.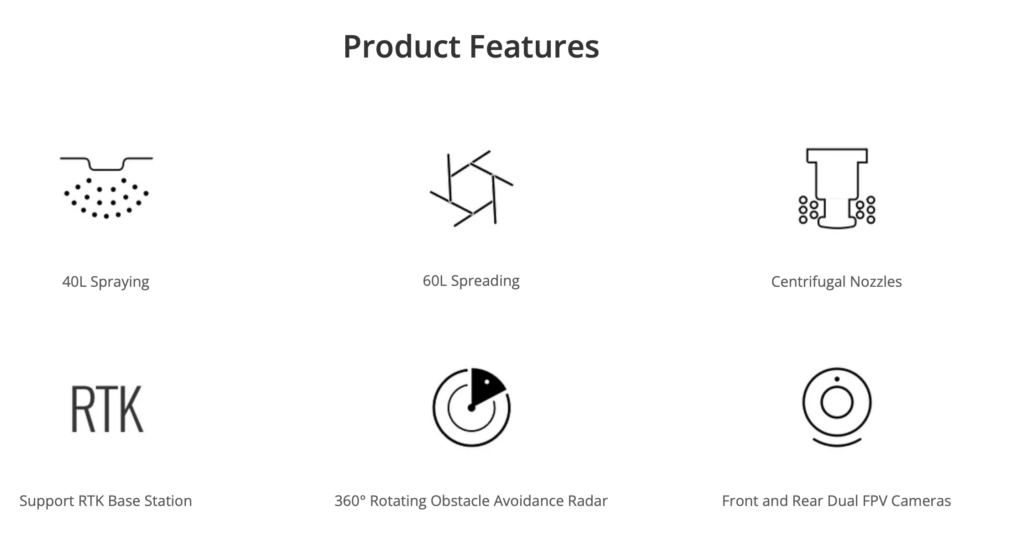 The 40Pro is reliable and tough, designed to withstand the demands of outdoor operations. It makes data analysis easier, helping you to more effectively plan your farming methods, monitor crop health, and identify problems as they arise.
Farmers of all levels of experience can use this drone because it has simple controls and an easy-to-understand interface. The 40Pro Agricultural Drone is your key to maximizing agricultural yields and maintaining sustainable farming practices, from crop planning and irrigation to pest management. Utilize this cutting-edge agricultural drone to change your farming operations by using the power of technology.
40PRO PARAMETERS
Architecture Layout
Six-axis layout
The Maximum Length
3315mm (propeller unfolded length)
Overall Dimension
length x width x height
2028mm×1922mm×862mm (Arm unfolded state, propeller folded state)
(The height from ground to propeller 862mm)
(The height from the ground to the top of the tank is 940mm)
(The height from the ground to the top of the spreader is 968mm)
Capacity Of Water Tank
40L
Capacity Of Spreader
60L
Weight Of Machine
48KG (Including battery, water tank,  spreader)
40PRO FLIGHT PARAMETERS
Hovering Accuracy
RTK: Horizontal ±10cm,
Vertical ±10cm Radar: ±0.1m
Spraying Full-Load Hovering
8.5min
Spreading Full-Load Hovering
7min
No-Load Hovering
18min
Maximum Operation Efficiency
22 ha/h
Ranging Accuracy Of Ground Simulating Radar
0.1m
Fixed Height Range
1-30m
Obstacle Avoidance Perception Range
1-30m
Graphic Transmission
>1.5KM
Maximum Take-off Weight
Spray Maximum Take-Off Weight: 88kg
Spreading Maximum Take-Off Weight: 95 Kg
40PRO SPRAYING SYSTEM
Nozzle Type
Centrifugal nozzle
Number Of Nozzles
2 nozzles
Max. Flow
13.5L/min
Maximum Spray Amplitude
11m
40PRO GENERATOR
Nominal Power
220V/8000W (direct connection to generator)
220V/2200W (direct connection to mains)
Tank Capacity
38L
Reference Fuel Consumption
500ml/kWh
40PRO SMART BATTERY
Battery Weight
13.3KG
Power Battery
68.4V/30000mAh 2.1kwh
Charging Duration
Lithium battery 20%-95% about 13min