Description
DJI MAVIC 3 Fly More Combo Drone
The DJI Mavic 3 Fly More combo is a camera lens on wheels, capturing stunning imagery with its legendary Hasselblad and enjoying smooth flights while being able to sense obstacles from all directions. Every improvement makes this drone better for aerial photography than ever before! know more about DJI Mavic 3 price in India at xboom
Professional 4/3 CMOS Hasselblad Dual-Camera System
The Customized L2D-20c aerial camera features a professional grade 4/3 CMOS sensor with a 24mm prime lens.
Shoot 20MP still images in 12-bit RAW format.
The camera comes with 5.1K at 50fps and 4K 120fps capabilities which enable smoother footage, more generous cropping possibilities as well as the ability to use slow-motion video!
The native dynamic range of 12.8 stops helps retain more details in highlights and shadows.
The adjustable aperture of f/2.8-f/11.
24mm equivalent autofocus prime lens (12.5 grams) has an 84° FOV to capture more details with sharp clarity.
Mavic 3's second camera features a 162mm tele lens with 28x Hybrid Zoom (digital + optical) and aperture of f/4.4 for more dynamic perspectives.
New Vision Detection Auto Focus technology for rapid focusing.
Unique Hasselblad Natural Colour Solution (HNCS) delivers a deeply accurate color palette.
10-bit D-Log color profile captures up to 1 billion colors, offering advanced post-production flexibility.
Mavic 3 Cine Vs Mavic 3 – Camera Options
The Mavic 3 Cine is a version with Apple ProRes 422 HQ encoding for a maximum data rate of 3772Mbps, giving professional users a powerful tool to satisfy post-production needs in their daily business.
DJI Mavic 3 Cine supports Apple ProRes 422 HQ and H.264/H.265 encoding, while DJI Mavic 3 supports H.264/H.265 encoding only.
The data transfer rates of up to 3772Mbps are only possible while recording in Apple ProRes 422 HQ at 4K/120fps.
The Mavic 3 Cine has the capability to handle large amounts of data from its onboard 1TB SSD, and can also utilize high frame rate videos with ease.
The new DJI 10Gbps Lightspeed Data Cable helps transfer large data files rapidly, and comes as part of the Cine Combo. However it can also be purchased separately for those who need this type of connectivity in their production process!
Up to 46m maximum flight time and 46.9mph top speed.
The Mavic 3 Combo is a foldable and portable drone.
DJI has grown more proficient engines and propellers and decreased the heaviness of the drone's design and equipment.
The drone can fly for up to 46 minutes and can achieve a 30km maximum flight distance per battery charge.
The streamlined design of the Mavic 3 has reduced the overall drag by 35%, compared to the previous generation, resulting in greatly improved speeds. The Mavic 3 can reach a top speed of 46.9 mph (21m/s) in S Mode
Mavic 3 Combo Safety Features
The DJI Mavic 3 Combo has improved obstacle sensing and navigation systems, upgraded tracking capabilities, DJI AirSense, and an Advanced Return to Home function.
APAS 5.0: Combines inputs from six fish-eye vision sensors and two wide-angle sensors which sense obstacles in all directions and plan safe flight routes to avoid them. APAS 5.0 is most effective when flying under adequate lighting conditions.
ActiveTrack 5.0: This upgraded tracking mode enables the Mavic 3 to move with the subject as it moves forward, backward, left, right, and diagonally, and fly alongside as well as around a moving subject. It can also pick an object back up if it temporarily disappears from the frame. ActiveTrack 5.0 will be available on a future firmware update.
Advanced Return To Home: This upgraded version of RTH enables the drone to automatically determine the shortest, safest, and energy-efficient route to land back at its home point, also taking into account the wind speed and power required to RTH. This provides more time flying safely before triggering the RTH action.
Powerful Positioning Algorithm: Improved hovering precision with signals from GPS, GLONASS, and BeiDou satellites. This makes Mavic 3 less likely to drift in the air and more stable when shooting long exposures and timelapses.
DJI AirSense: Integrated AirSense system to warn drone pilots of nearby manned aviation transmitting ADS-B signals.
Geofencing And Altitude Limits: Alerts when flying near to sensitive locations and altitude limits.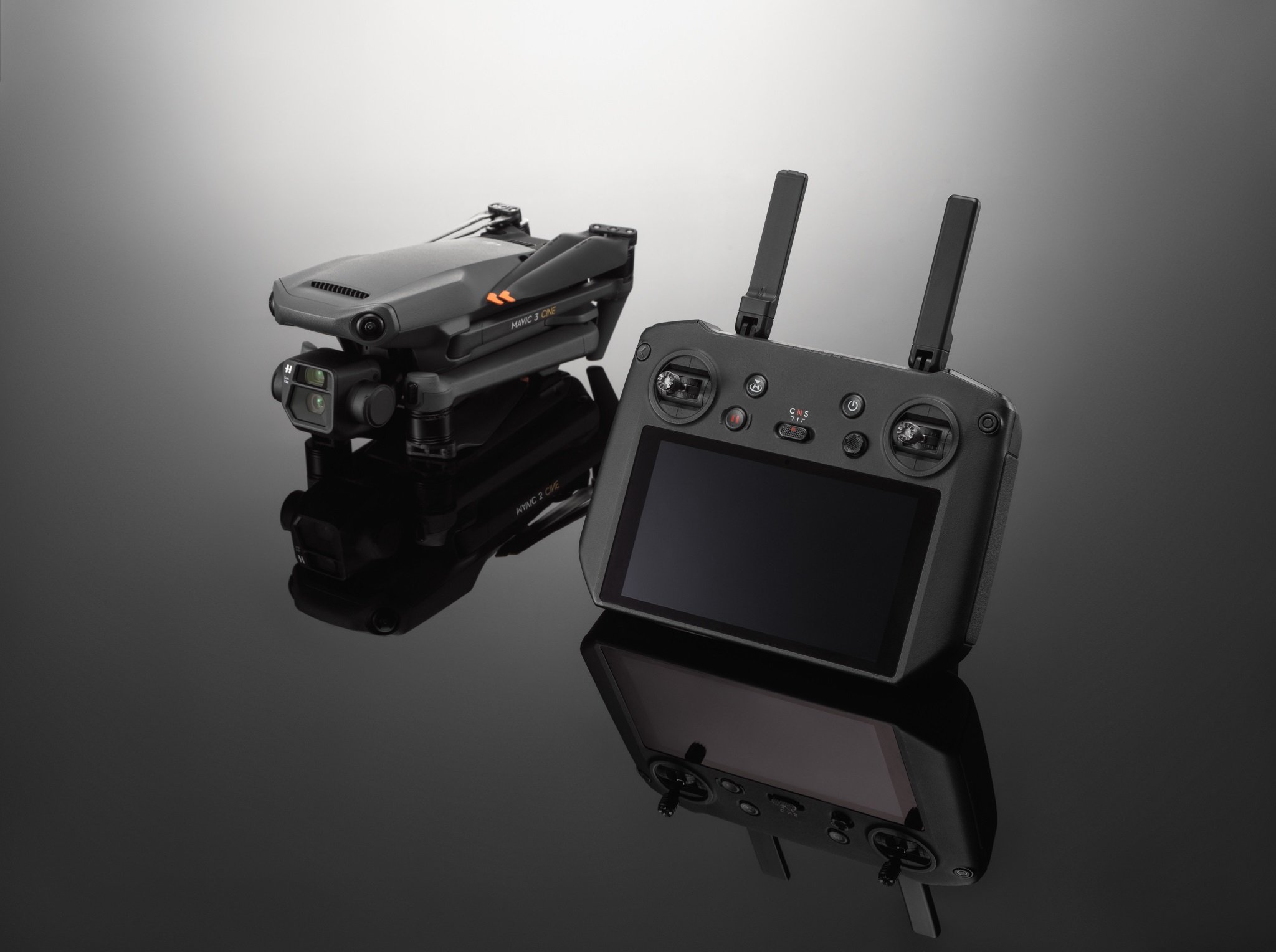 Mavic 3 Combo Upgraded Transmission System
DJI O3+: Upgraded transmission system delivering stable, smooth, and clear video transmission and makes the drone more responsive to your control.
Fly Further: Maximum control range of 15km (FCC) or 12km (CE) enables the drone to fly further and transmit signals with higher stability and less video lag.
High Frame-Rate Transmission: Mavic 3 is DJI's first drone that offers a High Frame-Rate Transmission with a 1080p/60fps live feed. This means the camera view is displayed at a resolution close to what the camera actually records.
A New Generation Of Smart Controller
There are two controllers for the Mavic 3: The new RC Pro Controller, as well as the standard RC-N1 Remote Controller.
The new RC Pro Controller offers a smoother control experience and is upgraded with enhanced antenna power for an extended transmission distance.
It features a 1000-nit high-bright screen which allows better vision and control for outdoor flights.
Its battery system offers an extended operating time of up to three hours and can be charged in 90 minutes.
The RC Pro Controller comes as part of the Mavic 3 Cine Premium Combo and is also available as a separate accessory. The RC-N1 Remote Controller is included in the Mavic 3 standard package and Mavic 3 Fly More Combo.
DJI Mavic 3 Combo Shooting Modes
New DJI Intelligent Shooting Modes for the Mavic 3.
The DJI Mavic 3 Combo features an array of intelligent modes for creating and editing compelling photos and videos.
master shots: Automatic editing and dubbing in the app to quickly create high-quality content which can be shared.
WayPoints 3.0: Helps content creators who are repeatedly filming the same place. They are also able to share their videos on social media platforms with other users.
Panorama Mode: Mavic 3 Combo allows pictures to be directly stitched and processed by the drone, without the DJI Fly App or any post-production, allowing users to capture breathtaking landscapes with sweeping breadth and rich detail.
QuickTransfer: Lets users store and process materials on their mobile devices without linking with the remote controller. Mavic 3 can transmit materials from the drone to the mobile device more quickly through the WiFi 6 protocol.
Takeoff Weight
Mavic 3: 895 g
Mavic 3 Cine: 899 g
Dimensions (Folded/Unfolded)
Folded (without propellers) 221×96.3×90.3 mm
(Length×Width×Height)

Unfolded (without propellers) 347.5×283×107.7 mm
(Length×Width×Height)
Diagonal Length
Sensor
4/3 CMOS, Effective pixels: 20 MP
Lens
FOV: 84°

Format Equivalent: 24 mm

Aperture: f/2.8 to f/11

Focus: 1 m to ∞ (with autofocus)
ISO Range
Video: 100-6400

Still Image: 100-6400
Max Image Size
Photo Format
Video Formats
MP4/MOV (MPEG-4 AVC/H.264, HEVC/H.265)
Still Photography Modes
Stabilization
3-axis motorized (tilt, roll, pan)
Mechanical Range
Tilt: -135° to 100°
Roll: -45° to 45°
Pan: -27° to 27°
Controllable Range
Tilt: -90° to 35°
Pan: -5° to 5°
Max Control Speed (tilt)