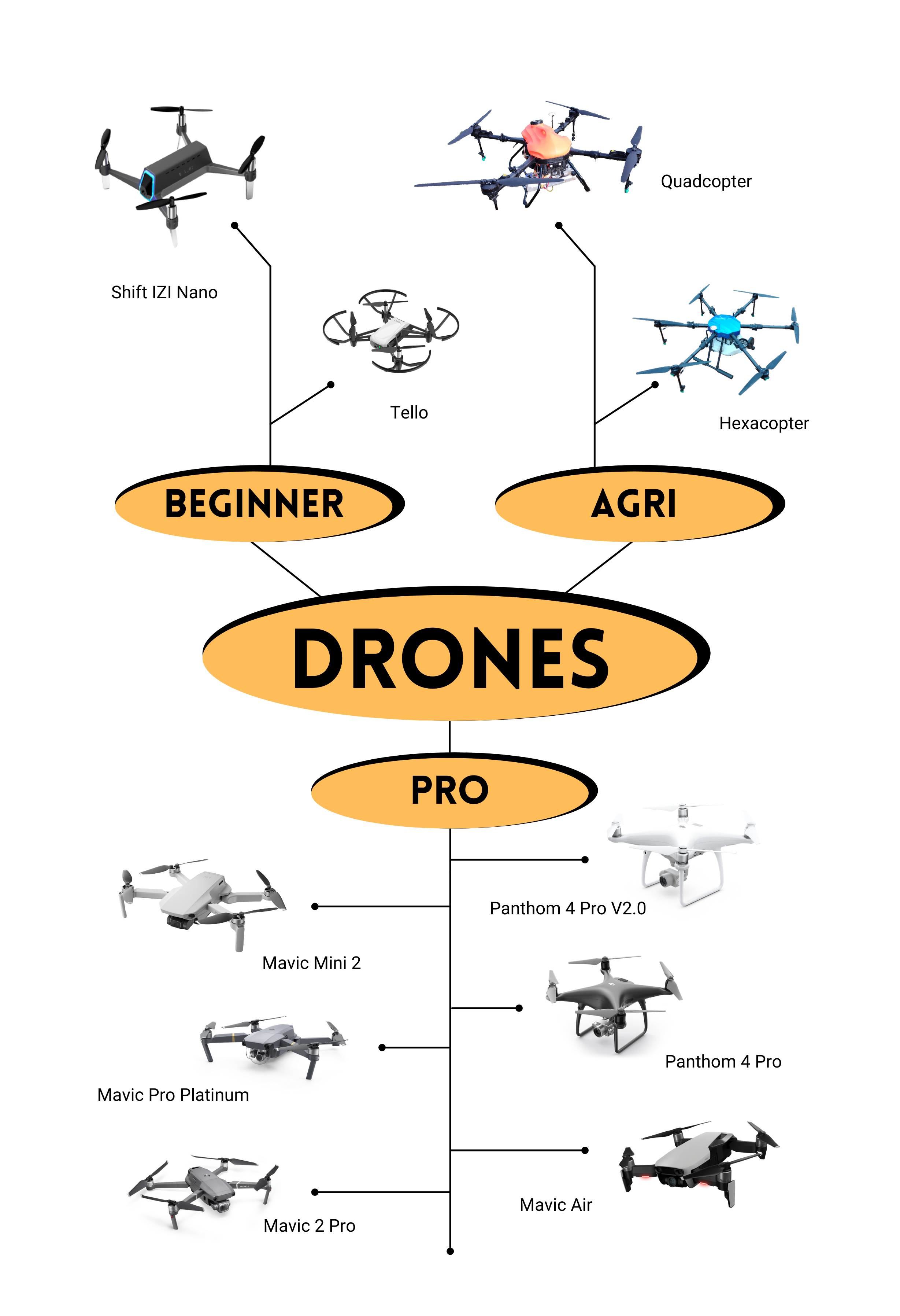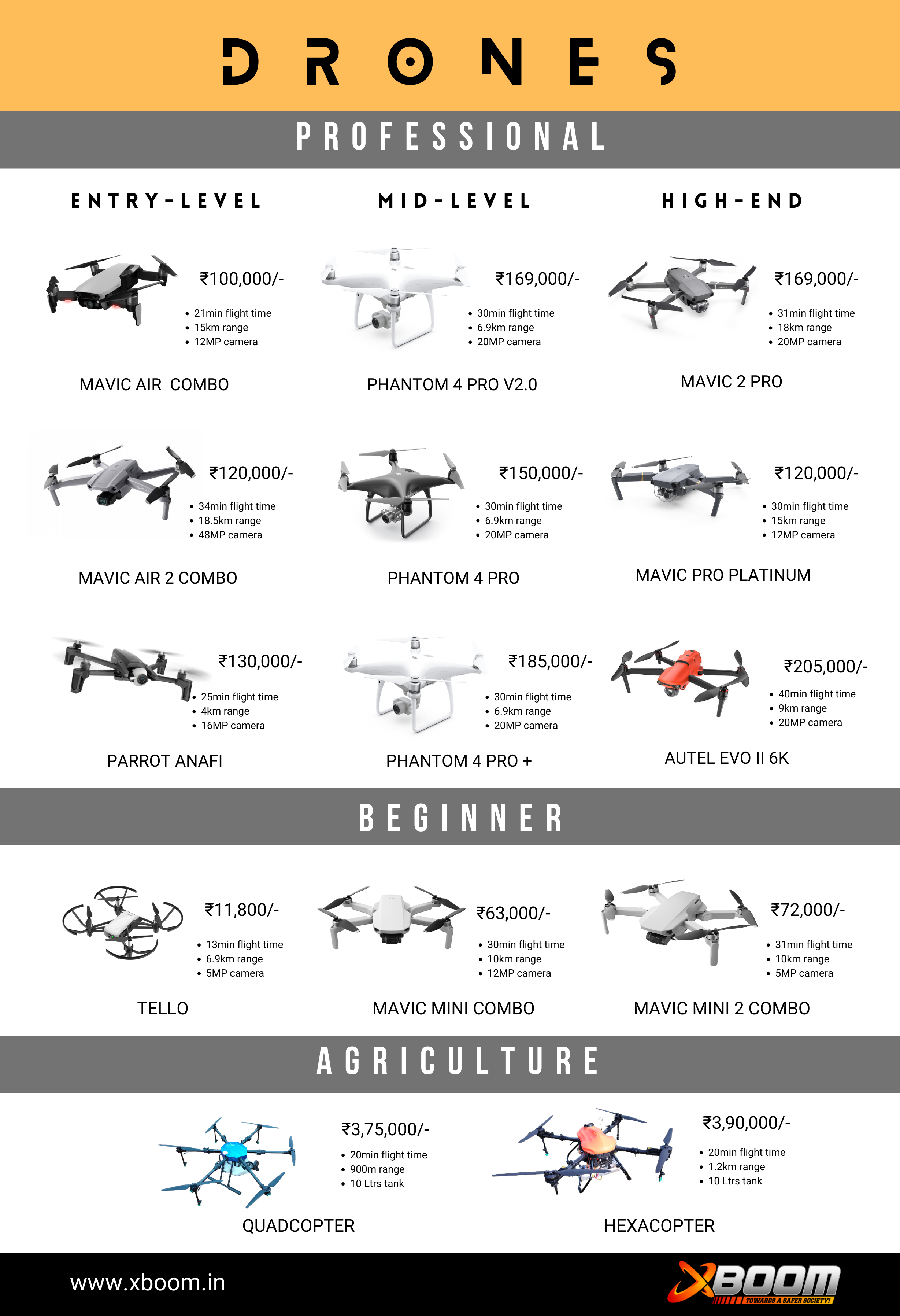 Drone Camera Price in India
Looking to purchase a drone camera in India and getting confused with the Drone camera Price in India?
Well, your search ends here.
At Xboom, we deal with the largest collection of professional drone cameras, supplying all across India. As Drones industry in India is still in a very nascent stage, a lot of price variation is observed from various authorised and non-authorised drone sellers. Price query for drone camera is one of the topmost enquiry we receive every day, so we thought of giving a clear idea of drone camera price in India through the infographic shown above as per today's date. Since drones are pricey propositions, it is important to do your research before buying one. To help make your purchase easier, we have curated the latest drone price list. Use our comparison tool, as well as reviews, to find the one best suited to your needs.
DJI Mini 2 Drone Camera  ( Combo Pack) – Rs 72,000
DJI Air2 Drone Camera (Combo Pack ) – Rs 120,000
DJI Phantom 4 Pro – Rs 150,000
DJI Phantom 4 Pro V2.0- Rs 185,000
Parrot Anafi – Rs 130,000
Autel Evo 2 6K – Rs 205,000
Mavic Pro Platinum – Rs 120,000
Mavic Mini (Combo Pack) – Rs 68000
Why is the Drone Camera Price in India higher than in other parts of the world?
Almost all the professional drone cameras in India are imported from the United States, Europe and China. In India, the manufacturing of drone and levelling up to the global standard is in progress, but it will take a bit of time. As per the current scenario, the most popular drone brands in India are DJI – from China. But a global brand, Parrot Anafi & Evo Autel, comes from the United States.
Importing drone cameras requires one to follow a series of compliances and licenses. When these drones are imported into India custom duty charges gets to add up to hike the drone camera price in India. Total Import Duty charges and taxes range up to 40.8% over the actual price of the drone. Considering the duty charges, cargo charges etc. The price becomes quite higher compared to the actual cost in the originating country.
Fluctuation of Drone Camera Price in India
The drone camera price in India is not constant. One can see the fluctuation in drone pricing around a year due to the different consignments coming through the different importers. The drones' stock also keeps fluctuating. Especially for the top-selling drones like DJI Phantom Pro, DJI Mini 2 drone camera, DJI Air2.
In some of the scenarios, it has been found that drone sellers offer lesser price than the standard cost for which customers gets inclined to. As per our findings and research, they are able to give these drone at a lesser price because either they actually supply refurbished drone in the name of a new drone or if the packaging seal is broken. It is advisable to go for a genuine drone supplier. And, not to get lured by  lesser price and fall into trap of these fraudsters.
Are You looking to purchase a drone camera? If yes, then contact our team and we would be happy to help you with the least drone camera price in India.
One can either write us at contact@xboom.in or call us at our toll- free no – 18005727940.
Our company not only guide you to make the best selection of drone as per your application. Most importantly all we also give after-sales service which you can rely on.
So if you are looking for a trouble-free drone buying and using experience check out our collection of drones and contact us today!