Intelligent Flight Battery – Air 2
There's nothing worse than finding the perfect shooting location to discover you have only half the juice left in your drone batteries. We highly recommend picking up an extra Mavic Air 2 Intelligent Flight Battery, which gives you up to 34 minutes of flight time per battery.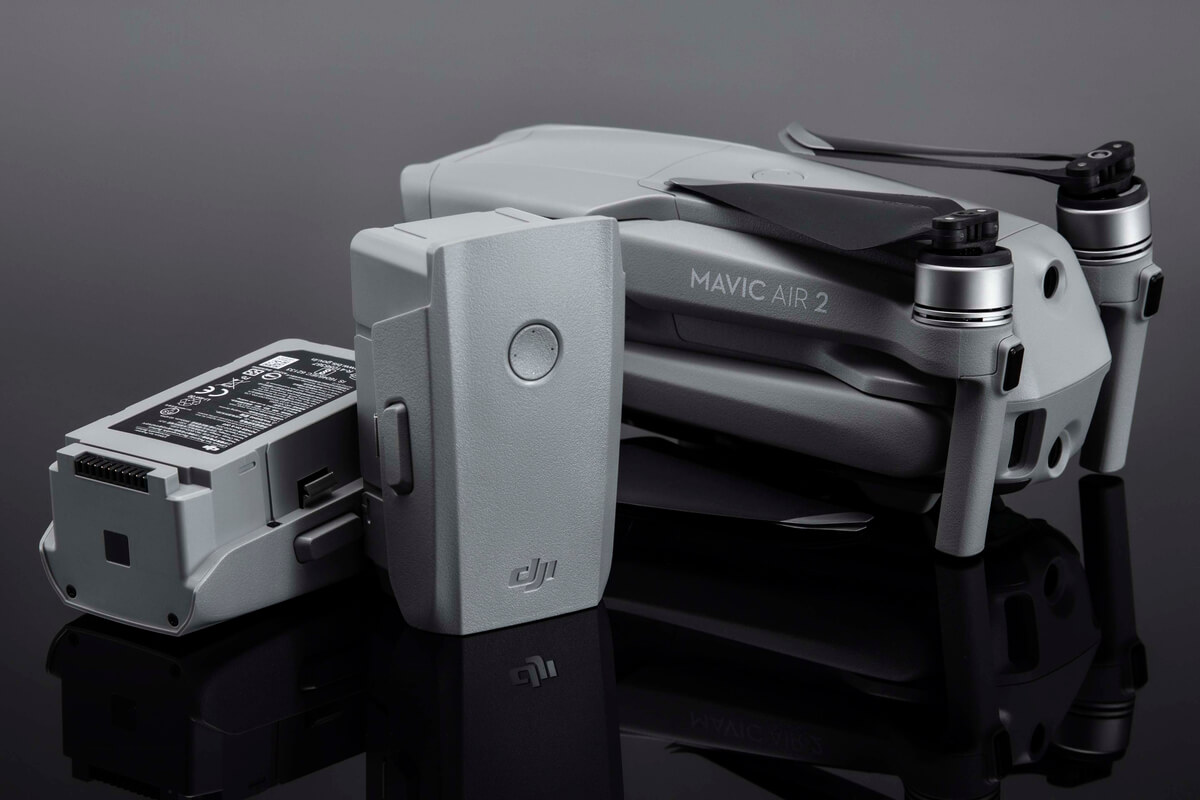 Overview
The Mavic Air 2 Intelligent Flight Battery provides a maximum flight time of 34 minutes. With a built-in DJI Intelligent Battery Management System, battery status is monitored and reported in real time, allowing you to focus less on power levels and more on flying. It also features overcharging and over discharging protection as well as low-temperature protection.
Highlights:-
High-energy lithium-ion batteries
34 minutes of flight time
Multiple intelligent battery protection features
Specifications:-
Battery type: Three-cell polymer lithium-ion battery
Rated Capacity: 3500 mAh, 40.42 Wh (typical value)
Rated Voltage: 11.55 V
Limited Charge Voltage: 13.2 V
Charge Temperature: -10° to 60 °C
Discharge Temperature: 5° to 40 °C
We do repair and maintenance too
Let expert drone technicians lead your drone repair process.
FREQUENTLY ASKED QUESTIONS (FAQs)
A: The battery charging hub enhances efficiency by charging batteries in sequence according to their remaining power level, with more fully charged batteries receiving power first. Charge 3 batteries in sequence. The Mavic Air 2 Charging Hub does not include a power supply.
A: Mavic air 2 doesn't have a portable charging station. Users can connect the battery to the charger to charge it, or insert the battery into the battery charging hub to charge three batteries.
A:  You can use any USB power brick to charge the remote controller from any power outlet, but DJI has also included a USB power port on the side of the Mavic Air 2 battery charger.
A: Store your batteries indoors (at normal room temperature). Never store them in a hot car. Power up your DJI drone, start DJI GO, and set the Time to Discharge setting (see the screenshot below) to the number of days you'd like your batteries to wait before starting to auto discharge down to the storage level.
A: It takes approximately 1 hour and 35 minutes to fully charge an Intelligent Flight Battery.
A: The intelligent flight batteries with the highest power level will be charged first. During the charging, the status LED will blink green slowly. When the status LED indicator is solid green all the batteries are fully charged. Remove the batteries from the charging hub and the charging is complete.