Description
Startracker 50/600 Junior Telescope
The compact Startracker Junior 50×600 AZ refracting telescope is a perfect choice for astronomy beginners. This telescope model makes a wonderful gift for an inquisitive teenager or an adult anyone ready to discover the amazing world of astronomical observations. The main features of the telescope are quality optics and easy intuitive control.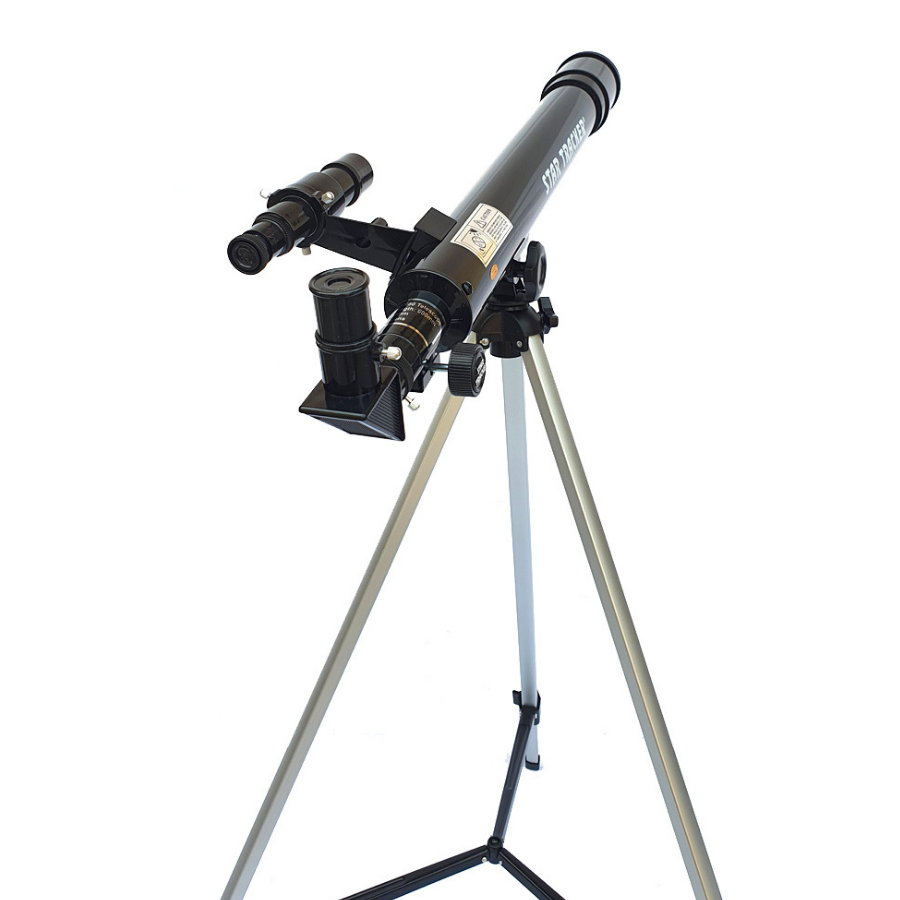 The Junior 50×600 AZ is best suited for observing the Moon and Solar System planets. All-optical elements are covered with an anti-reflective coating for the best image quality. The 5×24 finder scope is supplied with the telescope for easy navigation to celestial objects.
The kit also includes three eyepieces (H-20 mm & H-6 mm) 3x Barlow lens and 1.5x erecting eyepiece for terrestrial observations.
The telescope's optical tube is set up on the altazimuth mount which is installed on an aluminum tripod with adjustable height and accessory tray
TELESCOPE SPECIFICATION

Optical Design

Refractor Telescope-Optical Design: Fraunhofer refractor telescope (two-lens achromatic refractor

Diameter

50mm

Focal Length
600mm
Secondary Mirror Diameter
—–
Focal Ratio
F/ 12
Highest Practical Power
118x
Faintest Steller Magnitude
11.1

Resolving Power

0.9 Arc – Seconds.

Focuser diameter
RACK-AND-PINION Focuser .9 ".
Eyepiece Standard 0.965″
1) H20mm efl, 2) H12mm efl  

3)

 H6mm
Magnification with eyepiece
30x and 100x
3X Barlow lens
90x and 300x
Finder
5×24
Diagonal
90 Degree Zenith mirror .9″
Mount type / stand
Altazimuth Mount (stand height from 76cms to 123cms

Tube dimension

59cm length

Shipping Weight
Within 2.000 Kg
Shipping Carton Dimension
85 x 29 x 10 cm3
The following items are FREE with the telescope listed above. [ Subject To Availability ]

Magnitude 5 Star Atlas

Micro Fiber (Anti-Static) Cleaning Cloth

Optics Cleaning Fluid

110 Messier Object Locator     A4 Size Front Back Colour Print

109 Deep Sky CALDWELL Catalogue A4 Size Front Back Colour Print

Star Dial – Identifying Stars & Constellations

Various Astronomical Post-Card (SET-3)

The Moon Map Poster B/W Chart Unfold To 22″X26″
The Kit Includes
STARTRACKER Junior 50×600 AZ Telescope
Eyepieces: H-20 mm & H-4 mm
1.5x erecting eyepiece
3x Barlow lens
Diagonal Mirror
Cleaning Cloth
5×24 optical finderscope
Altazimuth mount –
Height Adjustable Aluminum tripod
User manual.