Description
LG SP11RA Powerful Sound 770W
The LG 7.1.4 Channel 770 Watts Dolby Atmos Sound Bar with Subwoofer is the greatest soundbar if that's what you're looking for. The superb dark shading design may be placed up anywhere and add to the environmental features of a home. It has a smooth form. Connect any of your preferred devices using Wireless Bluetooth V5.0 to crank up the swing. It transmits 4K content, including HDR and Dolby Vision, with a negligible loss in quality or performance for a fully integrated TV and audio experience. A must-have is the LG 7.1.4 Channel 770 Watts Dolby Atmos Sound Bar with Subwoofer. The versatile sound system employs a new computation to identify voices, impacts, and frequencies before enhancing the sound according to class for a more engaging experience in each scene.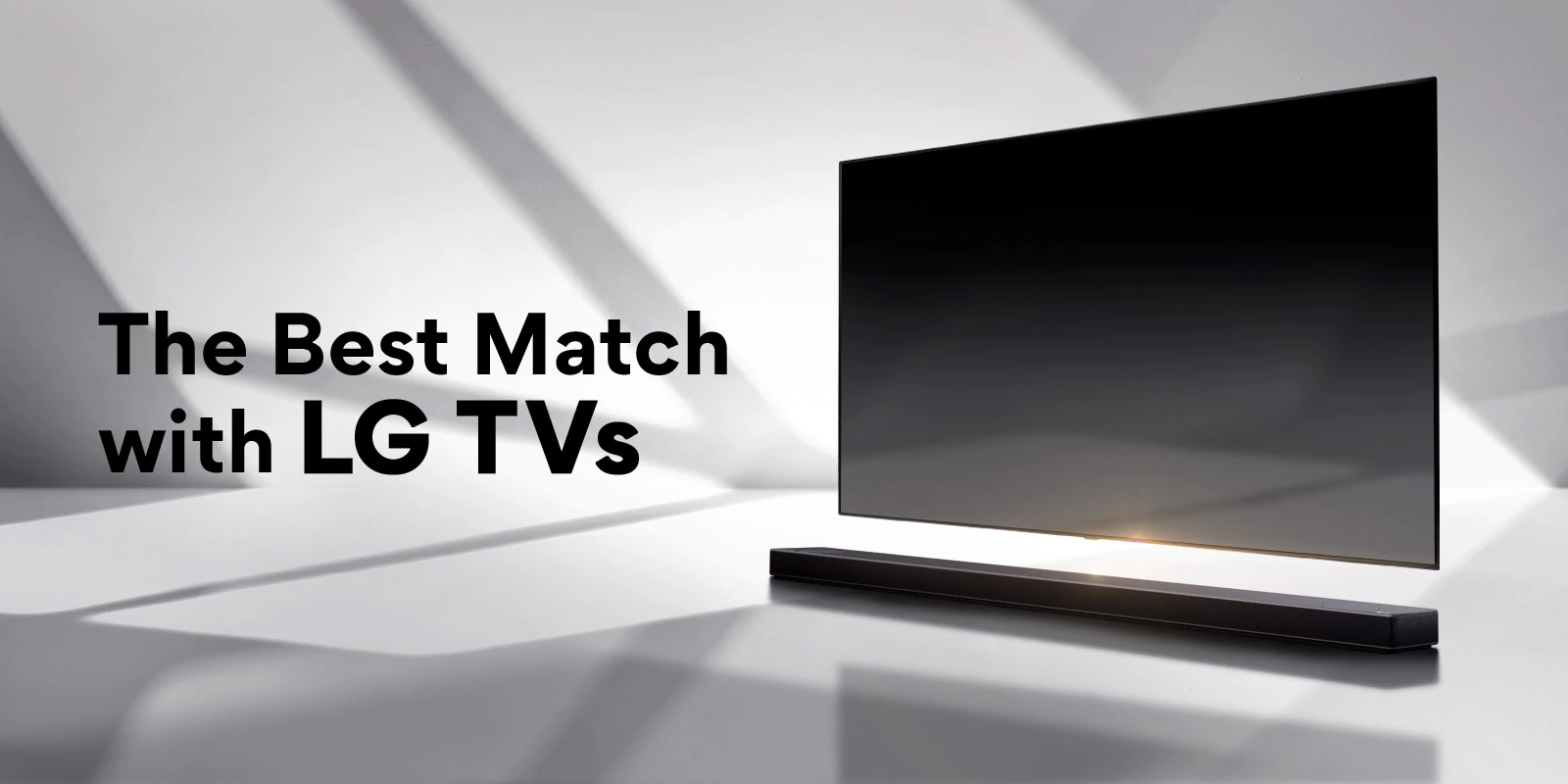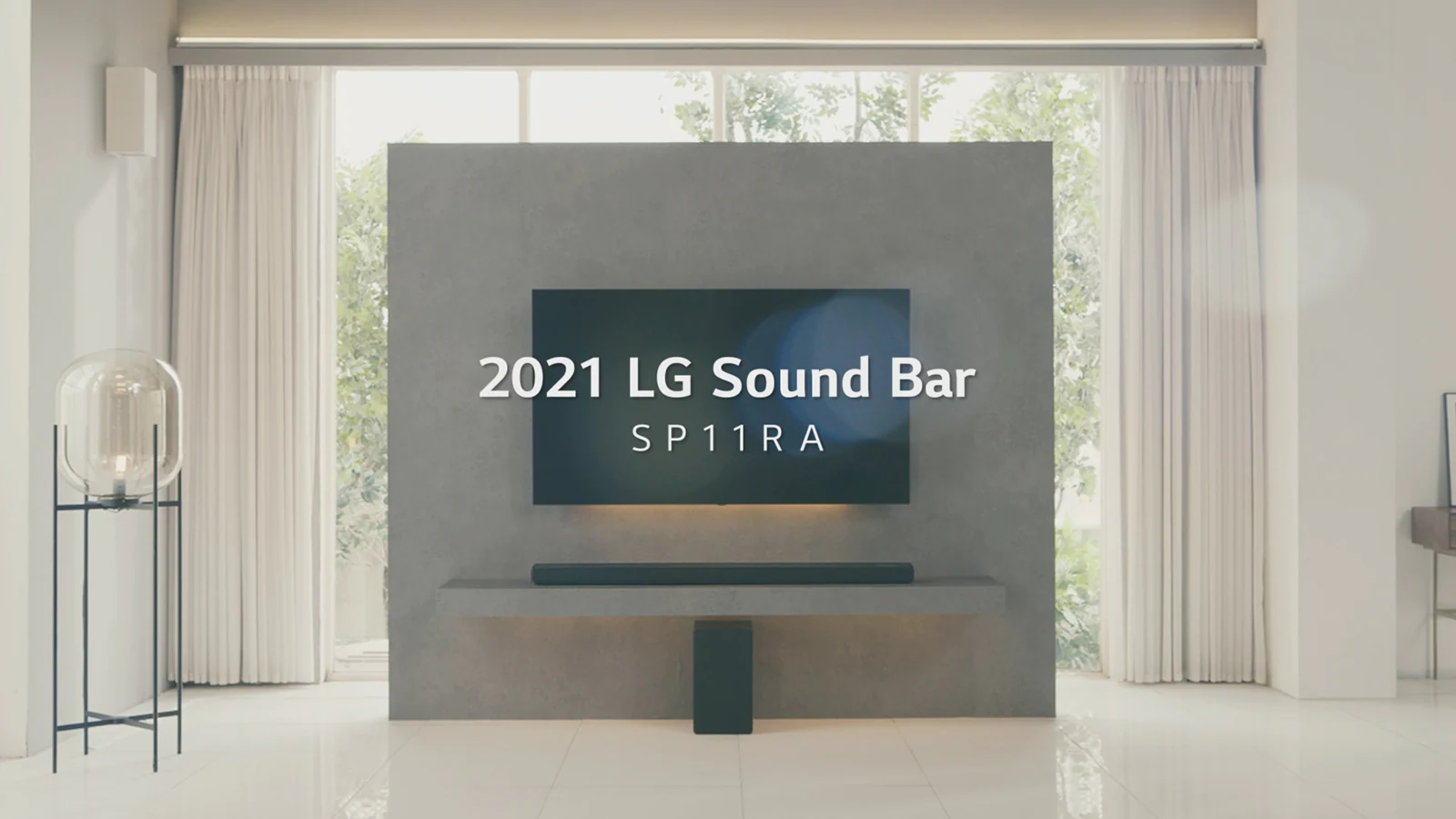 LG Soundbars Are the
Best Match With LG TVs

Designed To Be the Perfect Set
The matching designs of LG Soundbars and LG TVs are made to complement your home as well as each other. Every design element has been carefully considered so that they become a part of your interior and add style to your space.
Convenient Control With One LG TV Remote
Make the most of features that have been developed for ultimate compatibility. You can control the soundbar's power, volume, and even sound modes with only an LG TV remote — that's convenience turned up to max.
Upgrade Your Soundbar With Your LG TV's AI Processor
The upgraded 2021 Alpha 9 AI Processor helps your LG Soundbar to produce better sound. TV Sound Mode Share allows the soundbar to use the TV's processing power and AI Sound Pro to make everything you hear clearer and more consistent, even from different content sources. Only an LG Soundbar and LG TV combination lets you experience your TV at its best.
LG Soundbar Elevates
LG TV's Sound

Creating Better Sound Together
Since 1977, Meridian has delivered innovative and elegant high-performance audio solutions that have redefined how people enjoy their music and movies. As the pioneer of High Resolution Audio and the master of Digital Signal Processing (DSP), they have played an integral role in the development and adoption of pioneering technologies.
High-Resolution Audio
High-Resolution Audio sounds closer to the real thing. Higher sampling rates and bit depth provide sound quality that surpasses CDs. Enjoy stunning 24-bit/192kHz audio resolution as close to original sound as you can get.
Truly Immersive 7.1.4 Channel Sound
7.1.4 Channel Audio, 770W power, 2 rear up-firing speakers, and a subwoofer – LG Soundbar SP11RA is the complete package with powerful and immersive audio for an upgraded surround sound experience.
The Immersive Power of Dolby Sound With LG Soundbars and LG TVs
Dolby Atmos and DTS:X place sound all around you for a more realistic audio experience. All your movies and music are brought to life with sound that's clearer and more immersive.
A New Dimension of Immersive Audio With Dolby Atmos
Dolby Atmos Music allows sounds to be precisely placed, transforming your listening experience by adding dimensionality for a fuller audio atmosphere. This greater sense of space and depth allows you to listen to your favorite music in a whole new way. You'll discover hidden details with unparalleled clarity, and hear every emotion just as the artist intended. You can enjoy the benefits of Dolby Atmos Music on streaming services like Amazon and Tidal, and many other Blu-ray Music titles.
Power Up Your Game Sound on LG Soundbars and LG TVs
Dolby Atmos transforms your game audio by accurately projecting sound all around you for a more immersive, three-dimensional gaming experience. Many XBOX and PC titles are already compatible so you can start playing now.
New Sound Mode Makes All Your Favorites More Immersive
LG Soundbar SP11RA comes with its own proprietary sound modes that you won't find on other soundbars. They have been specifically developed by LG for voices, gaming, and sports – so sound will be at its best, whether you love to watch or play.
Fill the Room With the Ultimate Cinematic Surround Sound
LG Soundbar SP11RA uses rear up-firing speakers to bounce sound off the ceiling and walls so it's above and around you. The result is a more immersive experience that makes you feel like you're part of the action.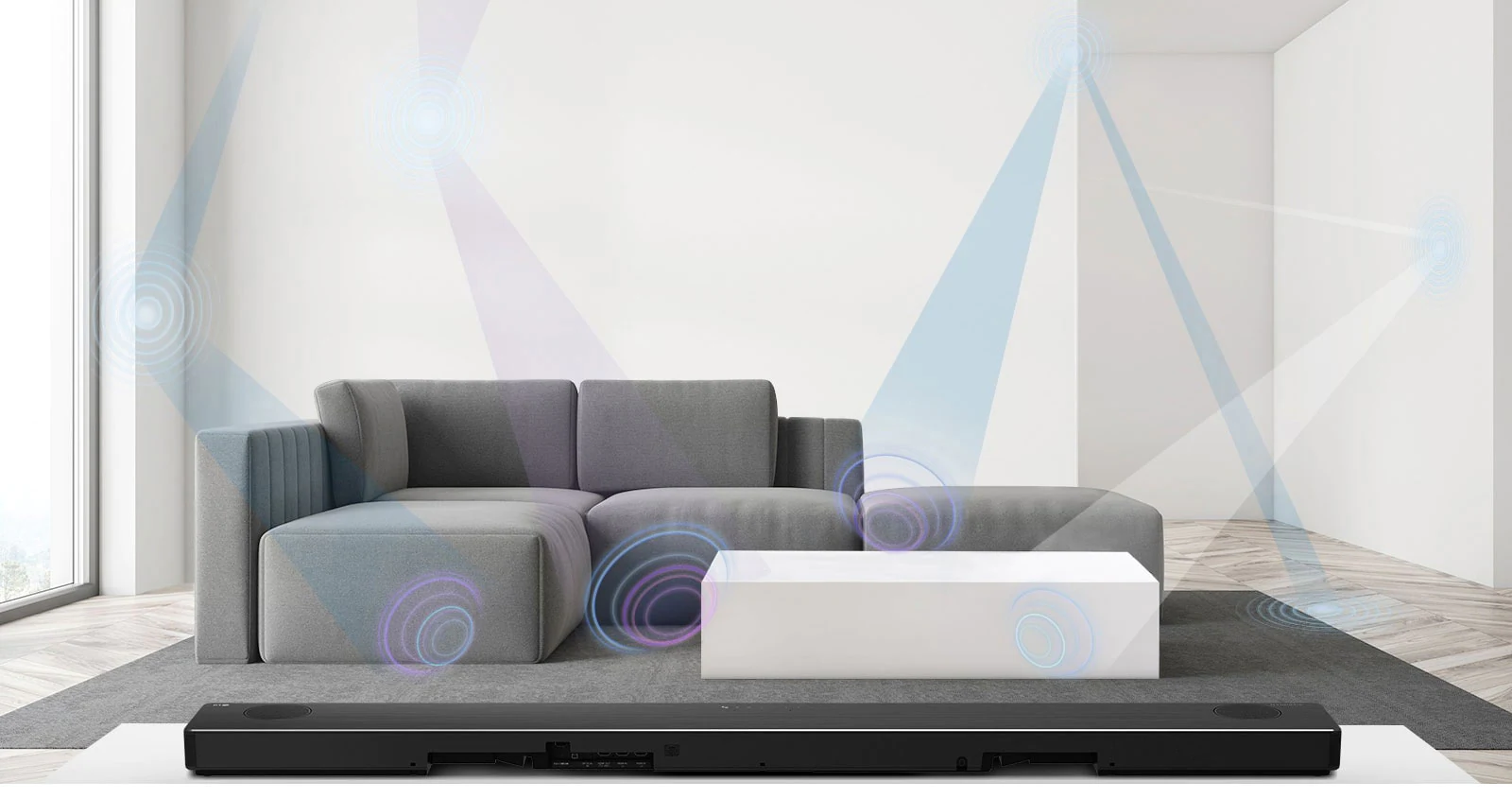 AI Room Calibration
Optimal sound in any environment
Room calibration uses spatial awareness technology to measure your room's unique characteristics. It then balances the sound bar audio settings to the environment. It's immersive sound with a more accurate sweet spot, heard as it was meant to be naturally and accurately.
Upgraded AI Sound Pro With LG Soundbars
Adaptive audio uses an upgraded algorithm to identify voices, effects, and frequencies then optimizes the sound by genre for a more immersive experience with every scene.
Use the Platform of Your Choice
LG Soundbars now have the compatibility to work with more AI services.
You can easily control the LG Sound Bar with the platform of your choosing.

Audio Connection With No Compromise
HDMI eARC (Enhanced Audio Return Channel) allows lossless transmission of uncompressed 5.1 ch and 7.1 ch audio, and even HBR(High Bit Rate) audio such as Dolby Atmos® and DTS: X® on compatible TVs.
Connect to Amazing Picture & Sound with 4K & HDR Passthrough
Fewer cables with no loss of sound quality. Maintain high resolution audio and Dolby Vision picture quality when you connect an external source, like a streaming device or 4K Blu-ray player, to your sound bar using an HDMI cable.
1 Main Unit, Manual, Remote Control, 2 Speaker, Sub Woofer
| | |
| --- | --- |
| Model Number | |
| Model Name | SP11RA, Dolby Atmos, AI Sound Pro, HDMI, Rear Speaker |
| Type | |
| Bluetooth | |
| Memory Card Slot | |
| Configuration | |
| Power Source | |
| Power Output (RMS) | |
| Frequency Response | Wireless Frequency: 5 GHz (Rear Speaker), Wireless Frequency: 5 GHz (Subwoofer) |
| Impedance | |
| Color | |
| Wired/Wireless | |
| Subwoofer | |
| Wall Mountable Satellite | |
| Built-in Fm Radio | |
| | |
| --- | --- |
| Headphone Jack | |
| Configuration | |
| Compatible Devices | |
| USB Ports | |
| Bluetooth | |
| Bluetooth Range | |
| | |
| --- | --- |
| Controls | Volume, Play, Pause, Fwd/Rev, TV Sound Sync |
| Remote Control Support | |
| Power Input | |
| | |
| --- | --- |
| Subwoofer Width | |
| Subwoofer Height | |
| Subwoofer Depth | |
| Subwoofer Weight | |
| Width | |
| Height | |
| Depth | |
| | |
| --- | --- |
| Warranty Service Type | Customer has to Contact LG Customer Care @ 1800 315 9999/1800 180 9999 |
| Warranty Summary | 2 Years Manufacturer Warranty |
| Covered in Warranty | |
| Not Covered in Warranty | |
| Domestic Warranty | |