Description
Blackmagic Design Pocket Cinema Camera 4K

The Blackmagic Design Pocket Cinema Camera 4K features a 4/3″ sensor for capturing up to 4096 x 2160 DCI 4K images at rates up to 75 fps in a variety of codecs including Blackmagic Raw at several bit rates and various ProRes 422 options. With the 6.6 update, the BMPCC 4K now offers up to 80 fps in a 2.8K raw mode for 4:3 anamorphic and up to 75 fps in a 4K raw mode in 2.4:1 widescreen. A 2x de-squeeze preview is available for 4:3 recording as well as a 1.33x de-squeeze option. Slow-motion rates up to 120 fps are available in 2.6K raw for Super16 lenses and in cropped Full HD. The 6.6 update makes operating easier with support for the Pocket Battery Grip and a built-in horizon level function. Further 6.6 update features include support for additional languages, USB PTP control, customizable frame guides, an up to 8x pinch-to-zoom function, the ability to embed custom LUTs as metadata in Blackmagic Raw, and more.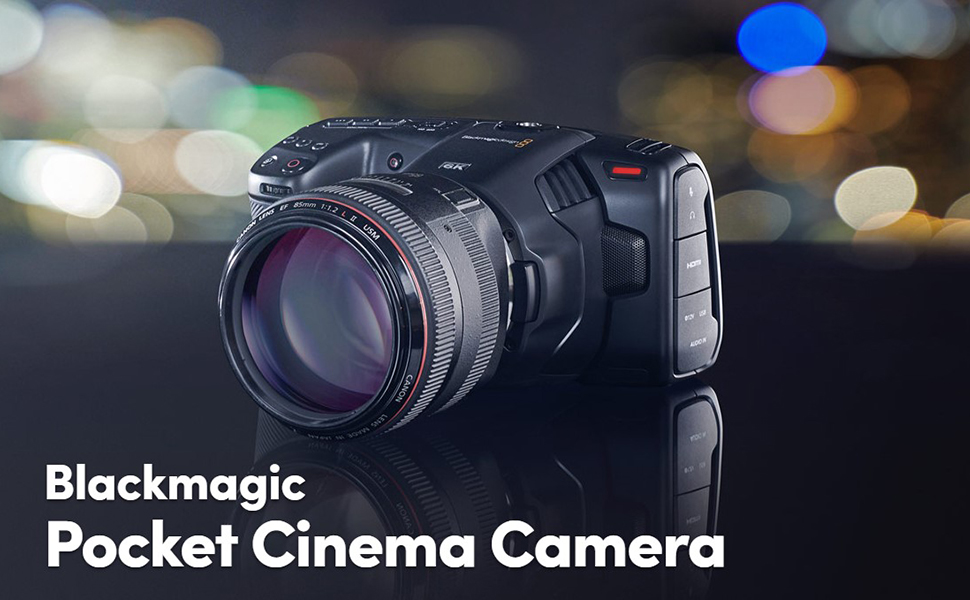 Introducing the Next Generation Handheld Digital Film Cameras!
Blackmagic Pocket Cinema Camera is better than a simple video camera because it has professional features allowing you to create the same "look" as Hollywood feature films. The combination of high dynamic range, great low light performance and Blackmagic RAW gives you feature film images with precise skin tones and gorgeous organic colors. You get advanced features such as 4K or 6K models, large 5″ LCD for easy focus, SD card and CFast media, external USB‑C media disk recording, EF or MFT lens mounts and more! DaVinci Resolve Studio is also included for editing, color correction, audio post and VFX!
Blackmagic Pocket Cinema Camera 4K
The Blackmagic Pocket Cinema Camera 4K features a 4/3 image sensor with 4096 x 2160 resolution and an MFT lens mount, allowing you to capture wide dynamic range, Hollywood quality, digital film images in the palm of your hand! The MFT mount lets you use super compact, lightweight and affordable lenses so you can take the camera anywhere, even locations that are too hostile for larger cameras. The result is an extremely advanced, affordable and portable high end digital film camera!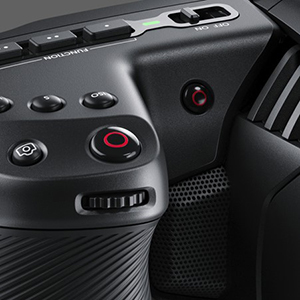 Lightweight Carbon Fiber Polycarbonate Composite
The elegant design of the Blackmagic Pocket Cinema Camera packs an incredible number of high end digital film features into a miniaturized, handheld design.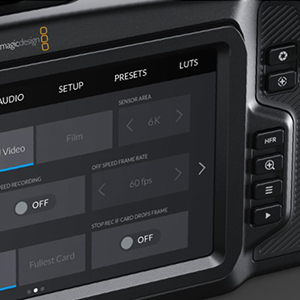 Back Panel Controls
Conveniently placed below the right thumb rest, you can quickly change shooting speed with the high frame rate button, zoom into the image with the magnifying glass, access setup menus and quickly play back shots for review.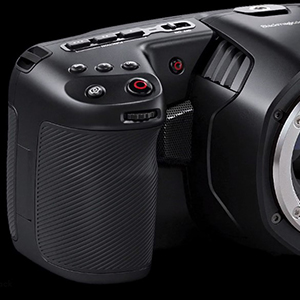 Fingertip Shooting Controls
The front and top of the Blackmagic Pocket Cinema Camera features record start/stop and still photo buttons along with dedicated controls for iris, ISO, white balance and shutter speed. The main power switch is located on the top next to a row of 3 customizable function buttons.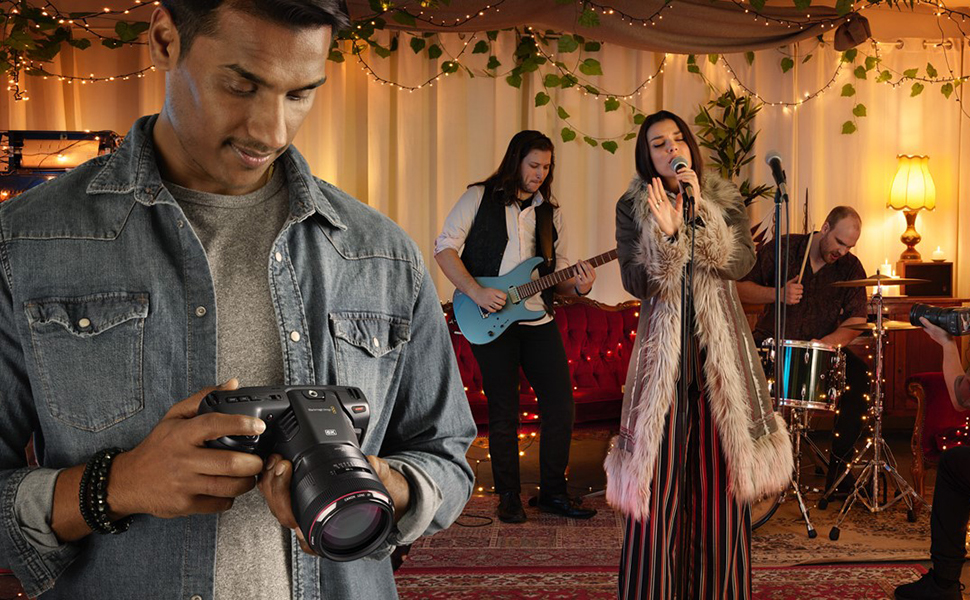 Get the "Hollywood Look" with Digital Film!
Blackmagic Pocket Cinema Camera has the professional features needed for feature film, television programming and documentaries, however now these same features can be used to revolutionize other types of work such as blog videos, YouTube content and more. You get the same features found on expensive digital film cameras, allowing capture of deeper colors, higher image detail and a wider dynamic range between the brightest highlights and deepest shadows. It's the key reason why feature films look so amazing and now you can get these same high end production values for any kind of work. Imagine getting film quality on independent film, music videos, weddings, corporate videos, documentaries and more!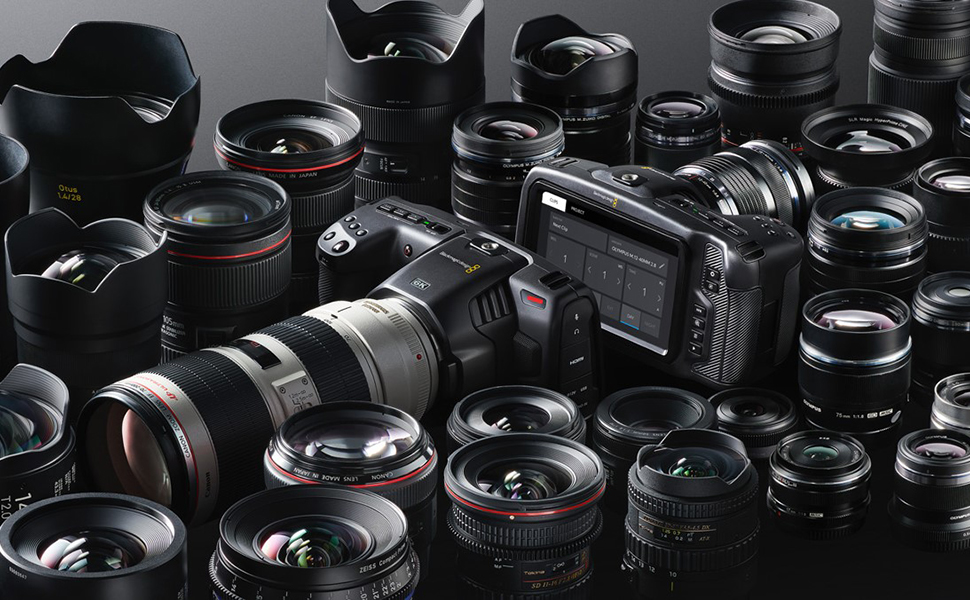 Compatible with Cinema and Photographic Lenses!
With 2 models, you can chose between EF or MFT lenses, making Blackmagic Pocket Cinema Camera compatible with the largest range and most popular lenses in the world! The 6K model features an EF lens mount so you can use lenses you already own from other cameras such as DSLR, URSA Mini Pro or even the original Blackmagic Cinema Camera! You can use commonly available photographic lenses that provide incredible creative choice and wonderful feature film quality lens effects. The active lens mount lets you adjust focus and iris from the buttons on the camera or the touch screen. For even greater flexibility, the MFT lens mount on the 4K model can be adapted to PL, C, EF or other lens types!