Description
Blackmagic Design Pocket Cinema Camera 6K Pro
To top their previous achievement with the Pocket Cinema Camera 6K, Blackmagic Design adds an even more full-featured, compact Super35 camera to their cine-style line with the Pocket Cinema Camera 6K Pro. The 6K Pro features all the recording features, sensor, dynamic range, buttons, and ports as its predecessor, and adds a variety of important new features such as a 5″ tilting HDR capacitive touchscreen LCD with 1500 cd/m² brightness, a Pro EVF option, built-in clear/2/4/6-stop ND filters, dual mini-XLR inputs, an accurate timecode clock, an NP-F570 L-series battery slot, and updated Gen 5 color science.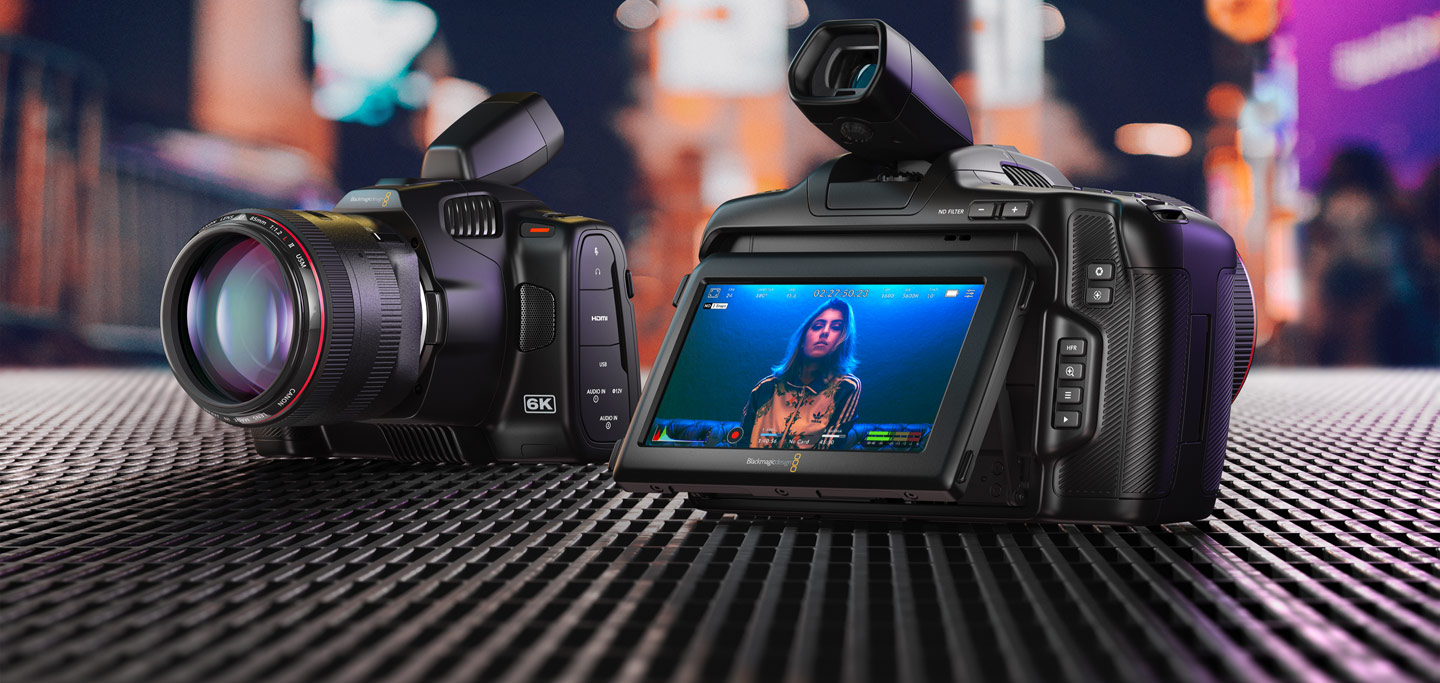 Blackmagic
Pocket 

Cinema Camera
Introducing theNext Generation Handheld Digital Film Cameras!
Dramatically improve the production value of your work by upgrading to digital film! Blackmagic Pocket Cinema Camera is better than a simple video camera because it has professional features allowing you to create the same "look" as Hollywood feature films. The combination of high dynamic range, great low light performance and Blackmagic RAW gives you feature film images with precise skin tones and gorgeous organic colors. You get advanced features such as 4K, 6K G2 or 6K Pro models, large 5″ LCD for easy focus, SD card and CFast media, external USB-C media disk recording, EF or MFT lens mounts and more! DaVinci Resolve Studio is also included for editing, color correction, audio post and VFX!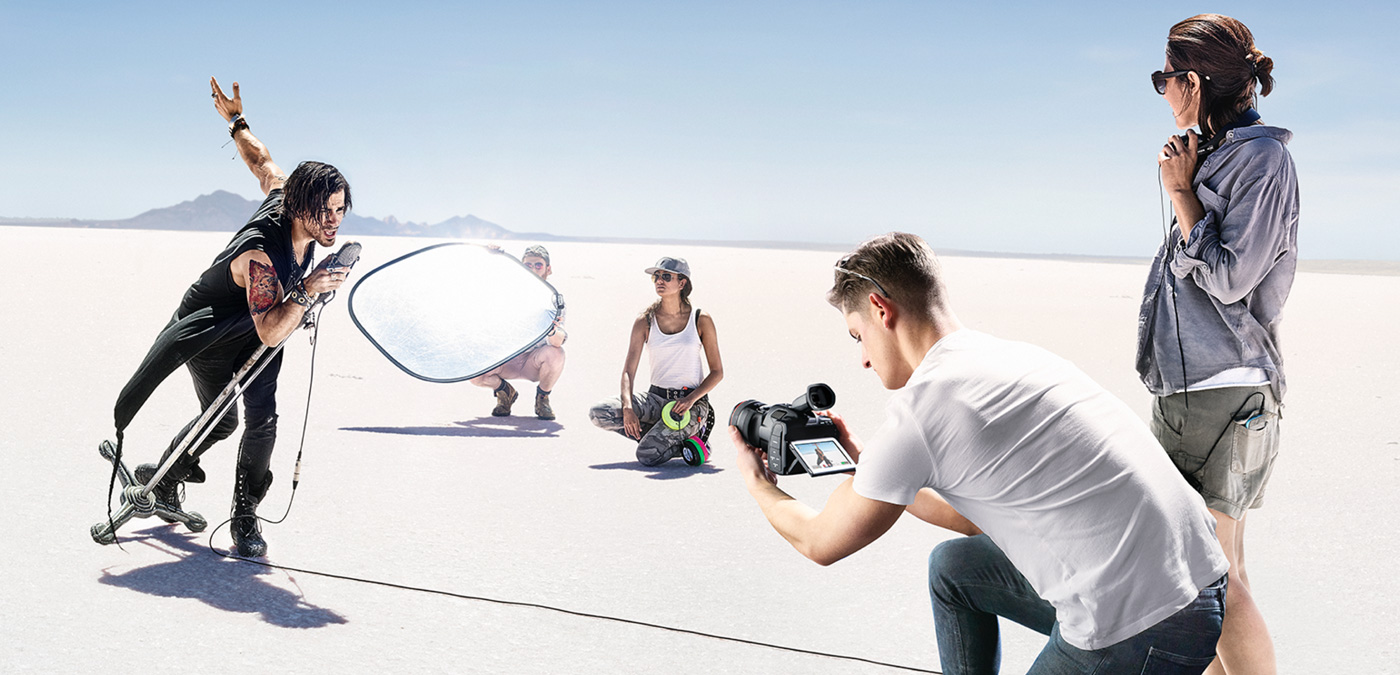 Get the "Hollywood Look"with Digital Film!
Pocket Cinema Camera has the professional features you need for feature film, television programming and documentaries, however now these same features can be used to revolutionize other types of work such as blog videos, YouTube content and more. You get the same features found on expensive digital film cameras, allowing capture of deeper colors, higher image detail and a wider dynamic range between the brightest highlights and deepest shadows. It's the reason why feature films look so amazing and now you can get the same high end production values for any kind of work. Imagine getting film quality on independent film, music videos, weddings, corporate videos, documentaries and more!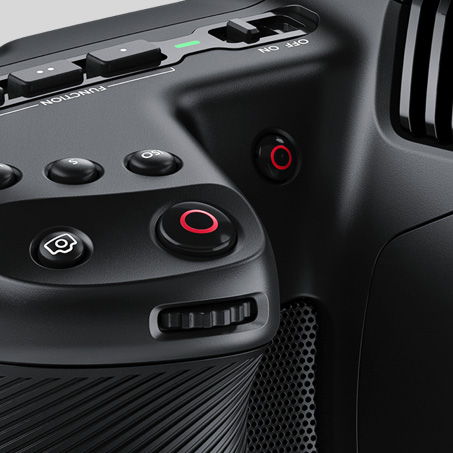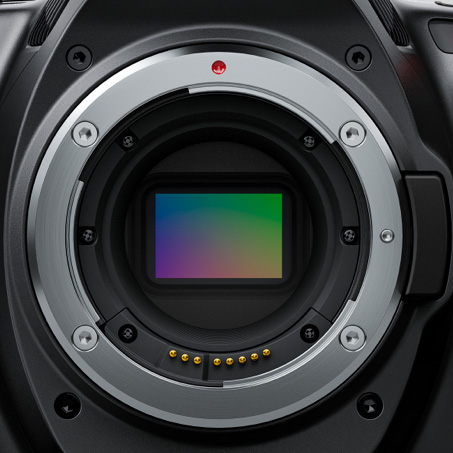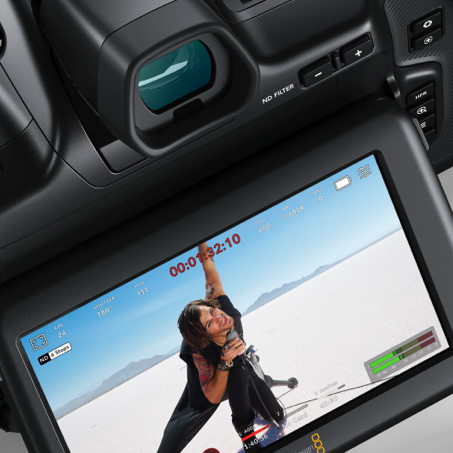 Lightweight CarbonFiber Polycarbonate Composite
The elegant design of the Blackmagic Pocket Cinema Camera packs an incredible number of high end digital film features into a miniaturized, handheld design. Made from lightweight carbon fiber polycarbonate composite, the camera features a multifunction handgrip with all controls for recording, ISO, WB and shutter angle right at your fingertips. Because it's an advanced digital film camera, the sensor is designed to reduce thermal noise allowing cleaner shadows and higher ISO. Plus the large 5 inch LCD makes it possible to get perfect focus at 4K and 6K resolutions. You also get a removable battery door, 4 shock proof microphones, heavy duty lens mount and built in speaker.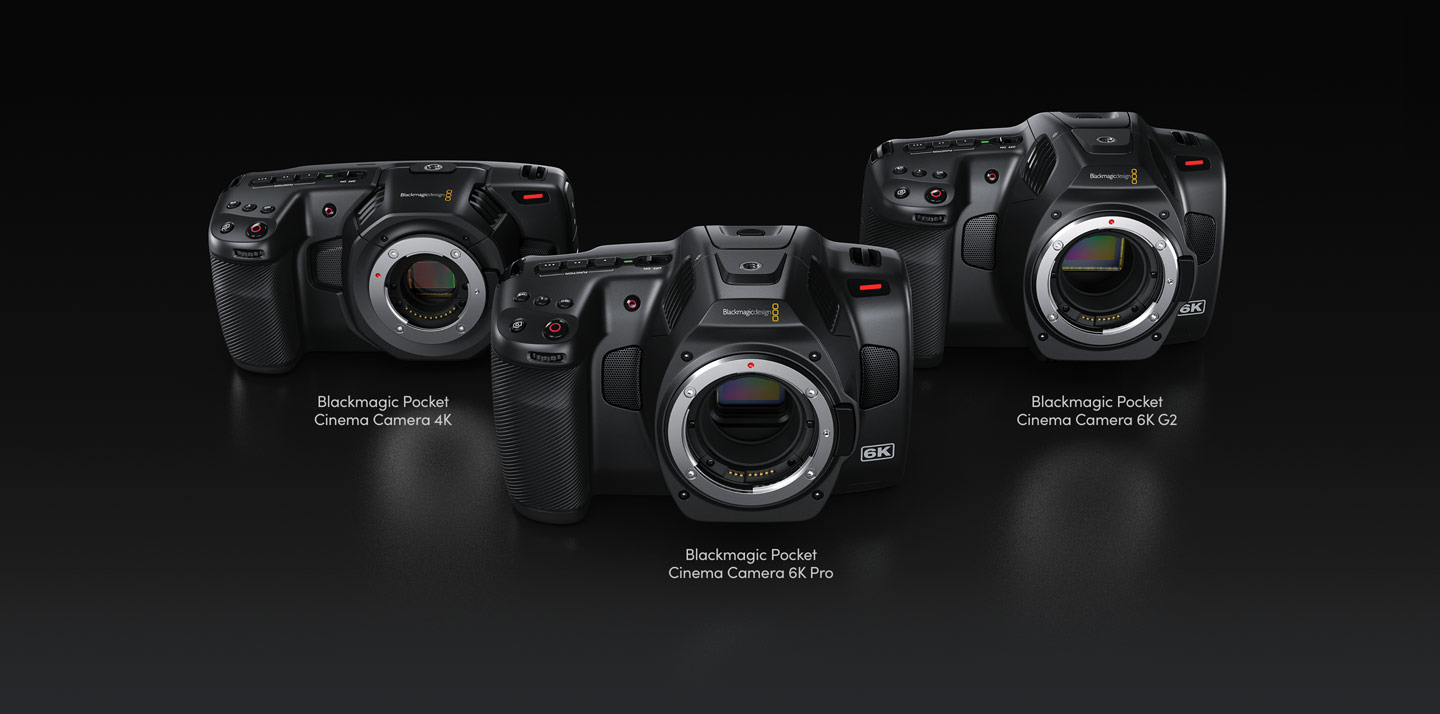 Blackmagic PocketCinema Camera 4K
The Blackmagic Pocket Cinema Camera 4K features a 4/3 image sensor with 4096 x 2160 resolution and an MFT lens mount, allowing you to capture wide dynamic range, Hollywood quality, digital film images in the palm of your hand! It's an extremely advanced and affordable high end digital film camera!
Blackmagic PocketCinema Camera 6K G2
Featuring a larger 6144 x 3456 Super 35 sensor and EF lens mount, the Blackmagic Pocket Cinema Camera 6K G2 lets you use EF photographic lenses to create cinematic images with shallower depth of field. It also has an adjustable tilt LCD, viewfinder mount, mini XLR audio inputs and a NP-F570 style battery.
Blackmagic PocketCinema Camera 6K Pro
The Blackmagic Pocket Cinema Camera 6K Pro includes more pro features such as built in 2, 4 and 6 stop motorized ND filters with selectable ND, stop reduction or fraction settings shown on the display. As well as a super bright 1500 nit HDR screen making it ideal for use in bright sunlight.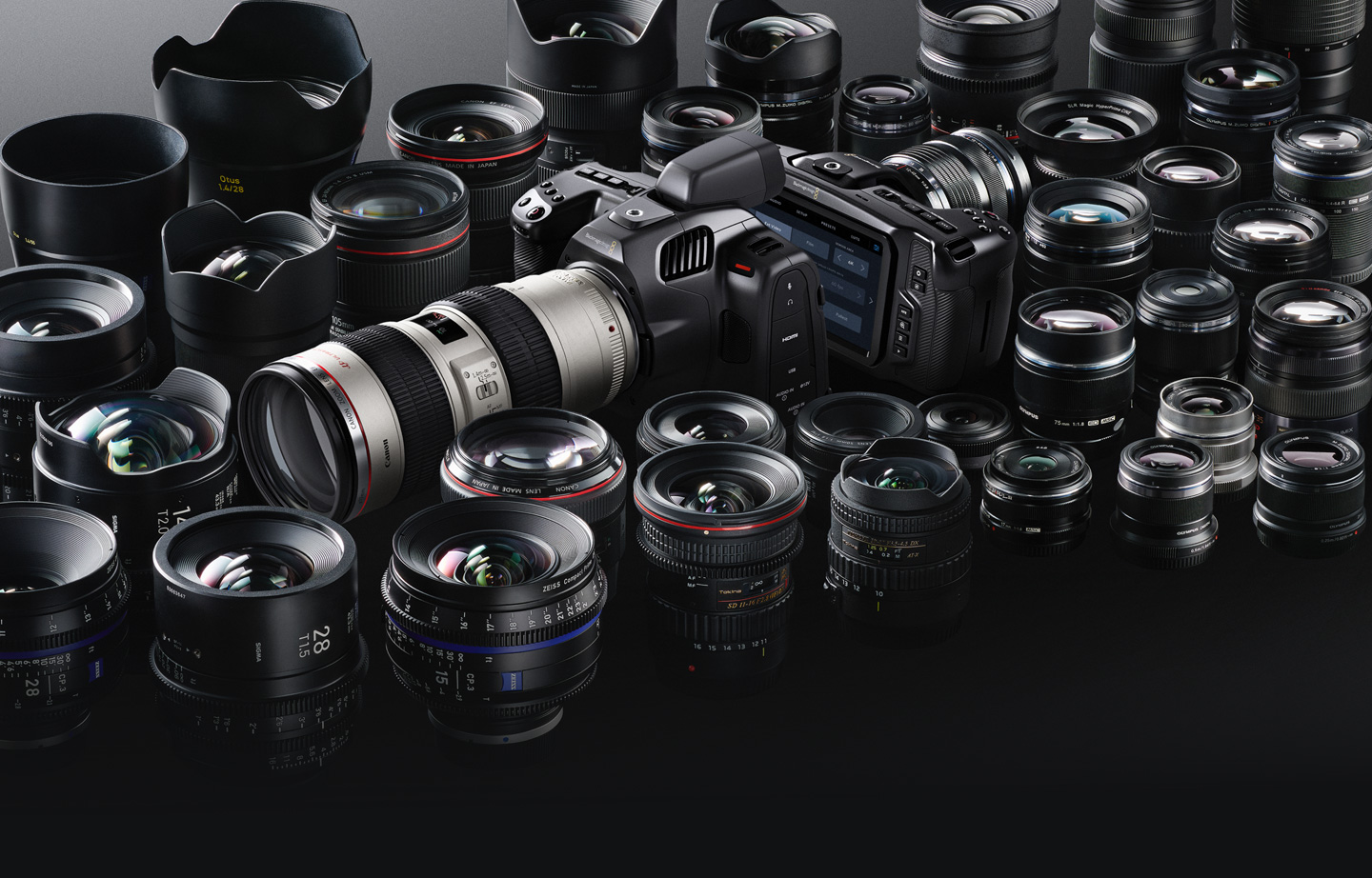 Compatible with Cinema and 
Photographic Lenses!
With 3 models, you can choose between EF or MFT lenses, making Blackmagic Pocket Cinema Camera compatible with the largest range and most popular lenses in the world! The 6K models feature an EF lens mount so you can use lenses you already own from other cameras such as DSLR, URSA Mini Pro or even the original Blackmagic Cinema Camera! You can use commonly available photographic lenses that provide incredible creative choice and wonderful feature film quality lens effects. The active lens mount lets you adjust focus and iris from the buttons on the camera or the touch screen. For even greater flexibility, the MFT lens mount on the 4K model can be adapted to PL, C, EF or other lens types!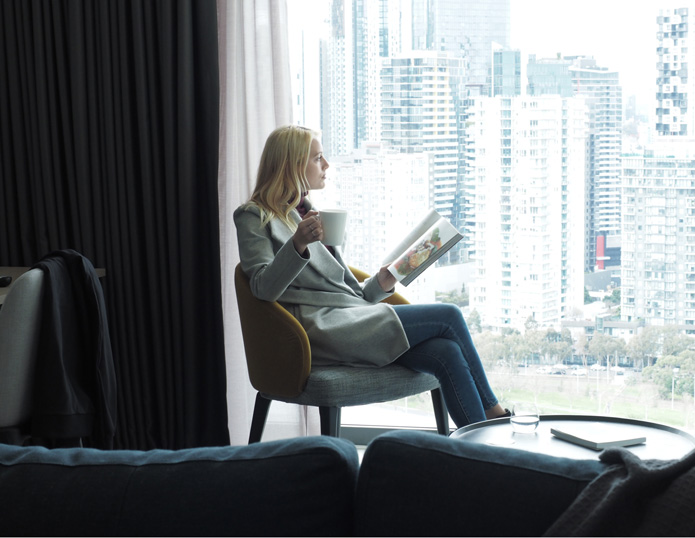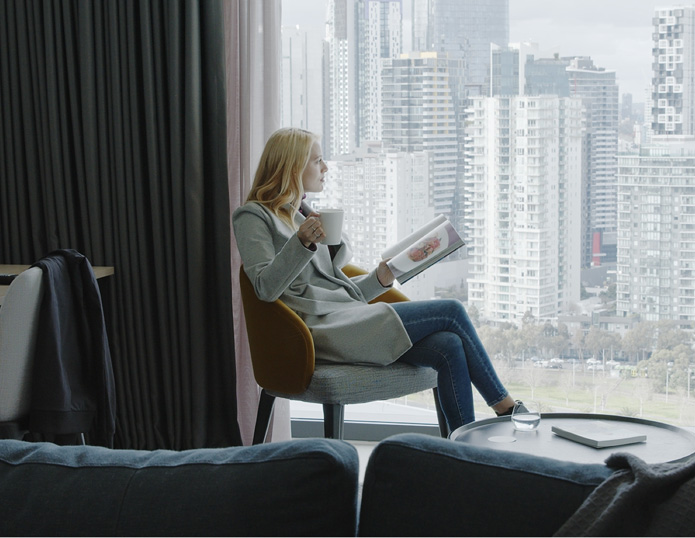 Shoot Incredible HighDynamic Range (HDR) Images
The distance between the lightest and the darkest parts of an image is called dynamic range and is measured in stops. Pocket Cinema Cameras have an incredible 13 stops of dynamic range which means they preserve more detail in the lightest and darkest areas of an image than simple video cameras can. This allows you to set exposure for an indoor scene such as a cafe and still retain the details of bright outdoor light coming through a window. You also get more colors than the standard DCI-P3 colorspace used for feature films. Plus DaVinci Resolve Studio is included with the camera, so you get total creative freedom with full exposure adjustment and recovery controls when color grading!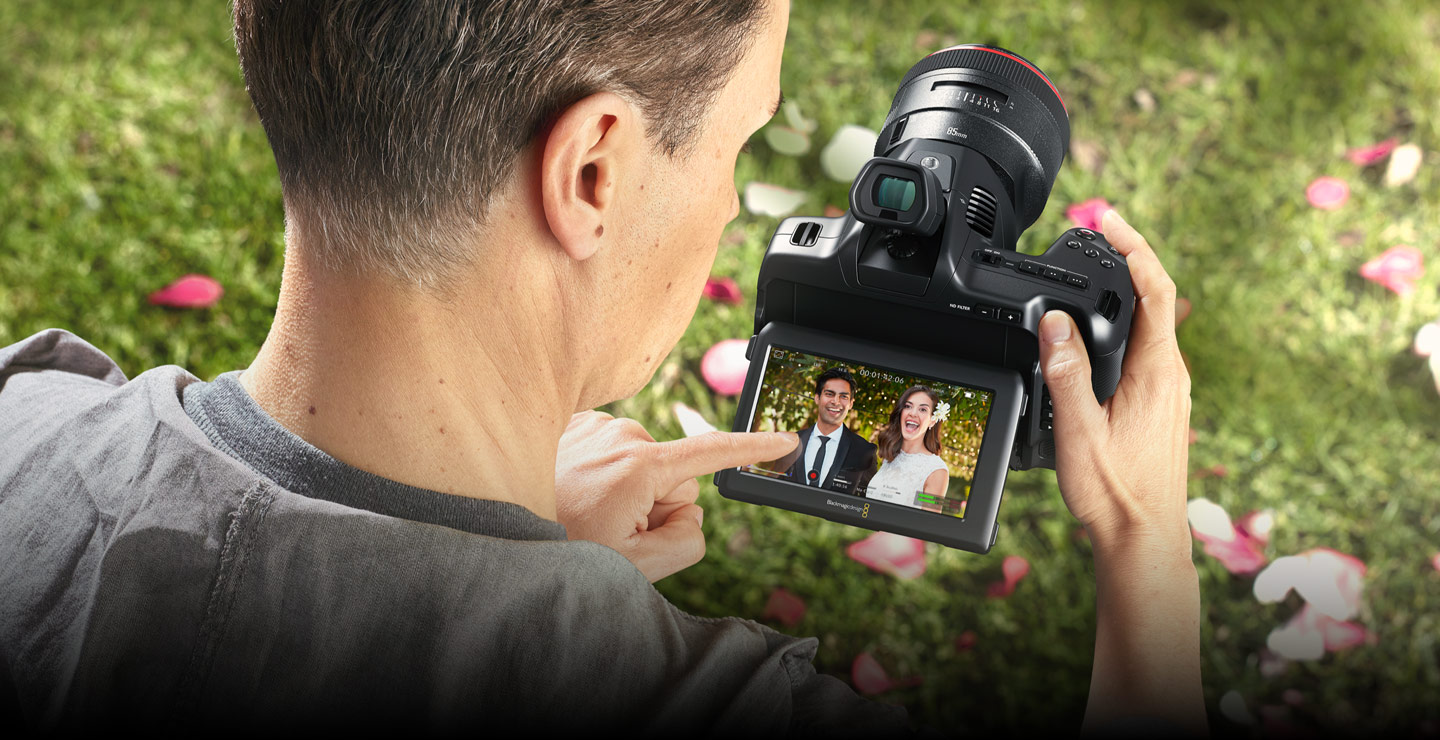 Touchscreen for Fast Setup
The large LCD touchscreen displays critical information on the heads up display, or HUD, as well as access to camera setup menus. The HUD lets you see and adjust settings such as the frame rate, iris, timecode, shutter angle, white balance, ISO, audio levels and more with a single tap. You can show or hide the HUD by simply swiping up or down. Adjust settings such as white balance simply by touching the WB indicator, or change the audio levels by touching the audio meters. Everything is interactive, so you can tap any item and instantly change settings without searching through confusing menus! You can also access settings such as the digital slate, to quickly add metadata to any shot.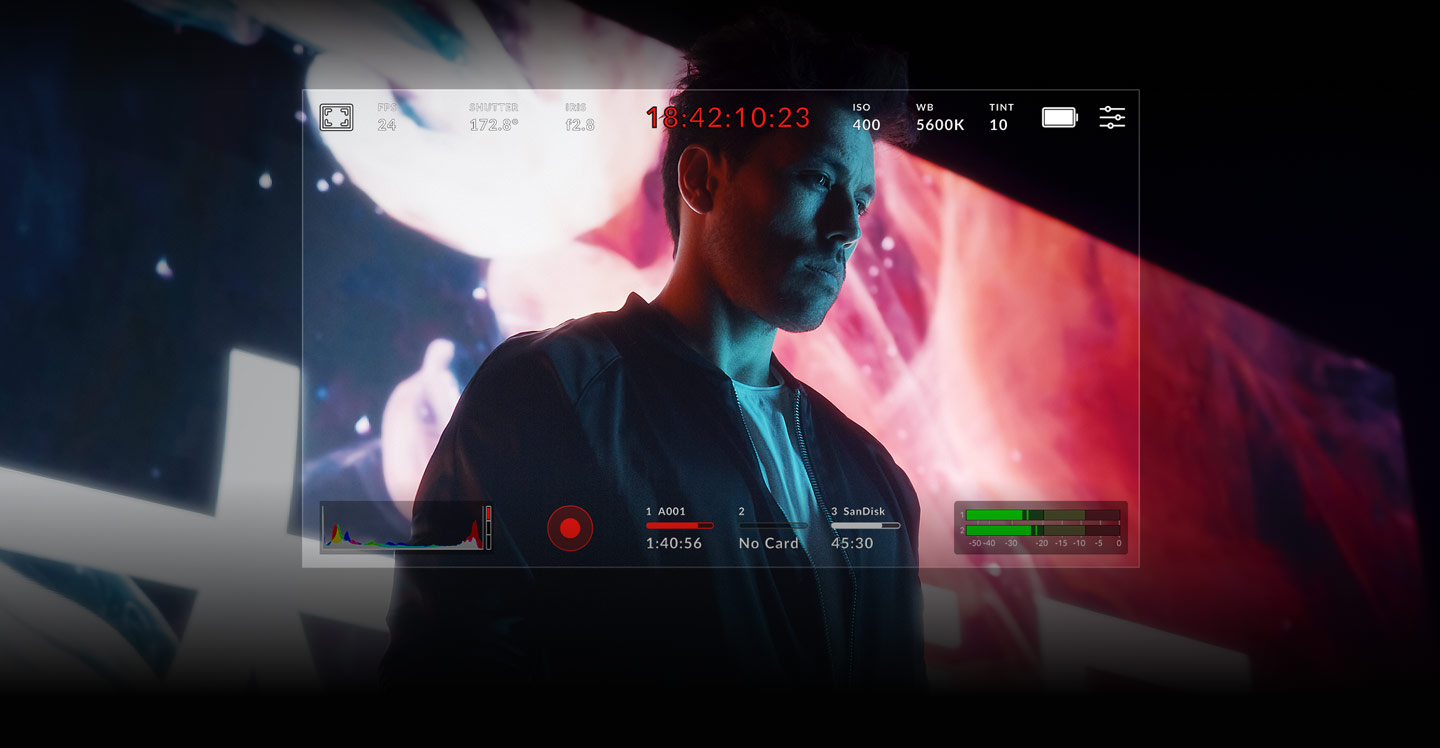 Powered by Blackmagic OS
With the advanced Blackmagic OS, you get an intuitive and user friendly camera operating system based on the latest technology. Blackmagic OS is a true modern operating system where all camera features run independently for smoother control, plus the camera powers on virtually instantly. It features the same controls and menus as other Blackmagic Design cameras so you can move between cameras on set easily. The interface uses simple tap and swipe gestures to adjust settings, add metadata and view recording status. You also get full control over advanced camera features such as on screen focus and exposure tools, 3D LUTs, HDR, metadata entry, timecode, Blackmagic RAW settings and more!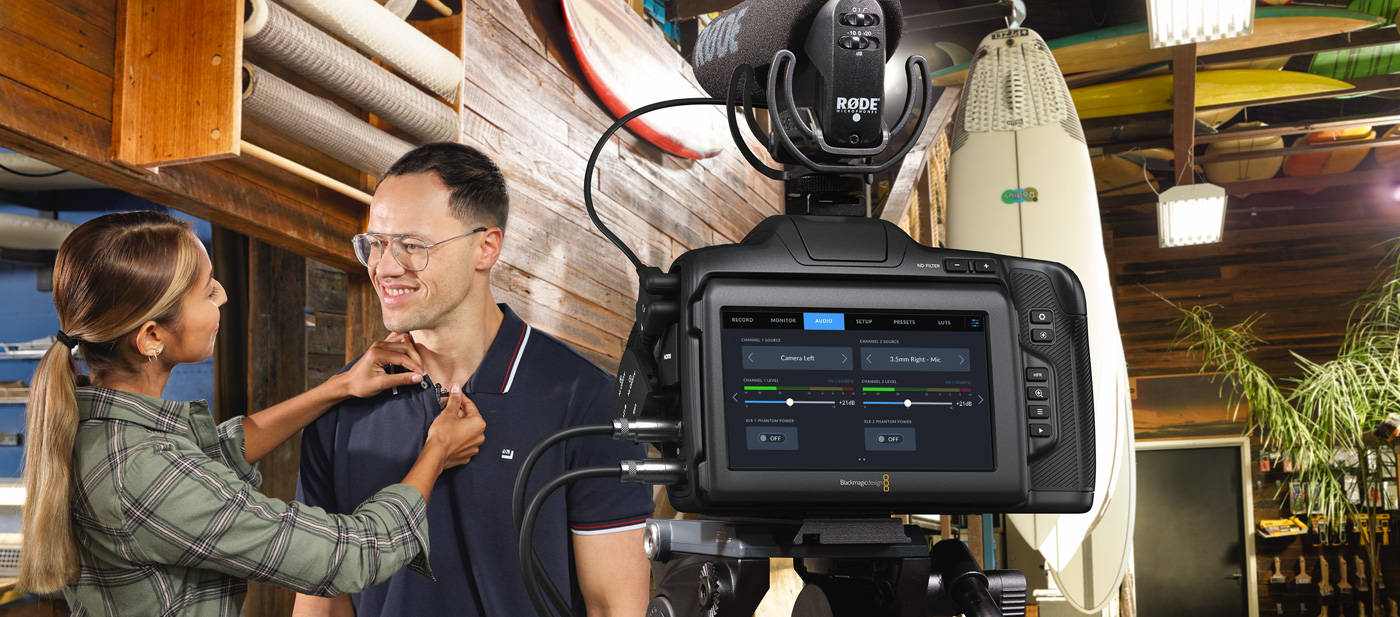 4 Built-in Micro phone sand Professional Audio Inputs
With professional, high fidelity audio recording built in you'll never have to carry around a separate sound recorder again! Blackmagic Pocket Cinema Cameras feature a mini XLR input with 48 volts of phantom power for connecting professional microphones such as lapel mics and booms. The 6K Pro model features 2 mini XLR connections, allowing you to record 2 separate audio tracks using 2 mics, without an external mixer. The four built in mics have an extremely low noise floor and are shock and wind resistant, capturing great sound in any location. There's also a 3.5mm audio input for connecting video camera microphones, along with a built in speaker for playback and a 3.5mm headphone jack.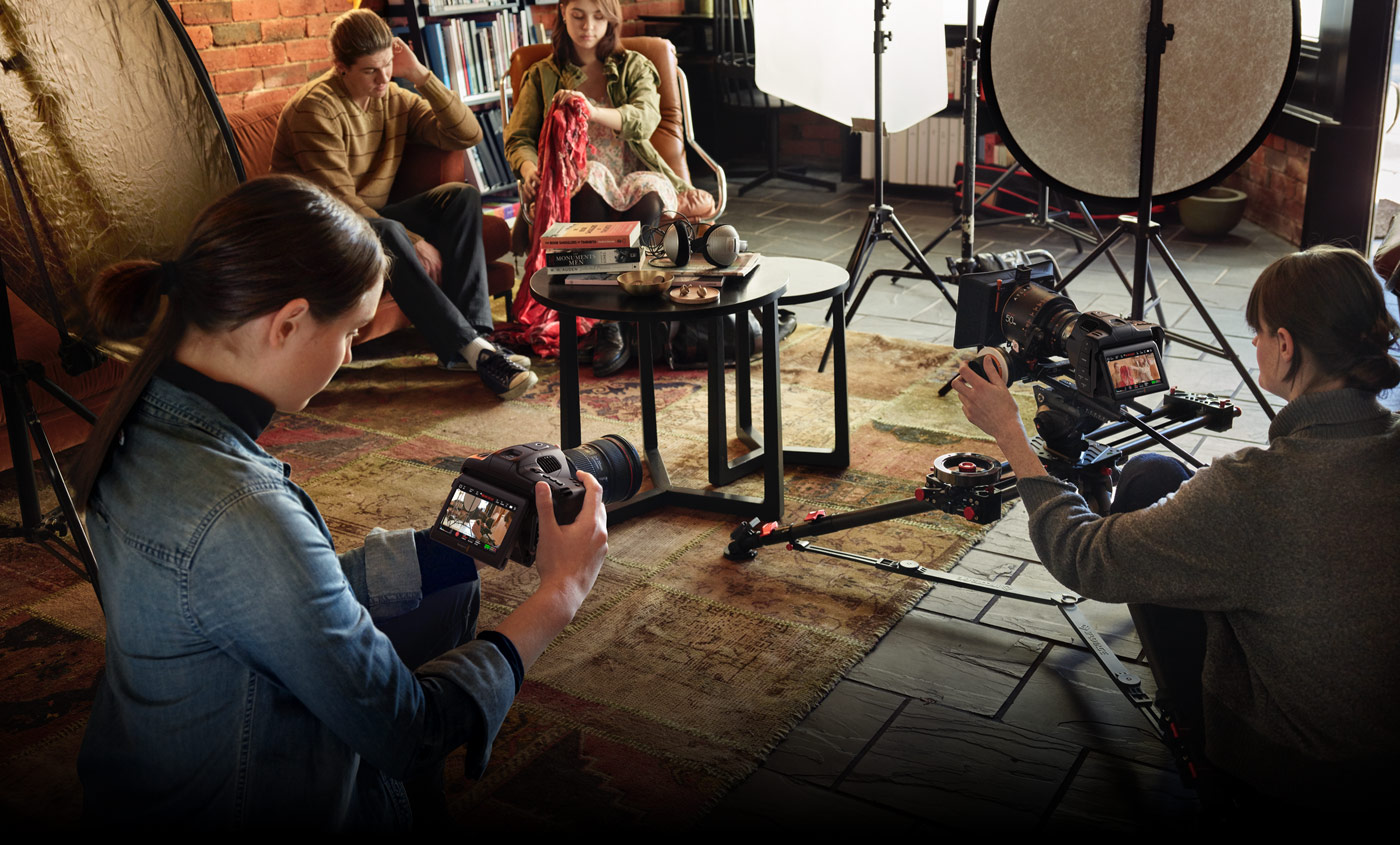 Shoot Still Framesup to 21.2 Megapixels!
In addition to shooting video, the Blackmagic Pocket Cinema Camera can also capture high resolution stills. Simply press the dedicated stills button to record 21.2 megapixel images on the 6K models or 8 megapixel images on the 4K model. Still images are saved as fully uncompressed DNG frames, so you get the maximum image quality, which is perfect for making professional prints. Capturing still images is great for keeping track of continuity between shots or for sharing images to get approval from clients that are not on set.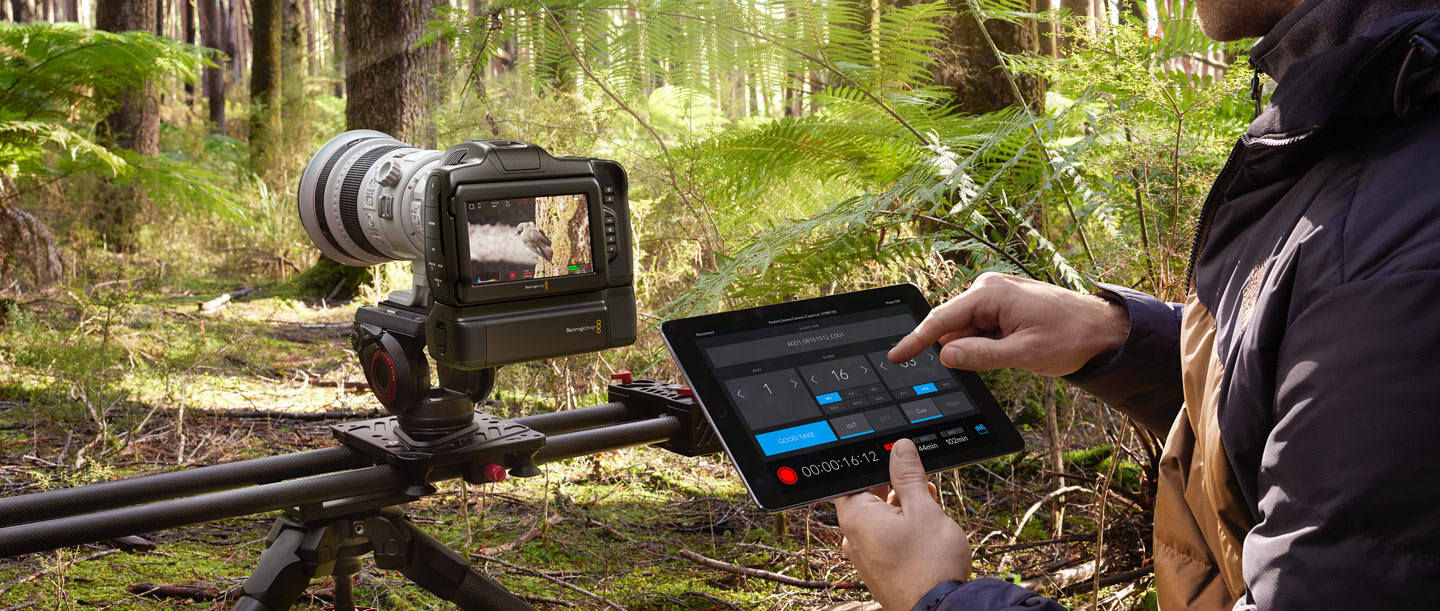 Wireless BluetoothCamera Remote Control
If you're positioning the camera on the end of a boom, or in another hard to reach location, you can get full control via Bluetooth from up to 30 feet away. You can download the Blackmagic Camera Control app for your iPad or use third party apps such as Bluetooth+ or tRigger on your iOS and Android devices. There's even a free developer SDK with sample code available from the Blackmagic Design developer website, so you can create your own remote camera control and digital slate solutions! Imagine building an app that can jam sync timecode and trigger all cameras to record at the same time. The possibilities are endless!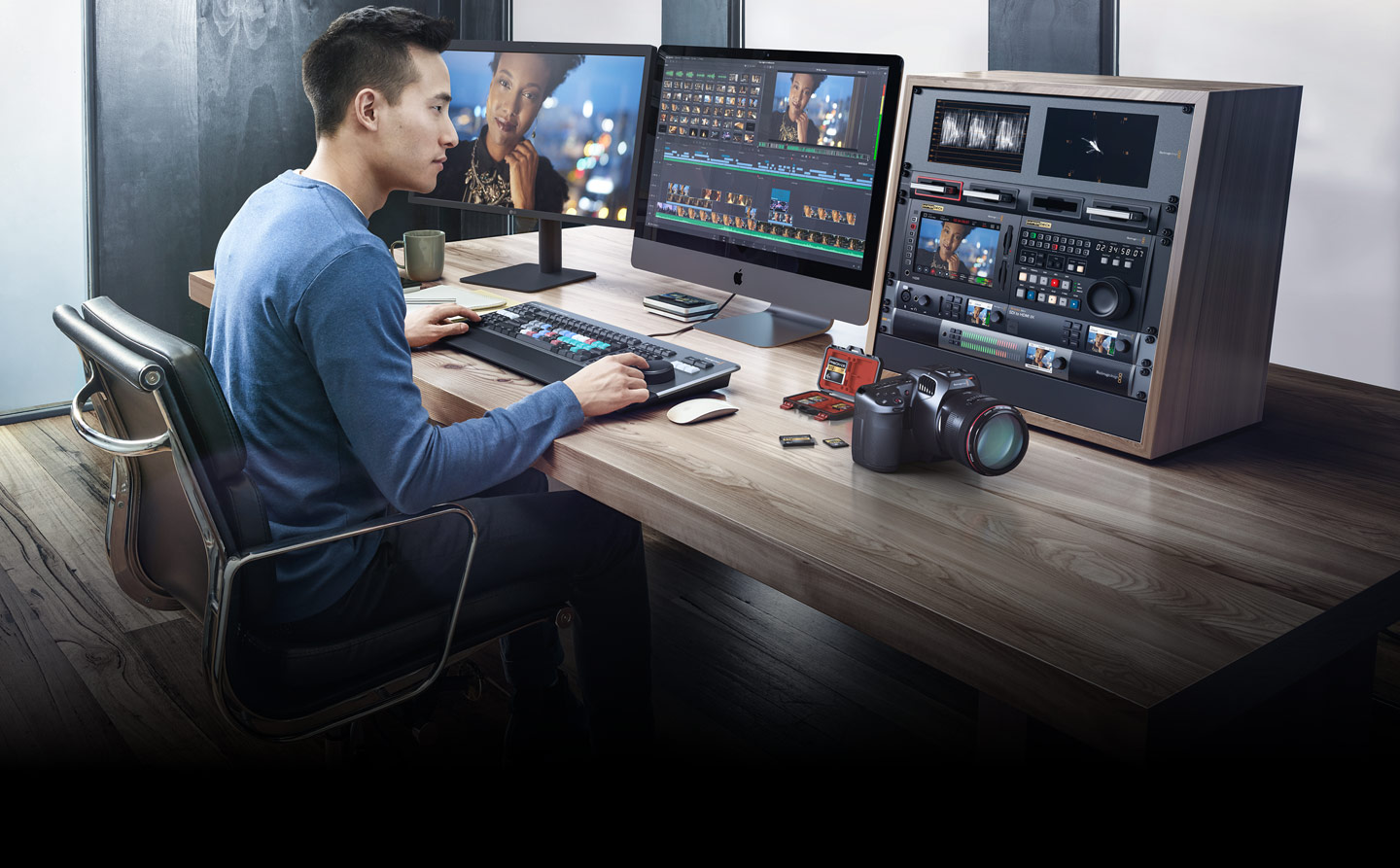 Includes 
DaVinci Resolve Studio
Get ProfessionalEditing, Color Correction, Audio 
Post and VFX!
All Pocket Cinema Camera models include a full version of DaVinci Resolve Studio, which is the same software used in Hollywood for creating high end feature films, episodic television shows, commercials and more. DaVinci Resolve features the new cut page with intelligent editing tools and innovative new features designed to help you quickly find the footage you want, edit it together and output it fast. In addition to the new cut page, you also get DaVinci's legendary professional editing, advanced color correction, audio post and visual effects tools, all in a single software application! Now you can use the the same high end software that professional editors and colorists use!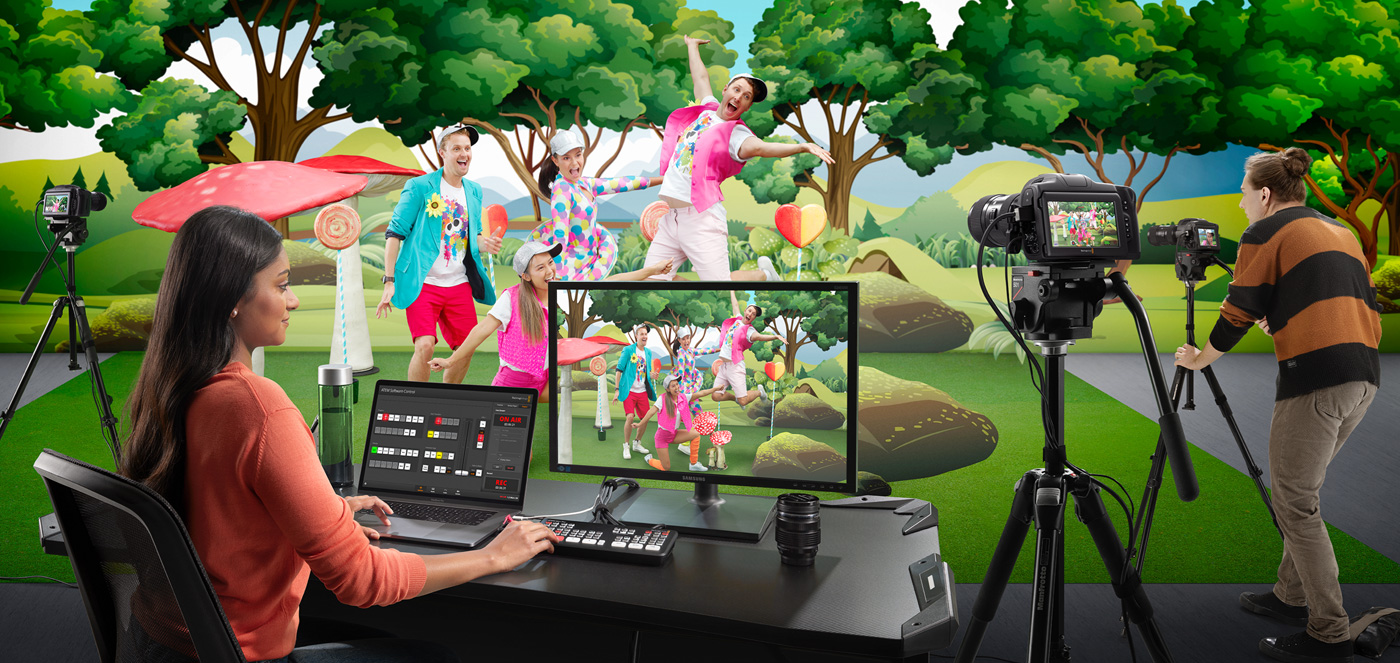 Introducing ATEM Mini
Get YouTube Live Streaming with ATEM Mini
The new ATEM Mini makes it easy to create professional multi camera productions for live streaming to YouTube and innovative business presentations using Skype! Simply connect Pocket Cinema Cameras to ATEM Mini for dramatically better quality images. Plus connect a computer for PowerPoint slides or gaming consoles. There's even a DVE that allows picture in picture effects plus lots of video effects and transitions. All ATEM Mini models have USB that works like a webcam so you can use any streaming software while the ATEM Mini Pro model adds live streaming via Ethernet and recording to USB disks. ATEM Mini even has advanced broadcast features for high end work.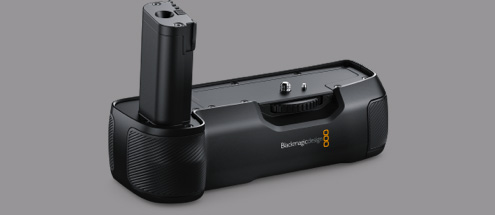 Blackmagic Pocket Camera Battery Grip
The optional battery grip holds twoL‑Series batteries so you can shoot even longer!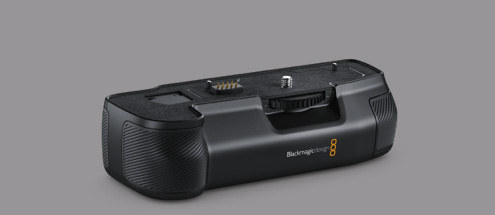 Blackmagic Pocket Camera Battery Pro Grip
The optional battery grip holds twoNP‑F570 batteries so you can shoot for up to 3 hours!

DC Cable Pack
Create custom cables with D‑tapto 2‑pin, 2.5mm barrel to 2‑pin and 2‑pin to fly lead.

LP‑E6 Batteries
Blackmagic Pocket Cinema Camera 4K and 6Kwork with standard photographic LP‑E6 batteries.

NP‑F570 Batteries
Blackmagic Pocket Cinema Camera 6K Proworks with larger NP‑F570 batteries.