Description
Blackmagic Design URSA Broadcast G2 Camera

Update your broadcast studio or internet broadcast camera with a versatile 3-in-1 powerhouse using the Blackmagic Design URSA G2 Broadcast Camera. This updated G2 model features generation 5 color science and not only supports up to UHD 4K as its predecessor for production and studio work but can now be used as a 6K digital film camera that records in Blackmagic RAW format. The lens mount is compatible with 2/3″ B4 lenses, but it also includes an active EF mount adapter, allowing you to access a long line of professional cinema lenses. It allows you to apply 3D LUTs for cinema-like looks, has built-in optical ND filters, features 12G-SDI input and output, captures audio via two XLR inputs, and can record using Prores 422 and Blackmagic RAW onto CFast 2.0 or SD UHS-II cards.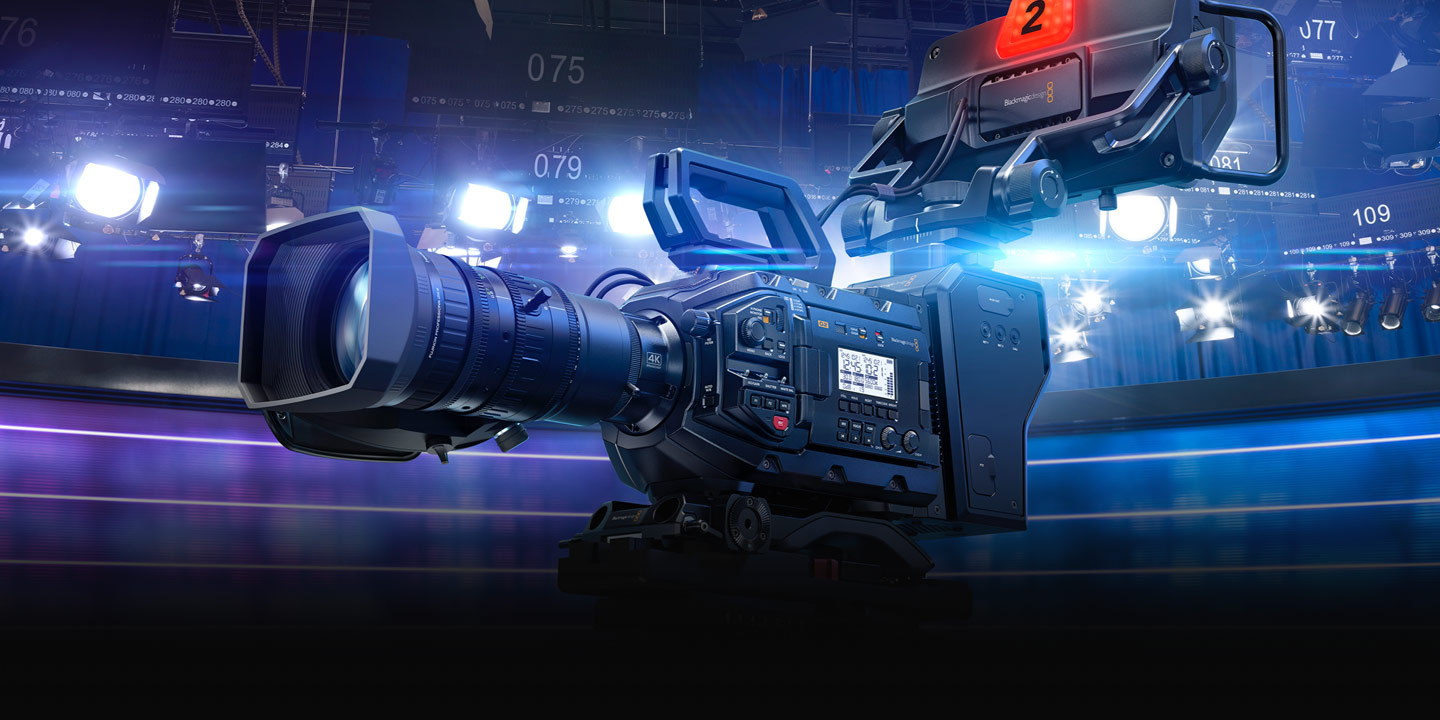 BlackmagicURSA Broadcast G2
The world'smost flexiblebroadcast camera!
The new Blackmagic URSA Broadcast G2 is an incredibly powerful camera designed for both traditional and online broadcasters. The 3 cameras in 1 design allows it to work as a 4K production camera, a 4K studio camera or a 6K digital film camera! It's a perfect solution for broadcasters because it uses the lenses and batteries you already own! You can record to common SD cards, UHS-II cards, CFast 2.0 cards or external USB disks, using common file formats such as H.265, ProRes and Blackmagic RAW. This means it's compatible with all video software and broadcast media management systems. You can even change the lens mount! No other broadcast camera is so flexible!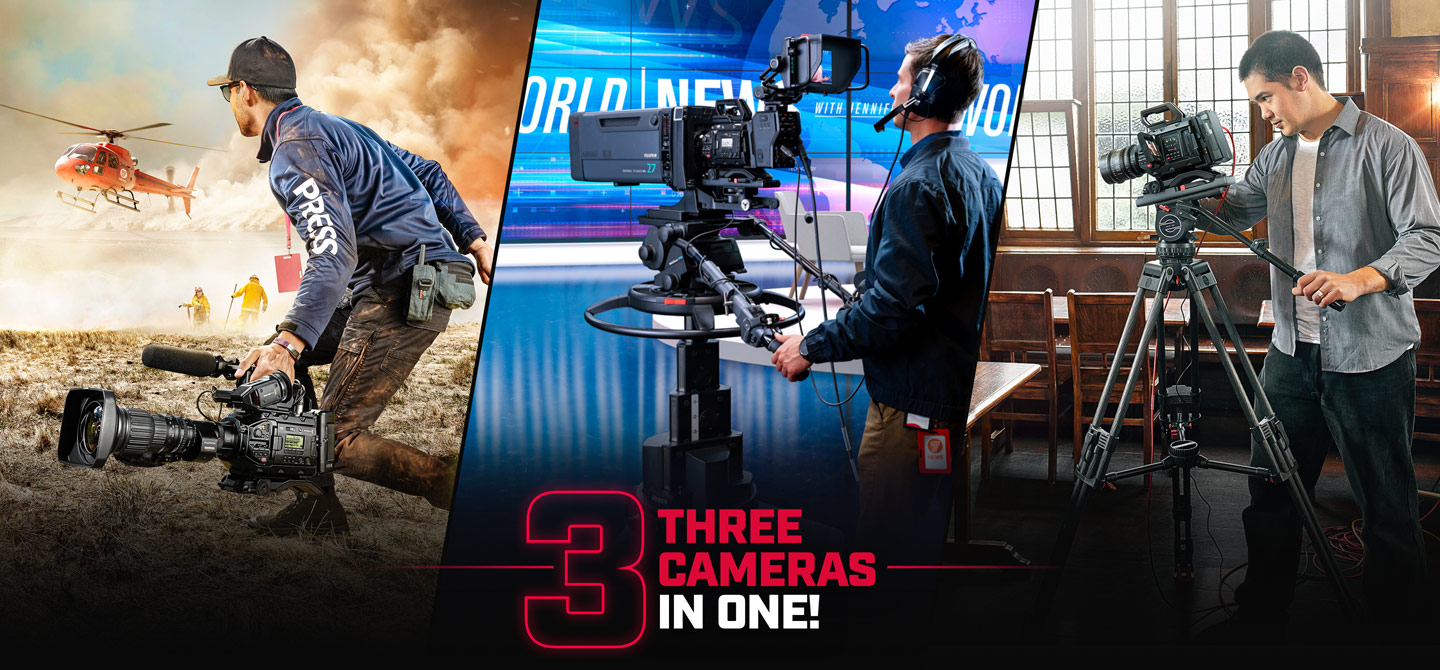 Broadcast 
Production Camera
The perfect solution for broadcasters, URSA Broadcast G2 includes ENG camera controls positioned around the camera so you can locate them by feel. It also features a low light sensor so you get amazing images using natural light. That's the perfect combination for broadcast news and programming.
LiveStudio Camera
URSA Broadcast includes an advanced YRGB color corrector built in and full remote camera control. You can use B4 ENG lenses, large studio box lenses, or even change the lens mount and use any lens! Plus the optional Blackmagic focus and zoom demands let you control the lens from the tripod handles.
DigitalCinema Camera
URSA Broadcast G2 includes an advanced 6K digital film sensor, and you can change the lens mount! Use a PL mount for digital film lenses or EF for photo lenses. Plus the high dynamic range, great low light performance and Blackmagic RAW means you get a true "Hollywood" quality digital film camera.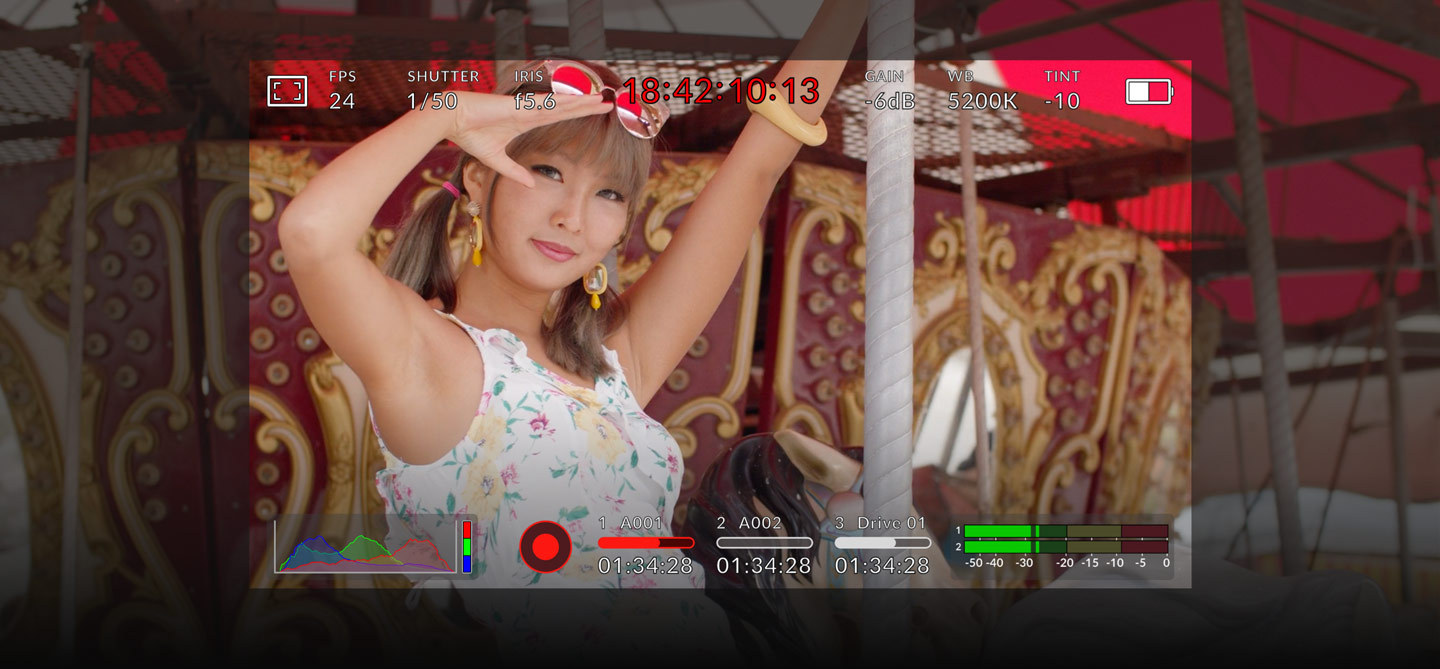 Get Digital Film Quality for Broadcast
The large 6K sensor combined with Blackmagic generation 5 color science gives you the same imaging technology used in digital film cameras. This means broadcasters can now use digital cinema quality in broadcast! The 6K sensor features a resolution of 6144 x 3456 so it's flexible enough for broadcast and digital film work. When using B4 lenses, you
get a 4K window of the sensor for Ultra HD broadcast use. Then if you change to a PL or EF lens mount, you can use the full 6K resolution of the sensor for digital film! With 13 stops of dynamic range, you get darker blacks and brighter whites, so it's perfect for color correction. Using digital film in broadcast is a revolution in image quality!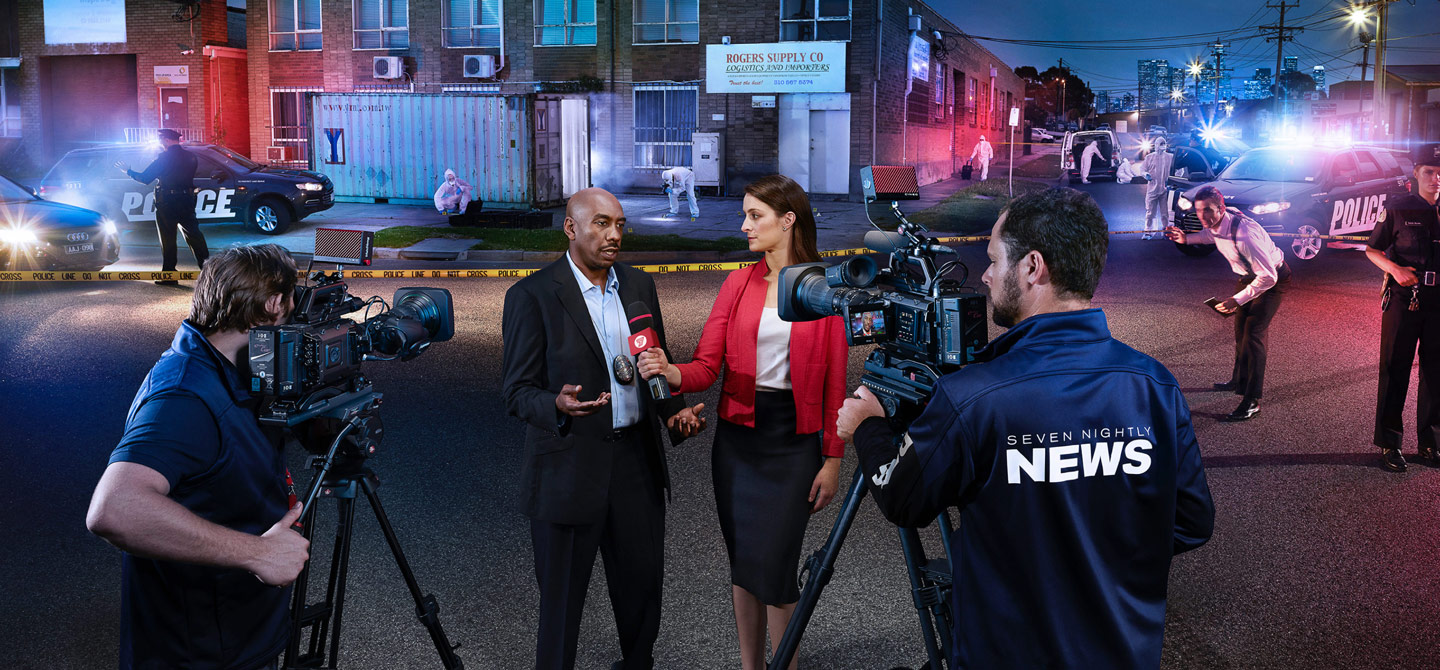 Exceptional Low Light Performance
The new URSA Broadcast features incredible low light performance so you can shoot using ambient light or even under moonlight! In advanced cameras, ISO is a measurement of the image sensor's sensitivity to light. The Blackmagic URSA Broadcast G2 features gain from -12dB (100 ISO) up to +36dB (25,600 ISO) so it's optimized to reduce grain and noise in
images, while maintaining the full dynamic range of the sensor. The primary native ISO is 400, which is ideal for use under studio lighting. Then the secondary high base ISO of 3200 is perfect when shooting in dimly lit environments. The gain can be set via a camera switch, the LCD menu or remotely using the SDI remote camera control protocol.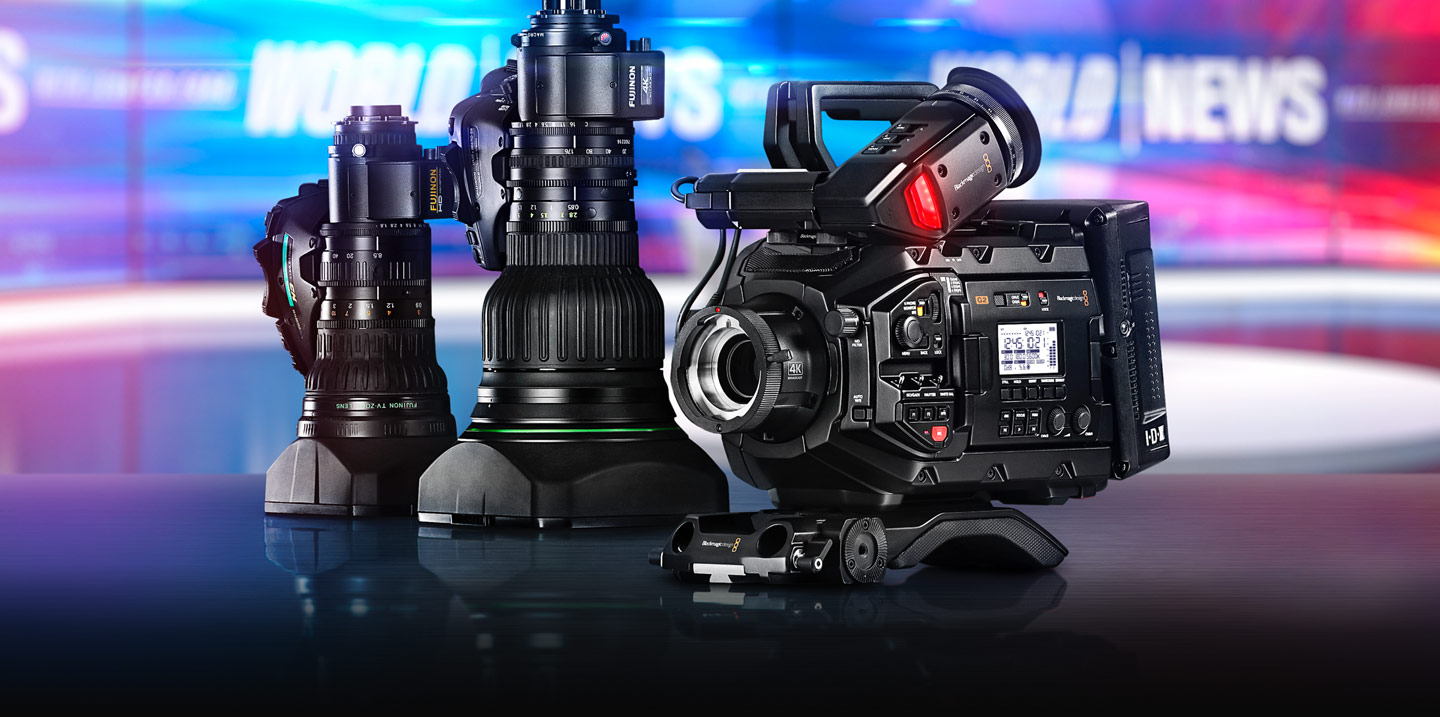 Compatible with B4 Broadcast Lenses
The URSA Broadcast G2 features a B4 broadcast lens mount that includes optics specifically designed to match the camera's sensor. The B4 lens mount lets you use modern Ultra HD lenses or lower cost HD lenses. Older HD lenses often feature resolutions well beyond HD, so you get great quality at low cost! B4 lenses are fantastic because they are
par-focal, so the image stays in focus as you zoom in and out, so you don't need to constantly chase focus as you shoot. That lets you work much faster! You also get full electronic lens control to adjust focus, iris and zoom using the camera's controls, or remotely! Plus if you want to use alternative lenses, you can change the mount to PL, EF and more!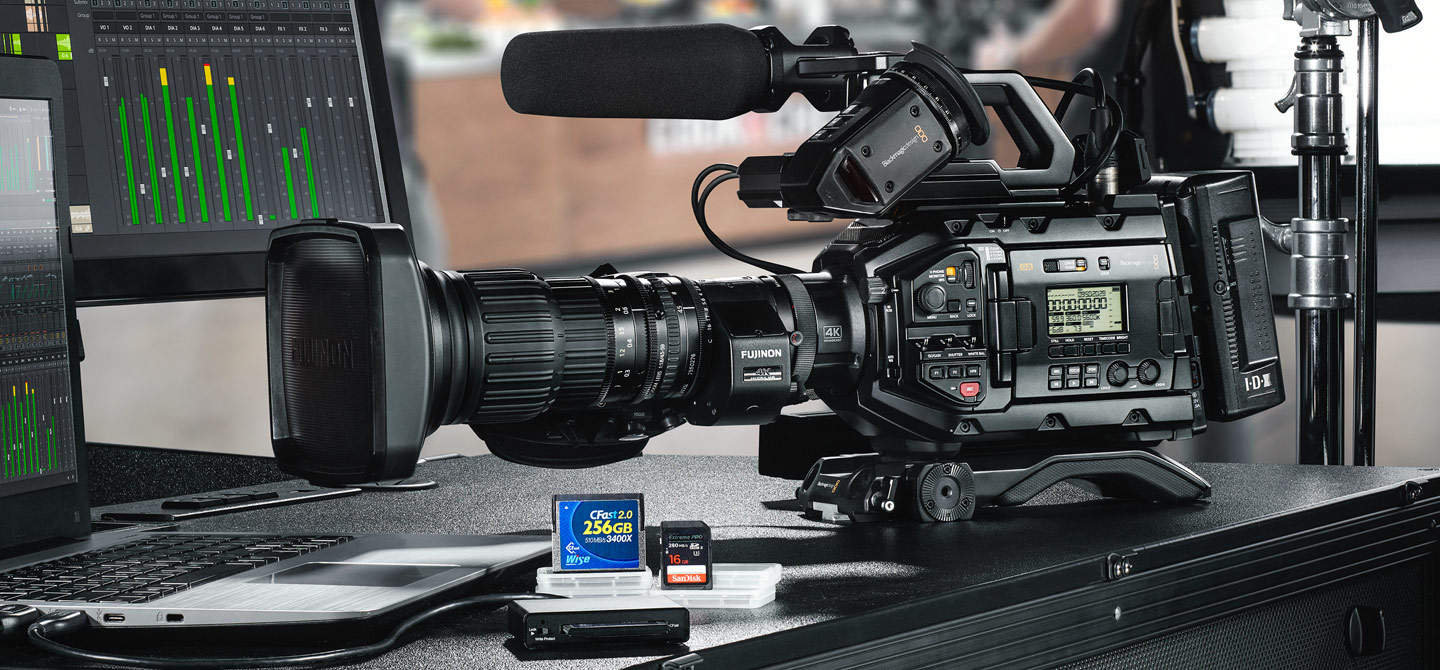 Use CommonMedia and File Formats!
URSA Broadcast is designed to work with standard file formats that are used by all broadcast systems and editing software. You can record in ProRes 422 HQ and ProRes 422 into QuickTime files. The new Blackmagic URSA Broadcast G2 model can even record into H.265 for incredibly small files at
60:1 to 285:1 compression ratios, in 10-bit broadcast quality. Plus you can record to Blackmagic RAW files, a revolutionary new format designed to capture and preserve the quality of the sensor data from the camera. That means you get the perfect range of file formats designed for all types of workflows.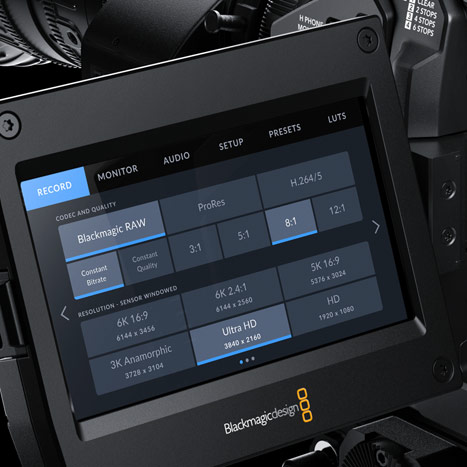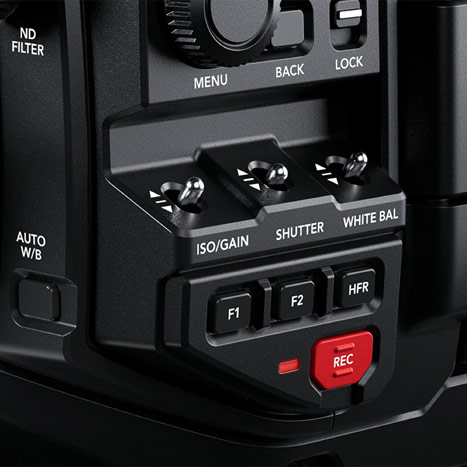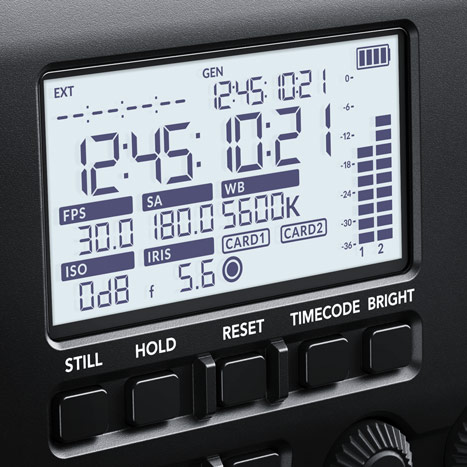 Strong and Light weight Magnesium Design
URSA Broadcast G2 features a super strong, lightweight magnesium alloy body that's perfectly balanced and designed to be comfortable to use all day! It features familiar externally mounted switches and controls that give you direct access to the most important camera settings. The controls are laid out logically, making them easy to locate by feel, so you can adjust
settings without having to look at the buttons. You also get a foldout touchscreen for monitoring, viewing camera status and changing settings using on screen menus. URSA Broadcast G2 also includes standard 12G-SDI connections, XLR audio inputs, USB-C and an industry standard 4 pin XLR broadcast 12V DC connection!
Built in LCD with Touch Controls
With a built in LCD that folds out, you can both monitor and control the camera. While URSA Broadcast G2 features lots of physical buttons and knobs, using the LCD, you also get on screen status and touch screen controls. The built in touchscreen also includes a heads up display with the most important shooting information, as well as menus for all
camera settings, LUTs and custom presets. Plus behind the LCD there are extra buttons, as well as knobs for audio levels. There's even programmable function buttons that can have functions assigned to them, such as zebra, false color, focus peaking, LUTs and more! Plus you can change the function assigned to each button in the on screen menus.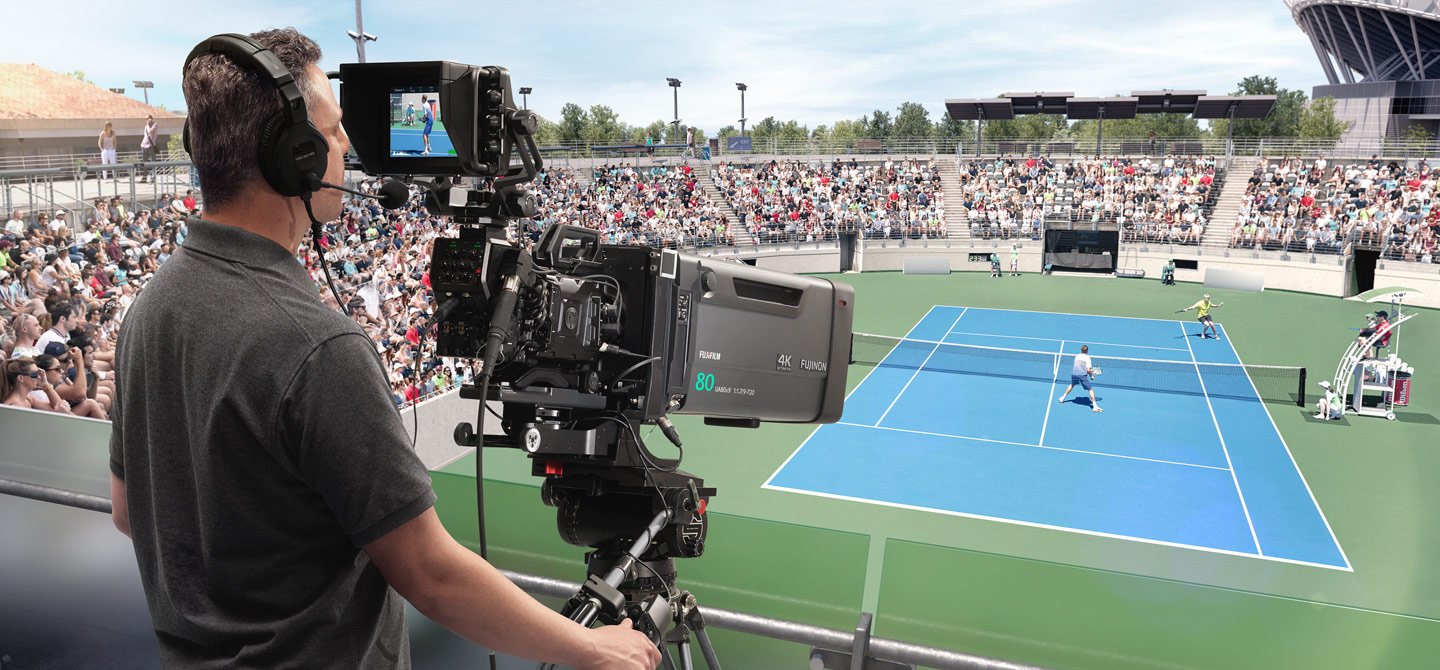 If you're doing live production, sometimes you need to monitor program video back from the switcher. Simply press the camera's PGM button and the viewfinder will switch from the camera display to the program return feed from the switcher. A built in speaker also lets you monitor the switcher audio as well. Program return is a fantastic feature as
sometimes on large live shows, camera operators can be left waiting a long time for their camera to be used, so program return lets them watch the show while they wait. This means that even if the camera operator is a large distance away from the switcher, they can still keep up with what is happening and remain alert.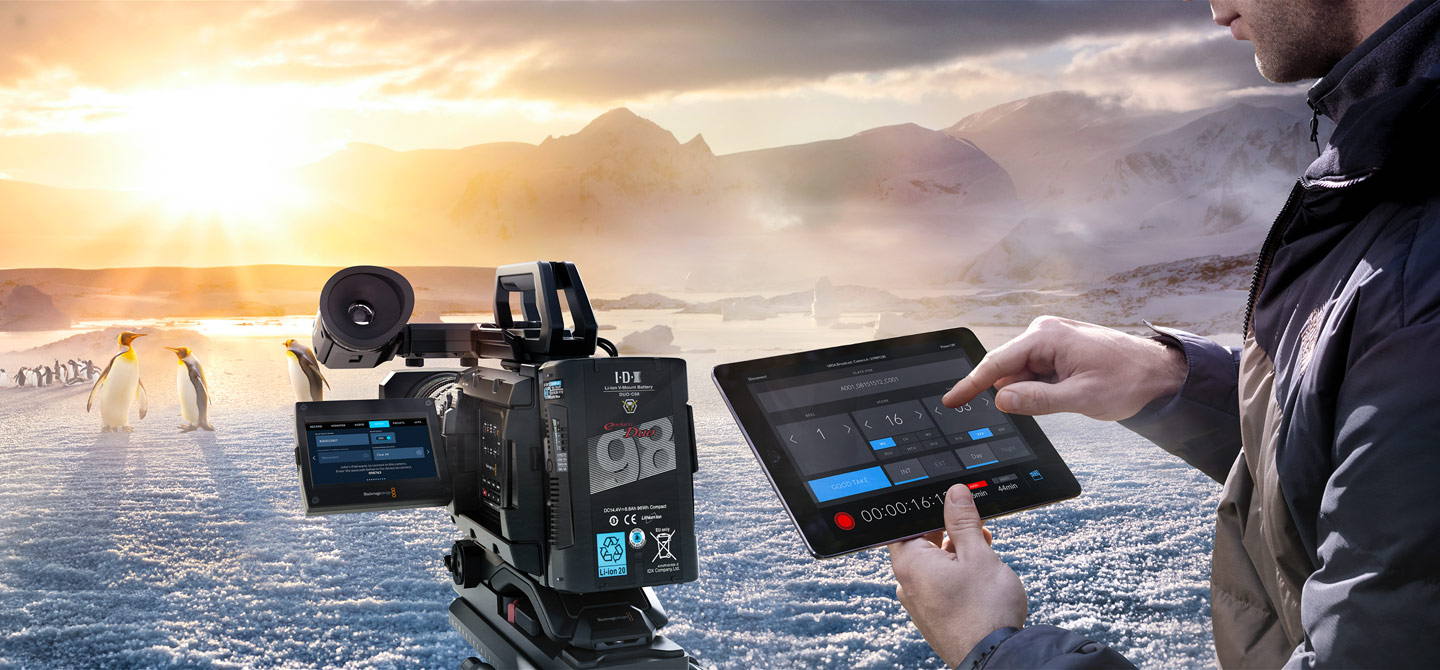 Wireless Bluetooth Camera Remote Control
If you're positioning the camera on the end of a boom, or in another hard to reach location, you can get full control via Bluetooth from up to 30 feet away. You can download the Blackmagic Camera Control app for your iPad or use third party apps such as Bluetooth+ or tRigger on your iOS and Android devices. There's even a free developer SDK with. sample code available from the Blackmagic Design developer website, so you can create your own remote camera control and digital slate solutions! Imagine building an app that can jam sync timecode and trigger all cameras to record at the same time. The possibilities are endless!