4K-TV gaming and entertainment
Play the latest PS4 blockbuster games and PlayStation exclusives in stunning 4K from the PS4 Pro console on your 4K TV, and stream your favorite entertainment with incredible visual detail from 4K-compatible services.

Faster frame rates
Increase your immersion in PS4 games with boosted frame rates* in a range of PS4 Pro enhanced games, made possible by the extra power of PS4 Pro.
Double the power of PS4
PS4 Pro packs in twice the GPU power of the standard PS4 – letting you experience incredible image clarity, smoother gameplay and shorter load times in select PS4 Pro enhanced games.2
HDR technology
Enjoy more vibrant, lifelike colours and details in every part of your gaming experience when you play HDR-enabled games on an HDR-compatible TV.
With PS4 Pro, select games are enhanced as faces take on life-like realism, curves become smoother, corners are sharper and visual elements like hair, water and grass bristle with life.
Playstation Console with Free Pre Loaded Games

The Playstation Console comes with a variety of free pre-loaded games.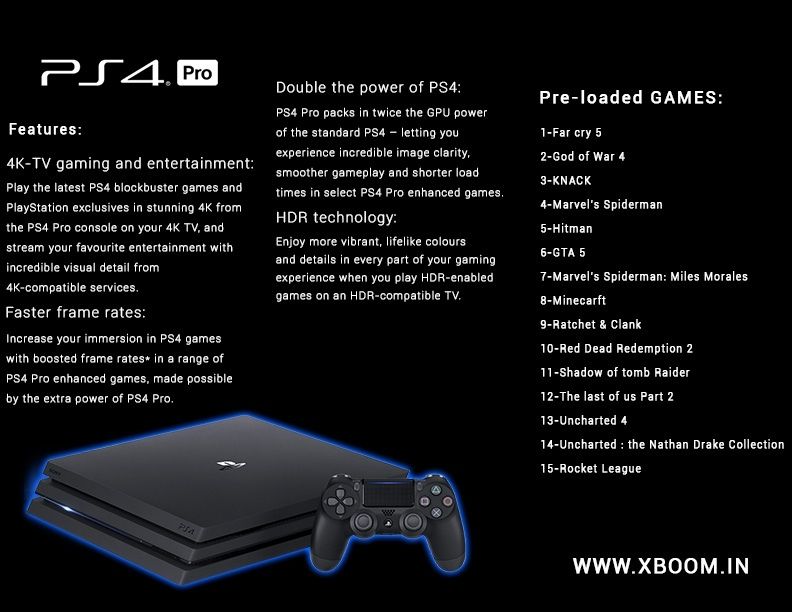 The game combination is subject to variation depending upon the availability.
Frequently Asked Questions(FAQs)
No, this feature is not supported on PS4.
PS4 is equipped with a 5400 RPM SATA II hard drive. Users can choose to install a new hard drive so long as it complies with these standards, is no thicker than 9.5mm, and is larger than 160GB.
PS4 measures approximately 275 mm (width) × 53 mm (height) × 305 mm (length), excluding the largest projection. Its weight is approximately 2.8 kg (6.1 pounds).