Description
GO LONGER. GET STRONGER. SEVEN DAYS A WEEK.
Meet any athletic or outdoor challenge with the rugged Fēnix 7X Sapphire Solar multisport GPS smartwatch. Its scratch-resistant Power Sapphire solar charging lens uses the sun's energy to extend battery life — powering advanced training features, sports apps, health and wellness monitoring sensors and more.


BATTERY LIFE
Internal, rechargeable lithium battery provides up to 11 days of battery life in smartwatch mode, 37 hours in GPS mode and up to 38 days in battery saver mode.
PERFORMANCE BY DESIGN
Updated, ultratough design features a bright 1.2" display and 42 mm fiber-reinforced polymer case. The watch is tested to U.S. military standards for thermal, shock and water resistance.
TOUCHSCREEN AND BUTTONS
Trusted button controls that work in any environment are matched with a responsive new touchscreen interface for quick access to selections and functions.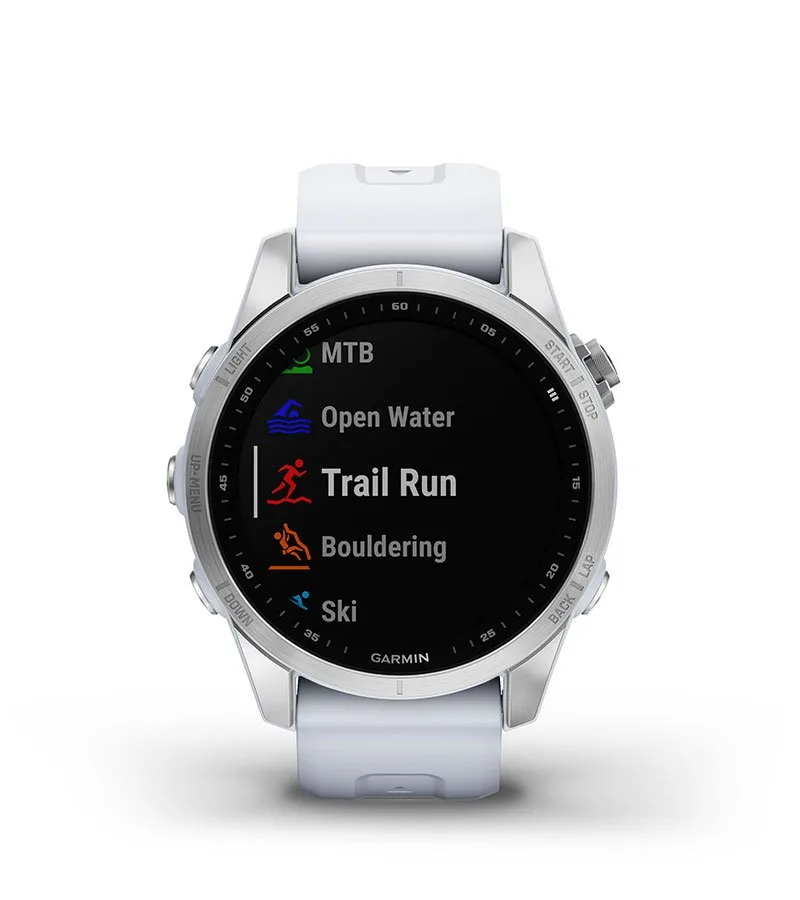 BUILT-IN SPORTS APPS
Use preloaded activity profiles for trail running, swimming, running, biking, hiking, rowing, skiing, golfing, surfing, indoor climbing and more.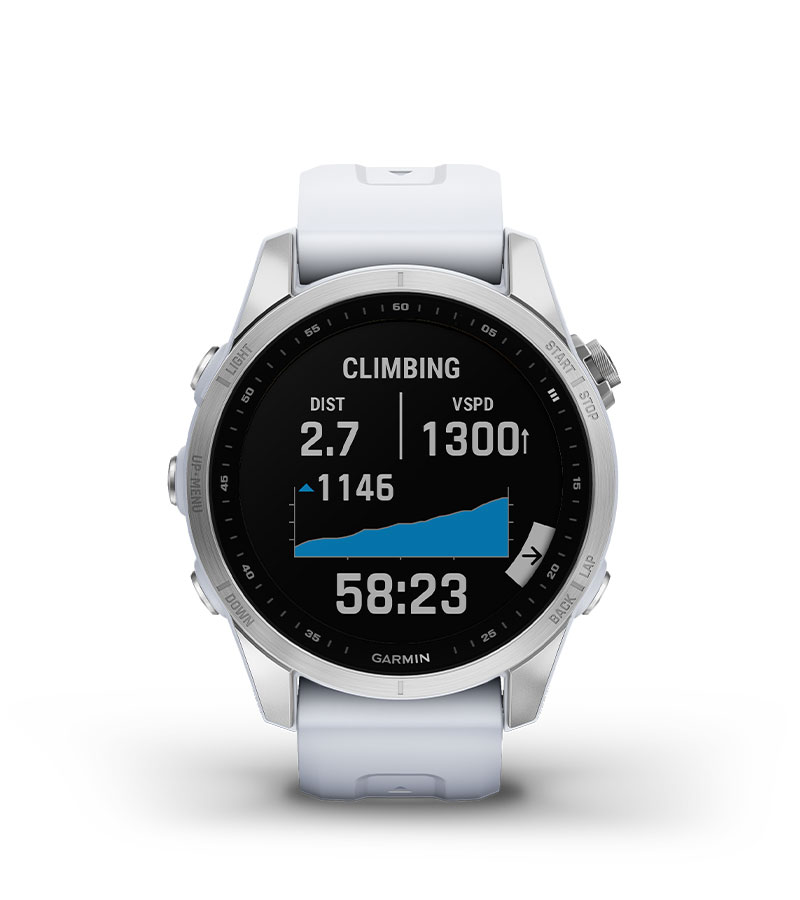 BACKCOUNTRY SKIING AND SNOWBOARDING
Stay informed when you're backcountry skiing or snowboarding. Track your passion for powder, and get the data you need to analyze your efforts on the way up and down.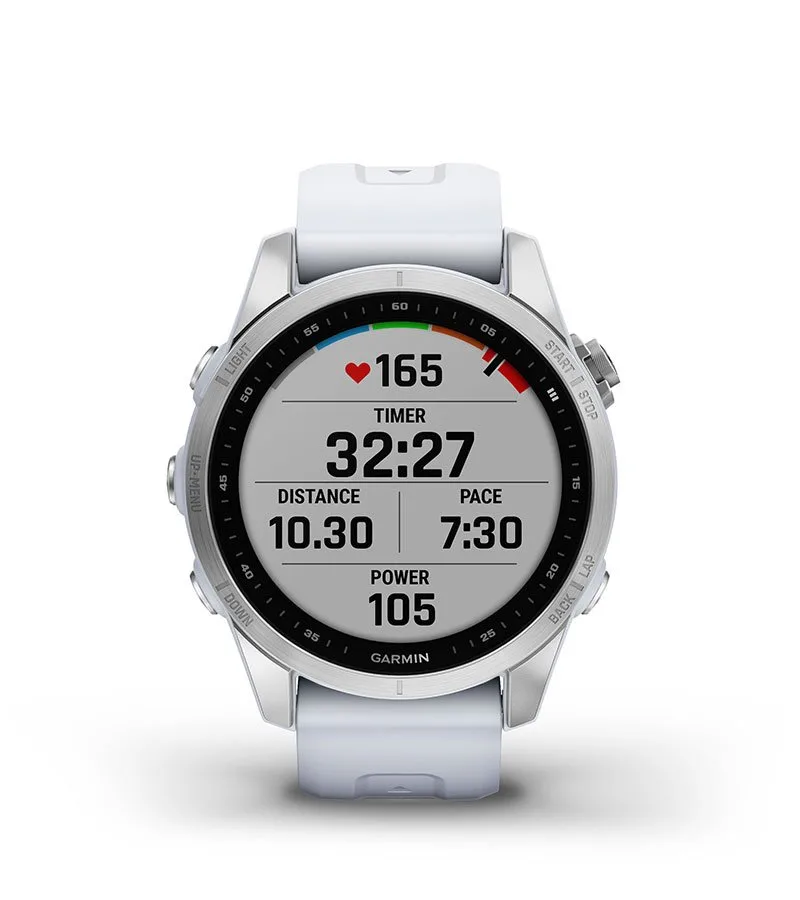 XC SKI DYNAMICS
When paired with the HRM-Pro™ chest strap (sold separately), the ski power metric helps measure the actual exercise load of your cross-country workouts.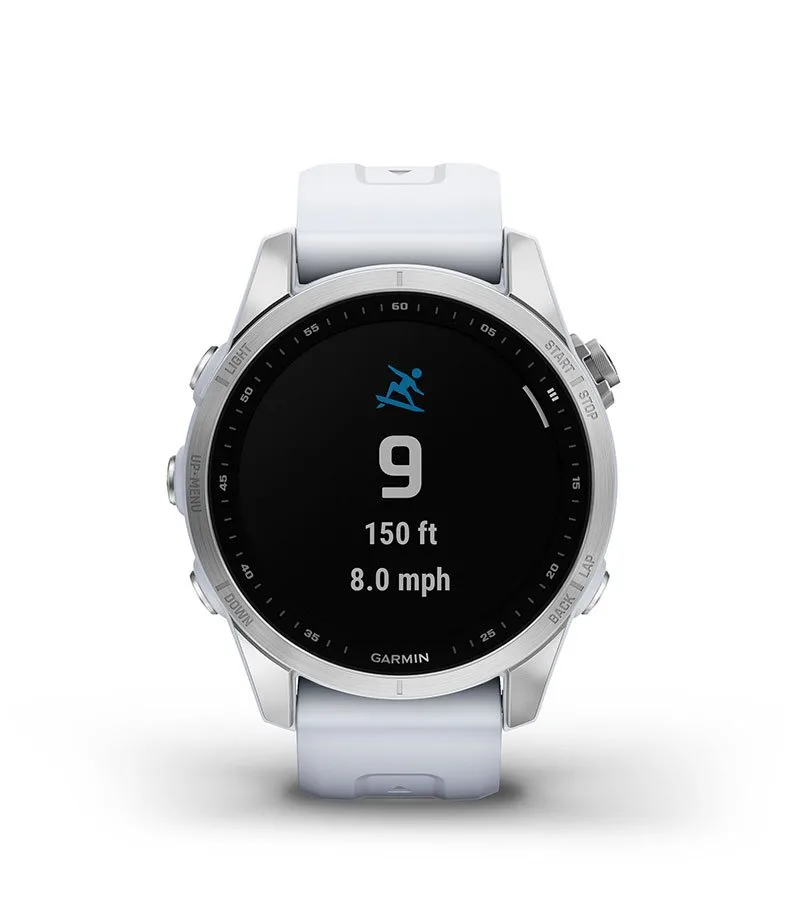 SURF-READY FEATURES
Get ready to catch some waves. This fēnix watch works with the Surfline Sessions™ feature, which creates a video of every wave you ride in front of a Surfline® camera4. So you can watch them later and see how you did with your Surfline Sessions subscription.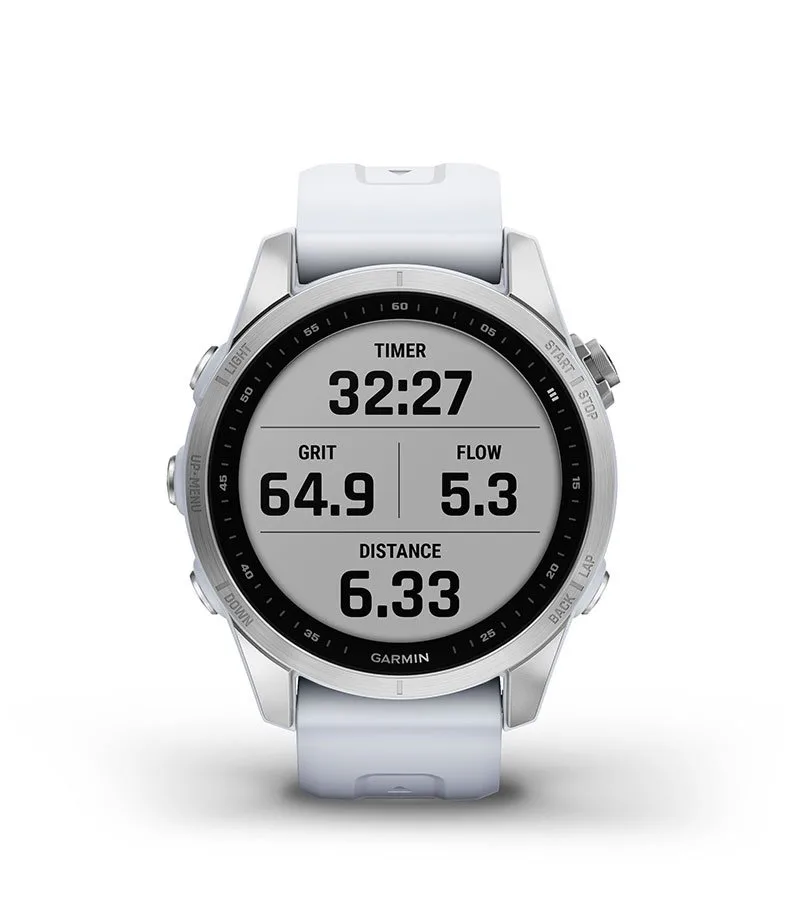 MTB DYNAMICS
Track the details of every ride with mountain biking metrics plus specialized Grit™ and Flow™ measurements that rate trail difficulty and how smoothly you descend, giving you a score to beat next time.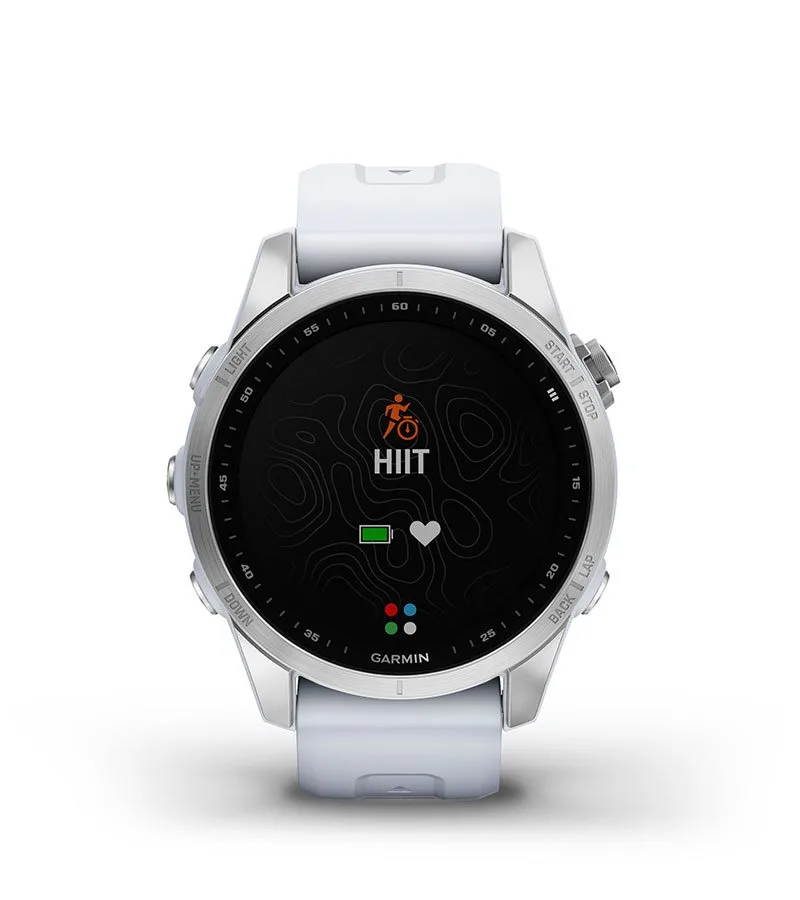 HIIT WORKOUTS
This activity profile tracks your high-intensity interval training workouts, including AMRAP, EMOM, Tabata and custom. Set the number of rounds, work/rest intervals and more.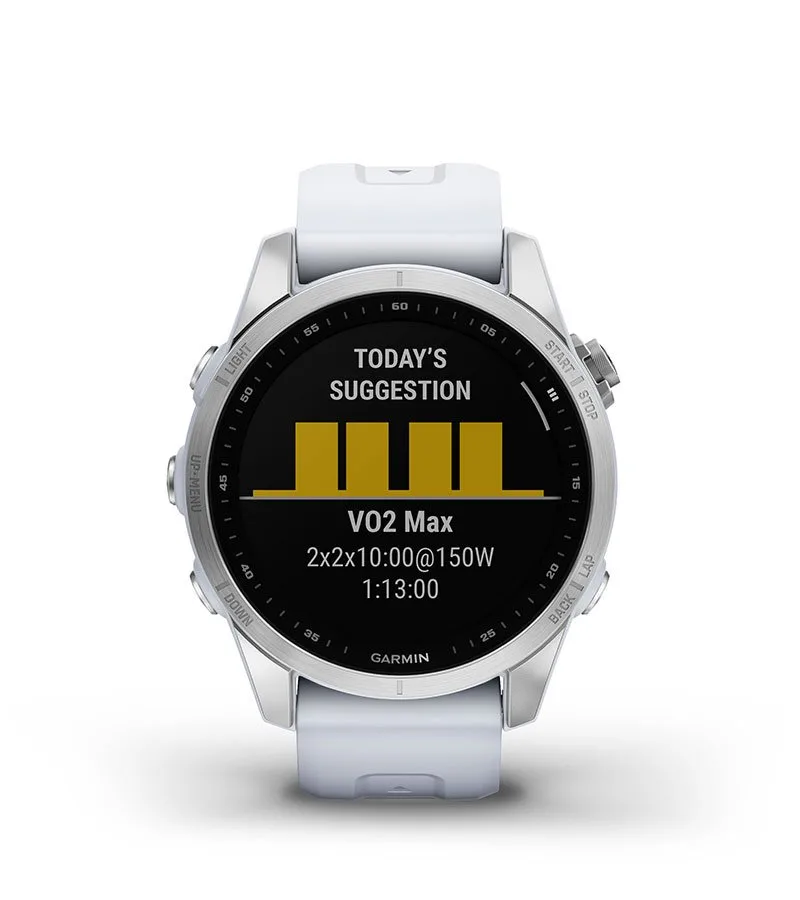 DAILY SUGGESTED WORKOUT
View your entire week of daily suggested workouts, which adapt after every run or ride to match your performance and recovery as well as the races coming up in your Garmin Connect™ smartphone app calendar.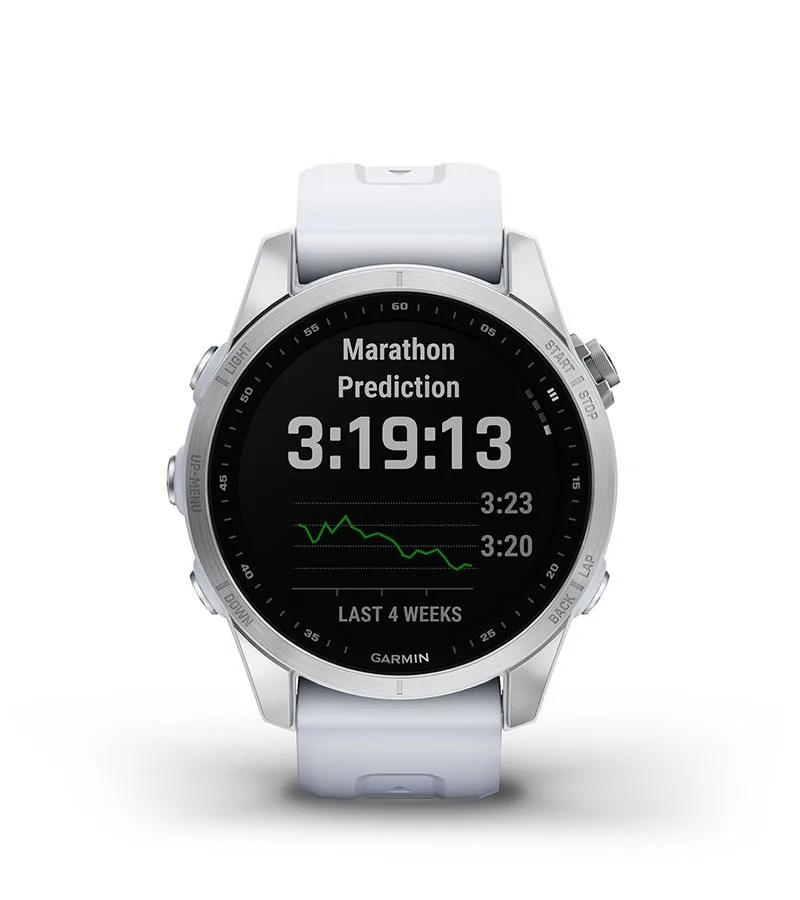 VISUAL RACE PREDICTOR
Based on your running history and overall fitness level, this feature provides an estimate of what your pace could be for the distance you want to run. Trend data shows how your training is having an impact over time.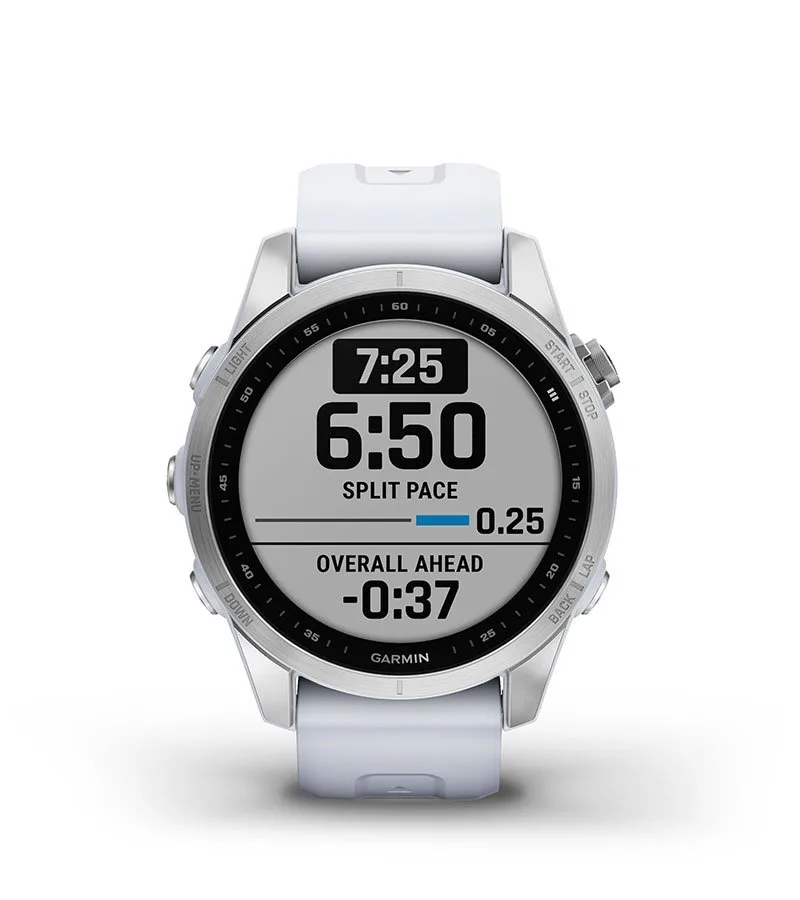 PACEPRO™ TECHNOLOGY
A first-of-its-kind PacePro feature helps keep you on pace with grade-adjusted guidance as you run a course.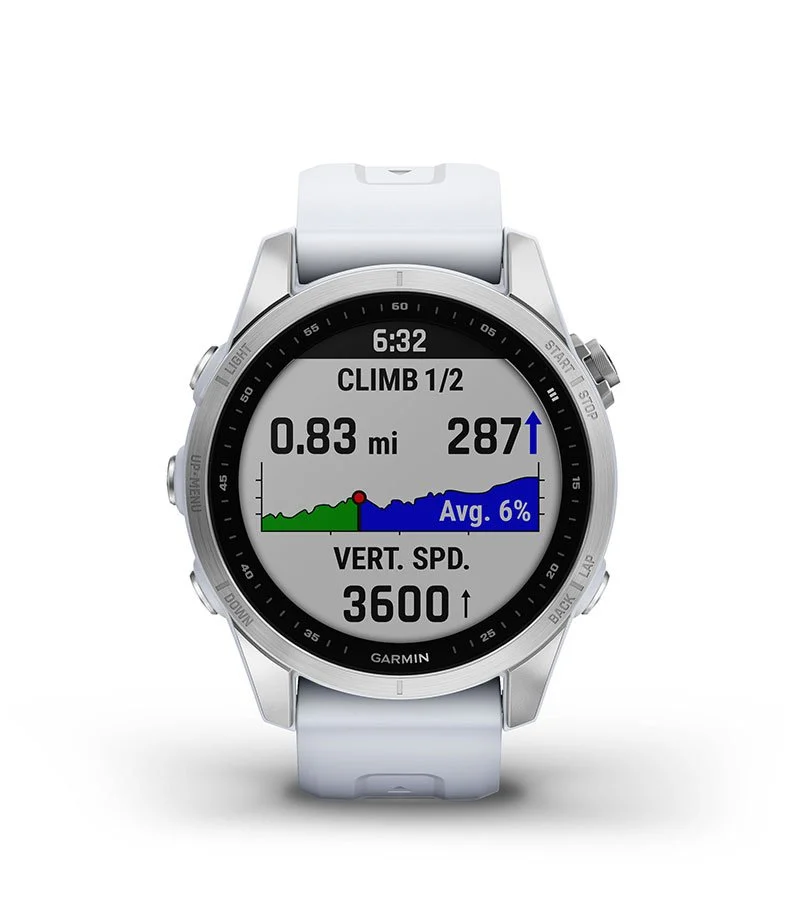 CLIMBPRO FEATURE
Use the ClimbPro ascent planner on downloaded courses to see real-time information on your current and upcoming climbs, including gradient, distance and elevation gain — as well as descents and flats.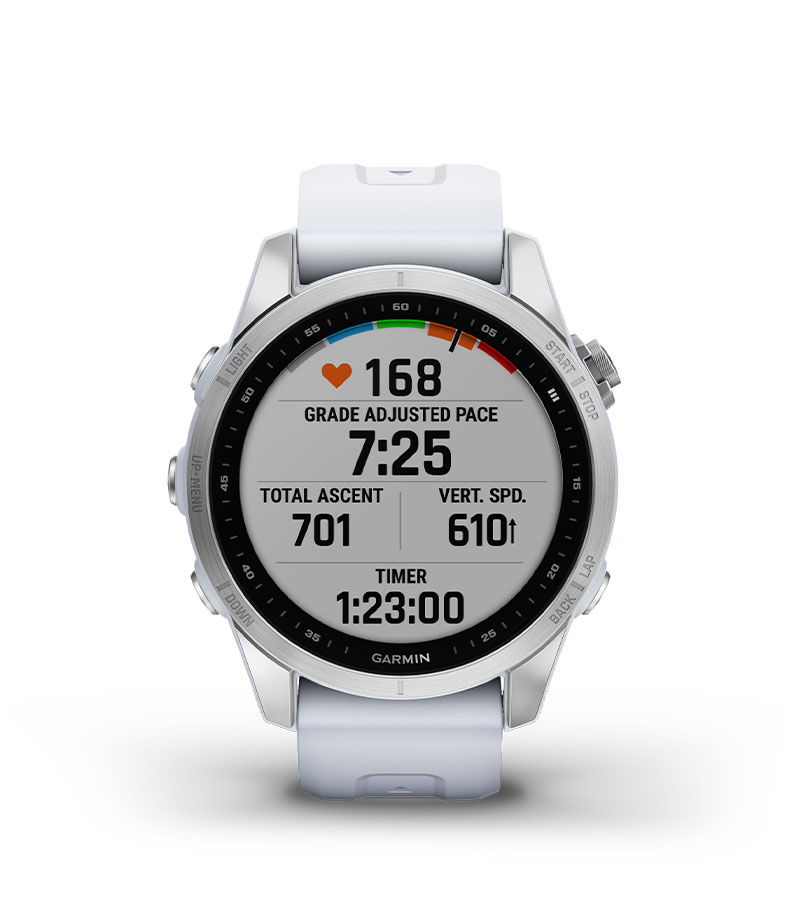 GRADE-ADJUSTED PACE
Don't run out of steam before the activity is over. Understand how to adjust your pace over varying terrain to perform according to your plan.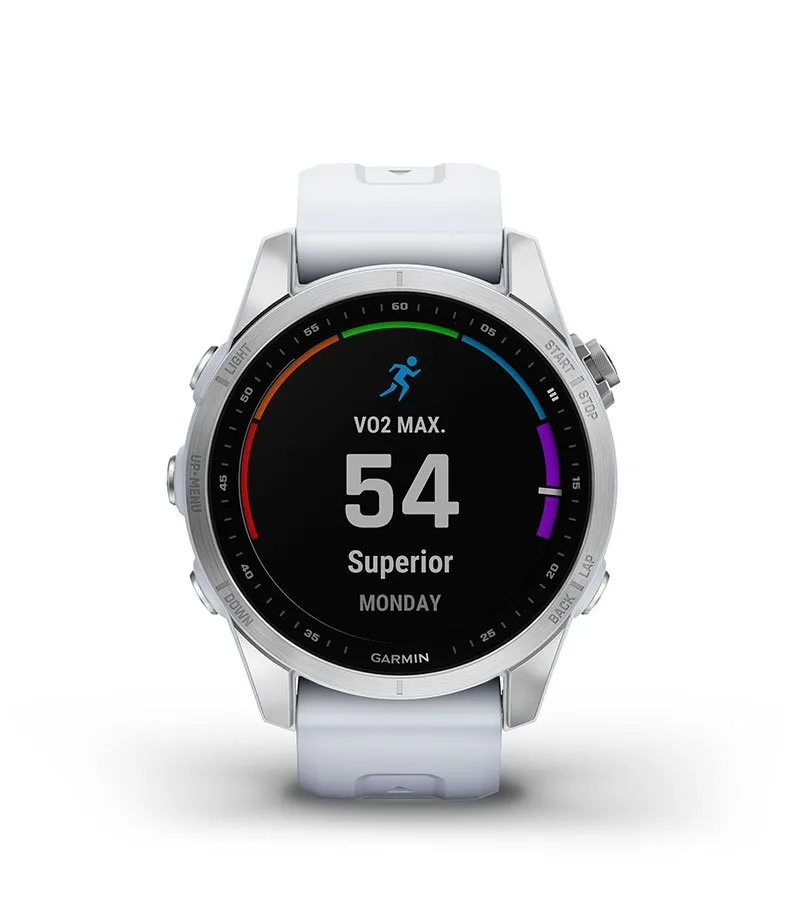 PERFORMANCE METRICS
View advanced training metrics that include running dynamics, heat- and altitude-adjusted VO2 max, trail running adjustment, recovery advisor and more.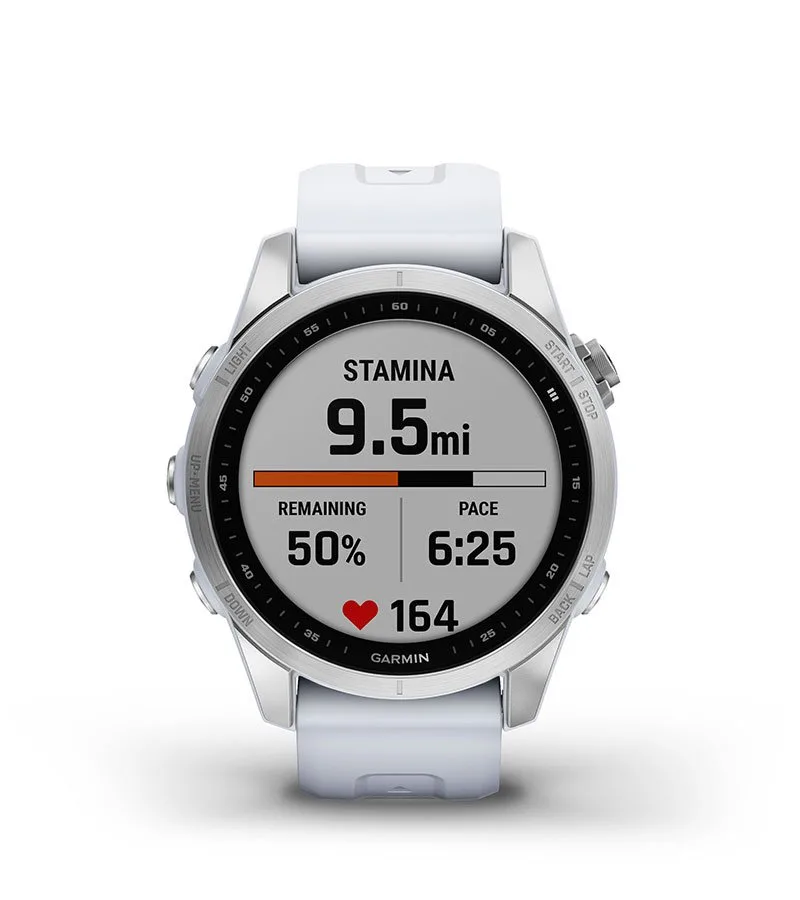 REAL-TIME STAMINA
Use this real-time stamina data to track and manage your exertion — and help avoid overexerting at the start of your run or bike.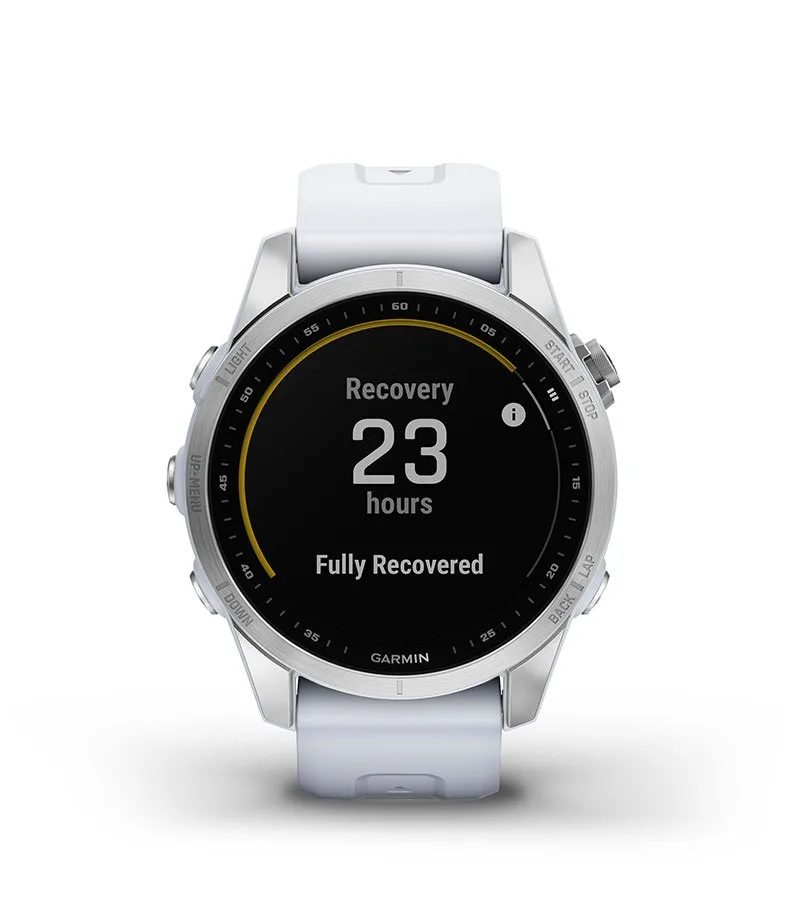 RECOVERY TIME ADVISOR
After each workout, recovery time lets you know when you'll be ready for another hard workout. It even accounts for training intensity and factors such as stress, daily activity and sleep.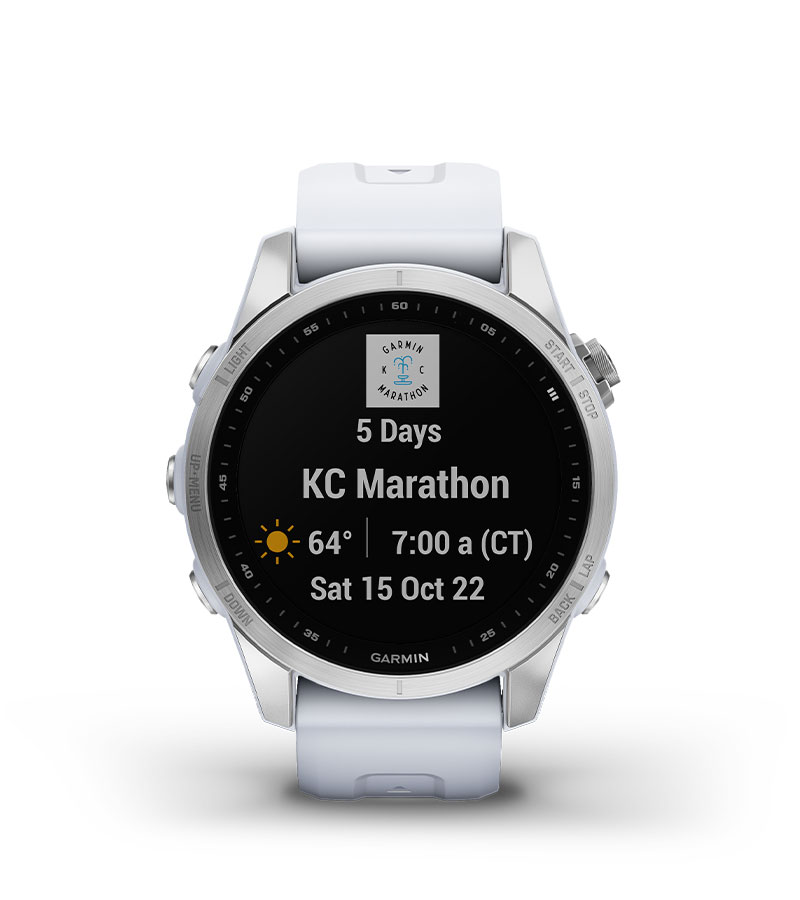 RACE WIDGET
Get ready for your next race with training tips, personalized daily suggested workouts and completion time predictions based on course details, weather and performance.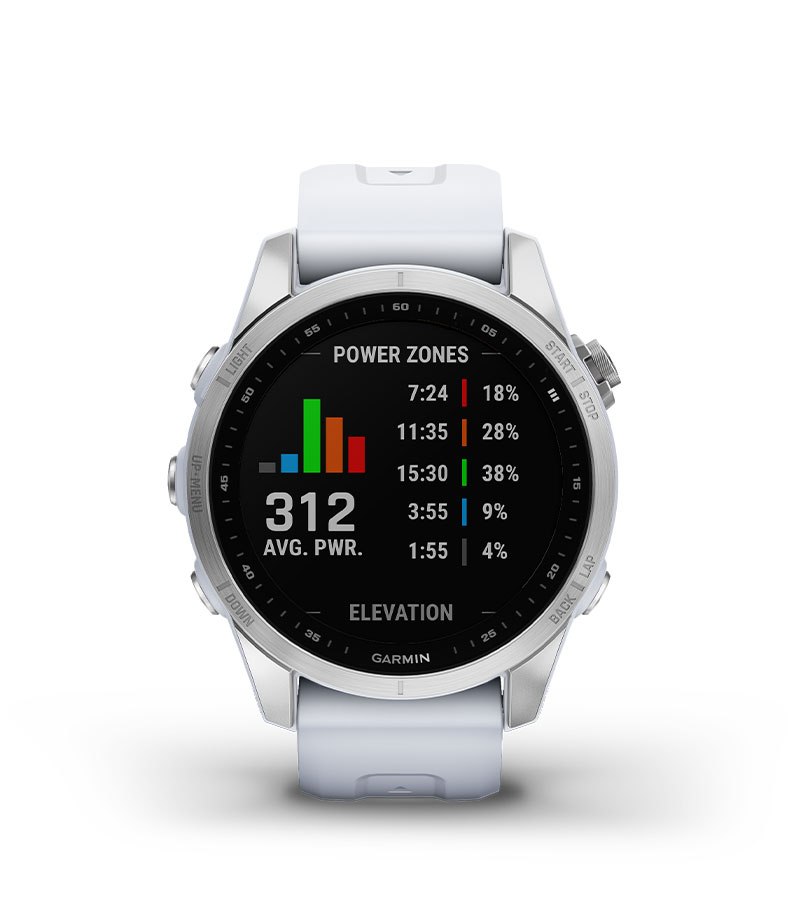 WRIST-BASED RUNNING POWER
See how much power you're applying to the trail or the road so you can manage your effort and fine-tune your training. No accessory required.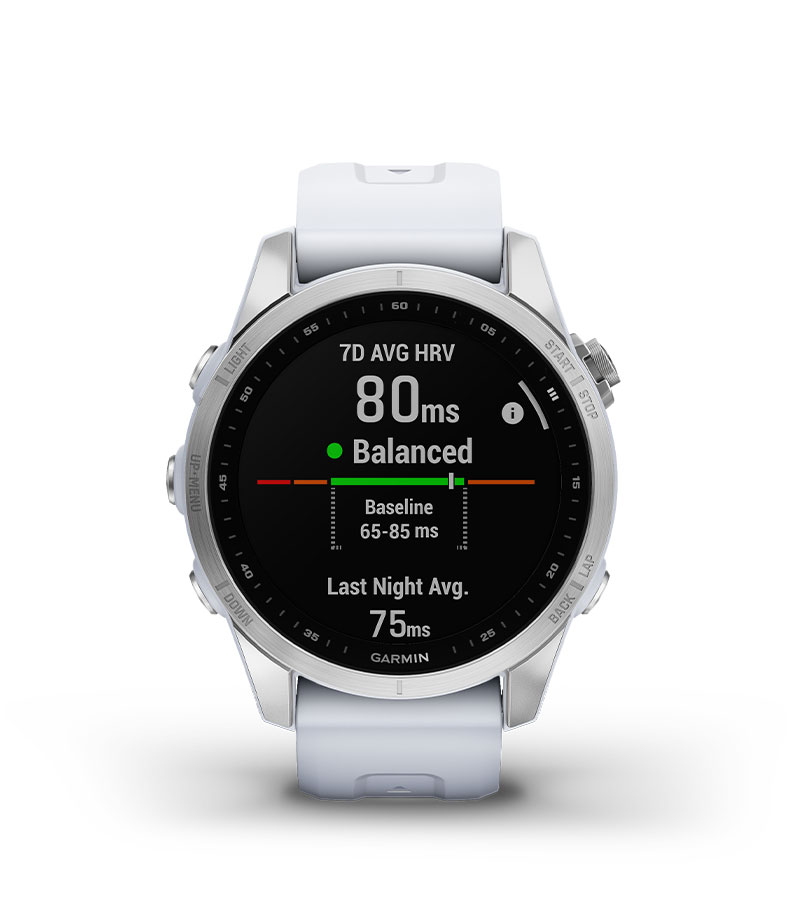 HRV STATUS
Gain a deeper understanding of your overall health, training and recovery through heart rate variability while you sleep, based on technology developed by our Firstbeat Analytics™ team.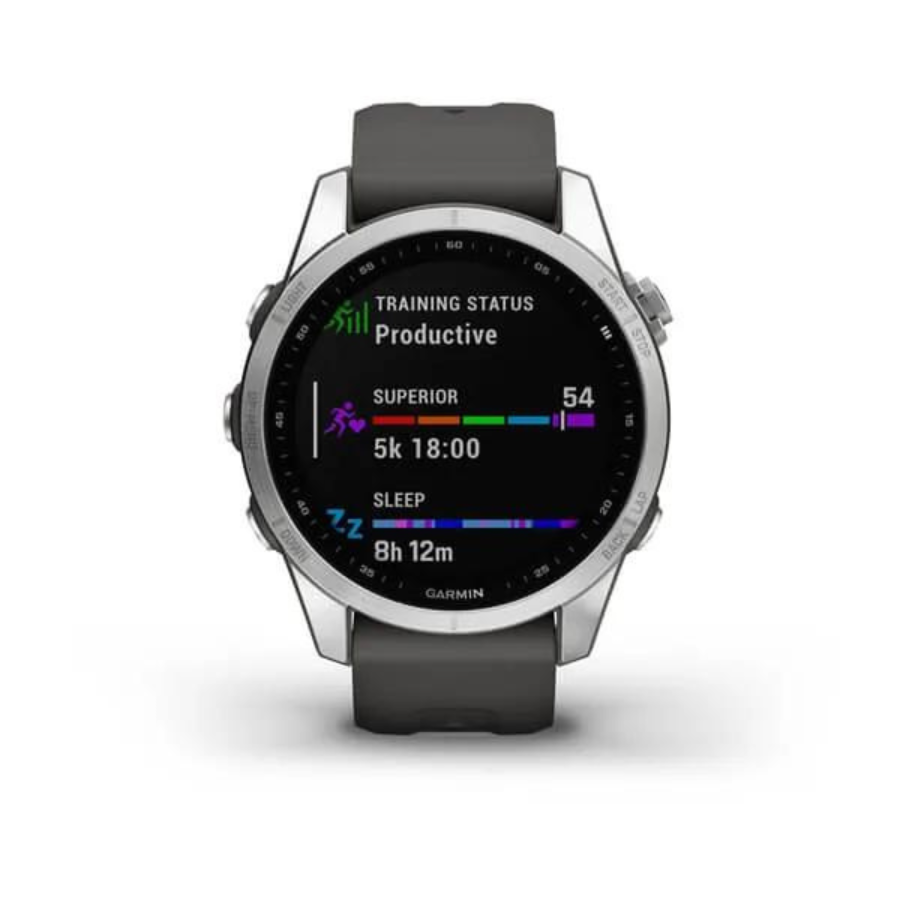 TRAINING STATUS
Using new indicators such as HRV status, your recent exercise history and performance, get insight into your overall effort — and whether you're training productively, peaking or strained.