Description
About this item
After sales support available only if bought from Orient Electric Authorised Online Partners – RetailEZ Pvt Ltd, Hardtrac, Brand Authorised Sales, KIDA Retail Pvt Ltd, The Online Home Store and Orient Electric.

Cappuccino System: It combines steam, air and milk, producing a rich, creamy froth for great cappuccinos

You can prepare two cups of coffee with a single brewing

New silent integrated coffee grinder with 13 adjustable settings

Adjustable coffee quantity and water quantity
Automatic Magnifica Coffee Maker
This fully automatic coffee machine from Delonghi comes with Cappuccino system which combines steam, air and milk producing creamy froth. The unique thermo-block system maintains an ideal and constant temperature for coffee brewing and delivers coffee with fresh and authentic Italian taste. The machine can be used with either coffee beans or ground coffee.
Compact bean-to-cup machine, press a button and rotate the knob to customize your favourite coffee. Equipped with a manual cappuccino device ideal to produce a rich froth for your cappuccino, cup holder and water filter.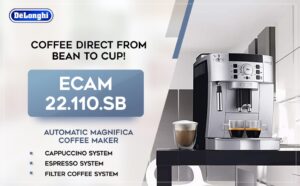 15 Bar Pressure

The Delonghi machine comes with 15 bars of pressure, which helps grinding your coffee beans and exerting the concentrated pressure to get that delicious espresso that charges you right up.

For making an authentic Italian espresso the pressure should be powerful enough, so it can delight the espresso enthusiasts.

Thermoblock Technology

The thermoblock technology, makes the coffee maker energy efficient and saves time, it sets your coffee maker to deliver double shots of espressos one after another while maintaining the perfect temperature.

13 Grinder Settings

The Delonghi ECAM 22.110.SB comes with new silent integrated coffee grinding system with 13 settings. To get refined powered coffee from coffee beans and enjoy the authentic, and delicious espressos and cappuccinos.
Espresso System
Get 2 cups of espresso coffee brewed in a single brewing cycle.