DJI set out to build the most fun drone ever, and they came up with Tello. An impressive little drone for kids and adults that's a blast to fly and helps users learn about drones with coding education. Get yourself a Tello to find out just how awesome flying can be!
The Tech Tello Quadcopter Boost Combo lets you shoot over longer periods of time, as it comes packaged with three batteries, instead of one, and a 3-battery charging hub. Each battery will power up to 13 minutes of flight on a full charge. If you are new to drones then Tech Tello Quadcopter Boost Combo is the right choice for you. A smart interactive drone that lets you shoot over a longer period of time with ease is something every photographer would love to have. It comes with 3 batteries and 3 battery charging hubs.
Meet DJI Tello
Whether you're at a park, in the office, or hanging out at home, you can always take off and experience the world from exciting new perspectives. Tello has two antennas that make video transmission extra stable and a high-capacity battery that offers impressively long flight times.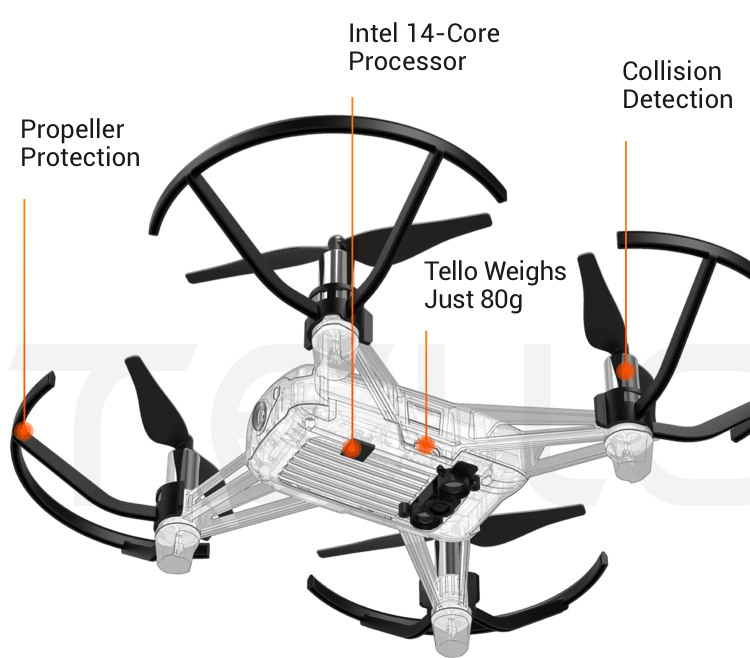 Fantastic Features for Endless Enjoyment
The DJI Tello is packed with a ton of exciting features to help you start your drone flying
DJI Tello Boost Combo
Product Details Specification
Tello is an impressive little drone for kids and adults which help them to learn about the drone. Flying Tello is very easy as one can operate it just from their phone anytime and anywhere. Its unique functions make it even more attractive such as auto take-off/landing, low battery protection, etc.
Weight: 80 g (Propellers and Battery Included)
Dimensions: 98×92.5×41 mm
Propeller: 3 inches
Built-in Functions: Range Finder, Barometer, LED, Vision System, 2.4 GHz 802.11n Wi-Fi, 720p Live View
Port: Micro USB Charging Port
Flight Performance
Flight Distance: 100m
Max Speed: 8m/s
Flight Time: 13min
Max Flight Height: 30m
Camera
Photo: 5MP (2592×1936)
FOV: 82.6°
Video: HD720P30
Format: JPG(Photo); MP4(Video)
EIS: Yes
Battery
Detachable Battery: 1.1Ah/3.8V
Battery Life: 1.1Ah/3.8V
Special Features
Throw & Go: Start flying by simply tossing Tello into the air.
8D Flips: Slide on screen to perform cool aerial stunts.
Bounce Mode: Tello flies up and down from your hand automatically.
No. of Antennas: 2
Frequently Asked Questions (FAQs)