Description
S11 Miniseg Skullcandy with Handle Segway
The S11 has been designed for the more comfort-seeking rider. Equipped with adjustable padded handlebars and large air-filled tires, the S11  takes away some of the stress of balancing, so that you can focus instead on the pure joy of scooting. The S11 comes with a high-quality lithium-ion battery with startup balance technology and a quick charge of 2 hr. The scooter can ride up hills with an incline of up to 30 degrees. Its gyro helps keep balance as the S11 senses how the user's weight is distributed. This allows for easy forward and backward movement and up to 360 degrees turns. In-built LED lamps in the front and rear light up automatically as you begin to cruise on the S11.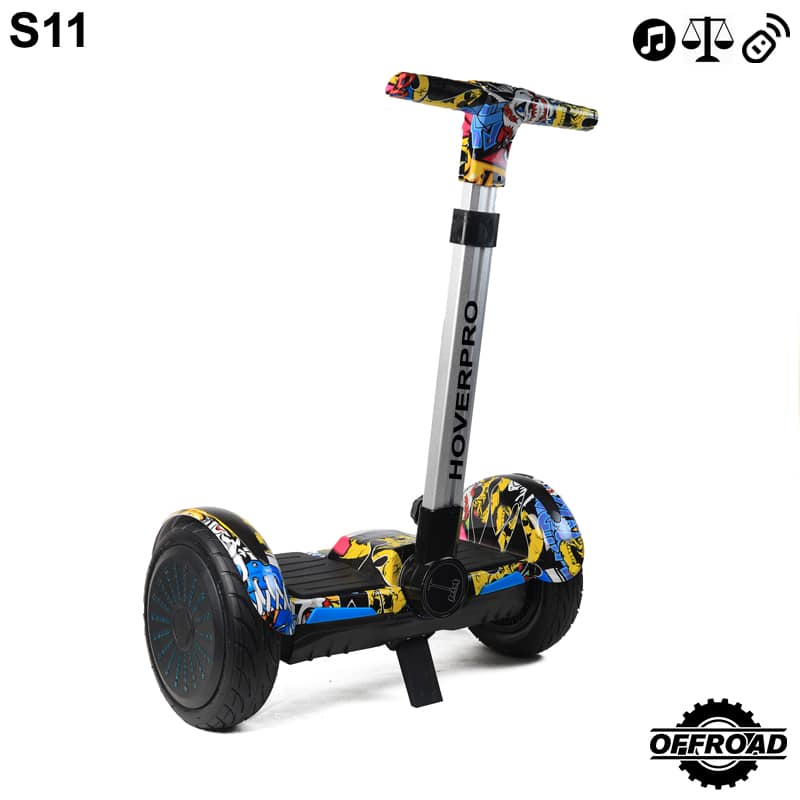 Adjustable Handle Bar
This user-friendly miniseg allows for quick and easy installing the handle which not helps users supports in balancing but works like steering left or right. Its Adjustable in height as well which helps kids as well as adults will be able to drive it. (115-140cms adjustment)
LARGE TYRES = SMOOTHEST RIDE
This is the all-terrain electric S11 Miniseg that rolls over dirt, gravel, grass, and pavement with impunity, controlled entirely by the subtle movements in a rider's feet.
FEATURES RICH !
Our S11 models comes with front and rear Leds, Top Wheel Arch Leds, waterproof charging port and On/Off Switch along with rugged 11 inch tyres. It also has in-built Bluetooth speaker as well.
Play music while riding!
UPGRADED BLUETOOTH STEREO SPEAKERS FOR FREE! Built-in Bluetooth 4.0 provides an instant connection to your phone so you can blast music while cruising the neighborhood.
INFORMATIVE DISPLAY SCREEN
The Display screen display most important vital stats i.e speed and battery percentage in very graphical manner to users. So its really safe and tells you when to step down and put the miniseg to charge.
Specifications
| | |
| --- | --- |
| WEIGHT | 15 kg |
| DIMENSIONS | 12 × 18 × 20 cm |
| CONTROL BOARD | Fourth Generation Super Intelligent Control Panel with US-based ST Chipsets. |
| BATTERY | Original 4.4ah 36V Pack (Samsung Cells) with Quick Charge 2.0 Battery Management System |
| MOTOR | 450W x 2 Dual Motors – Double Torque (100% Copper) |
| TYRE | 11″ Air-Filled Tube Type Tyre (Wheel Cup Also) |
| WARRANTY | 1-year warranty as per warranty details. (please refer to the warranty section) |
| RANGE PER CHARGE | 10-15KM (according to user weight load/ ground condition /weather) |
| CHARGING TIME | Quick charge 2.0 (1-2 Hours MAX) |
| MAXIMUM SPEED | 10-15Km/h (As per user weight load) |
| MAX LOAD CAPACITY | 110kg |
| MINIMUM LOAD | 15kg |
| BLUETOOTH | YES (Play Music by Connecting with any Bluetooth device) |
| FRONT LEDS | YES (White Projectors as well) |
| REAR LEDS | YES |
| WHEEL ARCH LEDS | YES |
| BATTERY INDICATOR | YES (With Display on Handle Bar) |
| LED WHEEL | NO |
| REMOTE | Optional |
| MOBILE APP | NO |
| BAG | NO |
| GRADEABILITY | 15Degrees |
| MATERIAL | Solid Aluminium Main Frame + ABS Body |
| NET WEIGHT | 19kg |
| DELIVERY TIME | Ready Stock – Same Day Quick Dispatch (Shipping time 2-4 Business Days) |