Description
Zhiyun Fiveray FR100C White or Black
For a perfect illuminated art creation, here comes ZHIYUN FIVERAY FR100C, a 100W light stick that combines great technique and outstanding accessibility. Shine bright, shine brilliantly for your creation with FIVERAY.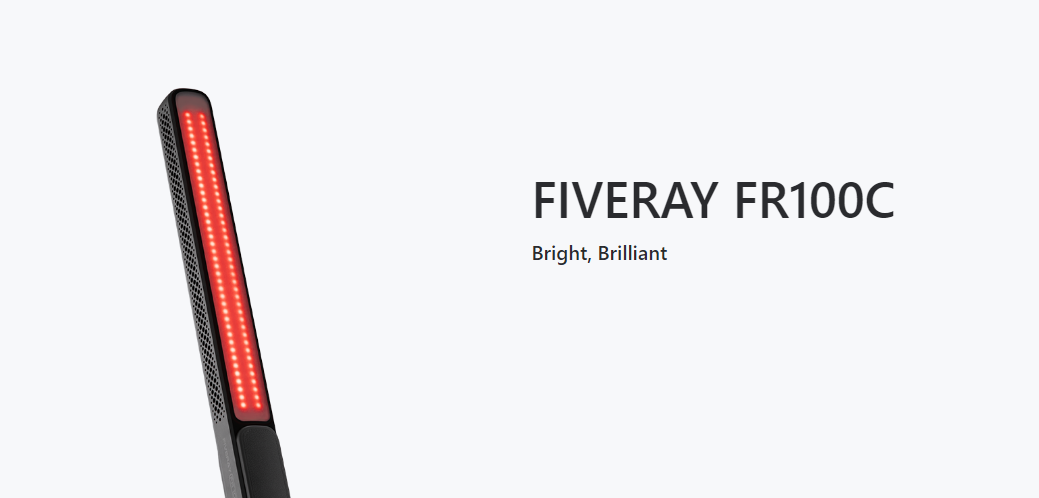 High Power with Two-Way Cooling
Integrating an advanced radiator and 6 fans inside, FR100C can reach up to 20708 lux at its 100W max power with intelligent temperature control and overheat protection, satisfying various professional shooting scenarios. The sophisicated power distribution technology prevents the light stick from generating too much heat while in high power.
*The above data is gathered when the brightness value is set at 100% and the test distance is 0.3m. The fans are enabled automatically when the power exceeds a certain level. The MAX mode is the full power mode. The peak power output in 4000K is 100W. Under MAX mode, when the brightness value is 100%, the power output reaches its peak.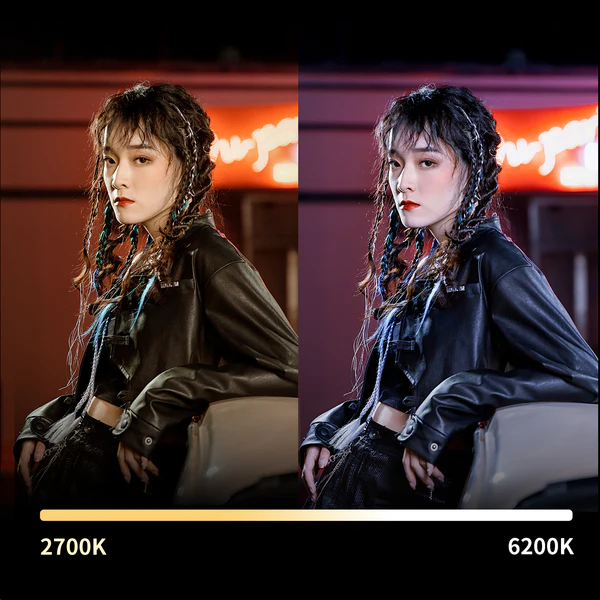 CCT Mode, 2700k to 6200k
Under CCT Mode, color temperature is adjustable from 2700K to 6200K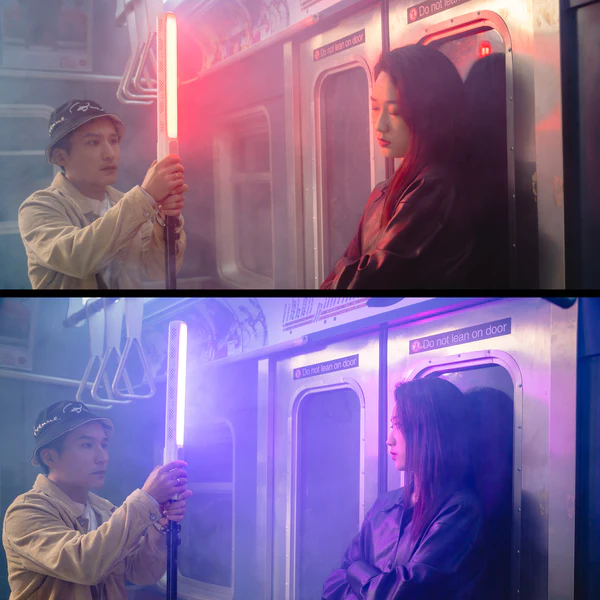 RGB Supported, Cinematic Coloring
Just one press to enter HSI mode. Use the control dial to adjust the H-Hue (0-360°), S-saturation (0-100%) and I-Illuminance (0-100%). Create any atmosphere as you may want.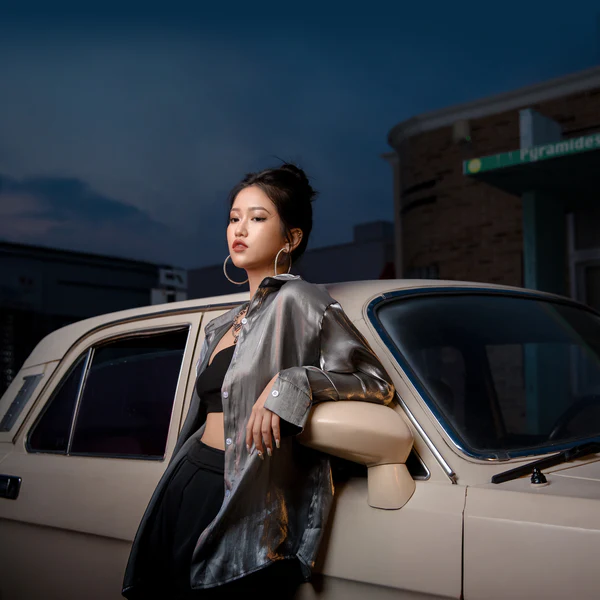 High CRI & TLCI
Offers professional color rendition even in RGB mode and high brightness with CRI≧96 & TLCI≧97. Creating a natural and authentic lighting environment.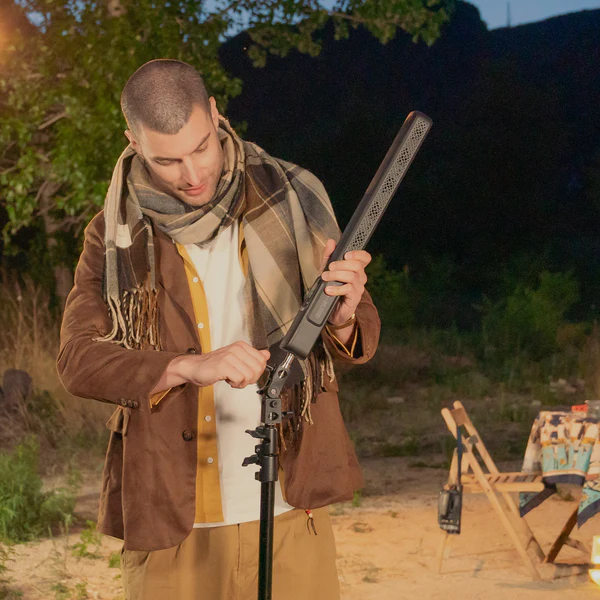 Versatile for Different Settings
With a 1/4″ screw hole on the bottom, FR100C can be mounted on the holder, H stand, tripod and light stand, fitting in various filming settings for lighting solutions.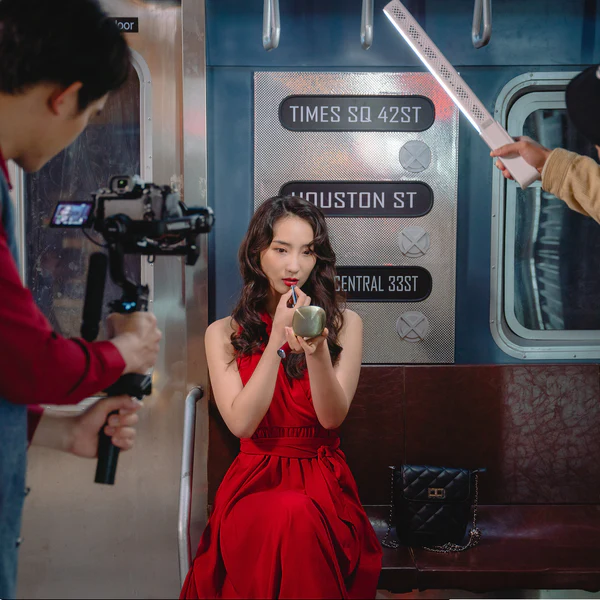 Artistic Lighting on the Go
Combined with ZHIYUN handheld gimbals, you could not only get buttery-smooth footage but also stable and soft lighting, even in the dark outdoor environment like commercial production, Vlogging, filming, livestreaming and light painting etc.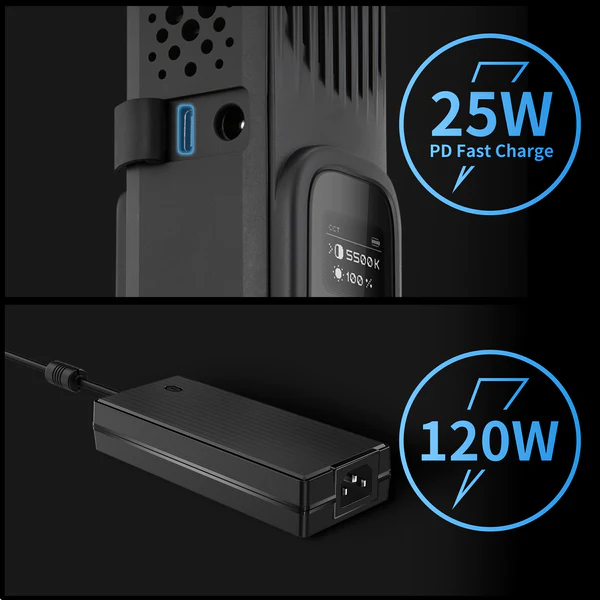 Dual Charging Solution: Fast & Reliable Power Support
1. Supports 25W PD Fast Charge via a Type-C port.
2. With the 120W switching adapter, you can continuously use FIVERAY FR100C while charging it. The power supply technology in the light stick ensures a 100W output while charging and using safely.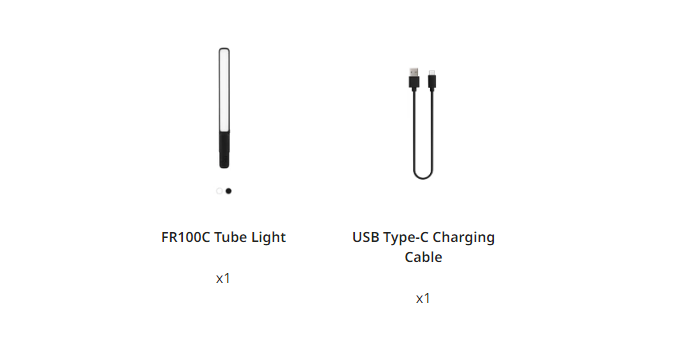 Specifications
Item
Built-in Battery Capacity: 6S/2600MAH
CCT Mode Power: 50W+50W
Color Temperature Range: 2700K~6200K
Max Power Mode 4000K/100% Illuminance (LUX): 2200 (in 1 meter)
TLCI Index: ≥97
CRI Index: ≥96
Product Size: 502*46*47(mm)
Net Weight: 920g
HSI Mode: H: Hue 0°~360°; S: Saturation 0~100%; INT: Intensity 0~100%
Power Adapter Output Voltage/Current: 24V/5A
Extension: 1/4″ Threaded Hole
Zhiyun Fiveray FR100C White or Black