Description
Canon EOS 1500D DSLR Camera
Boost up your camera experience as the Canon EOS 1500D 24.1MP DSLR Camera features good delivering efficient performance. It's compact and light in weight. For expert users, the huge 24.1MP APS-C size CMOS sensor, comparable to that of Canon's DSLRs, catches a lot of light information, which the quick DIGIC 4+ image processor processes to generate high-quality photographs with lovely color gradations. Even images captured in low light with a high ISO speed have little to no noise. The capacity to produce the shallow depth-of-field required for producing photographs with natural background blur is also made possible by the big sensor size.
Capture Every Detail with 24.1 Megapixel CMOS Sensor
Image Enlargement: After shooting, you can enlarge photographs of the objects for clear zoomed view. Change In Aspect Ratio: Boldly crop the subject and save it with a composition that has impact. You can convert it to a 1:1 square format, and after shooting you can create a photo that will be popular on SNS.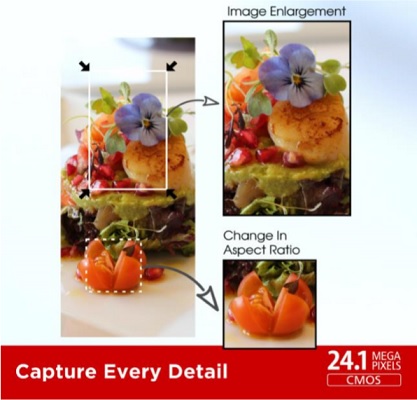 Beautiful Bokeh Effect-Significant Background Blurring
A combination of an APS-C size CMOS sensor and a imaging processor that delicately depicts every single hair produces high-quality images that beautifully blur the background and enhances the subject.The sensor has sufficient size, high image quality, and makes rich photo expression possible by beautifully blurring the background.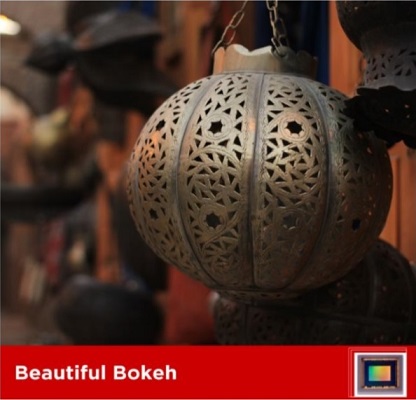 Delicate & High Quality Images with Digic 4+ Imaging Processor
An imaging processor that powerfully processes the vast amount of light data received by the APS-C size CMOS sensor, completes it with high definition and a high level of gradation. It produces delicate, natural and high-quality images with little noise.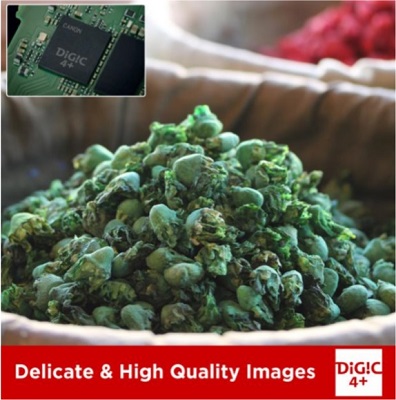 Superb Clarity even in Low Light with High ISO Speeds and Low Noise
Canon 1500D is equipped with a sensor and a High-performance imaging processor that can capture the impression as it appears with High Sensitivity, rich gradations and image clarity even in dimly lit scenes.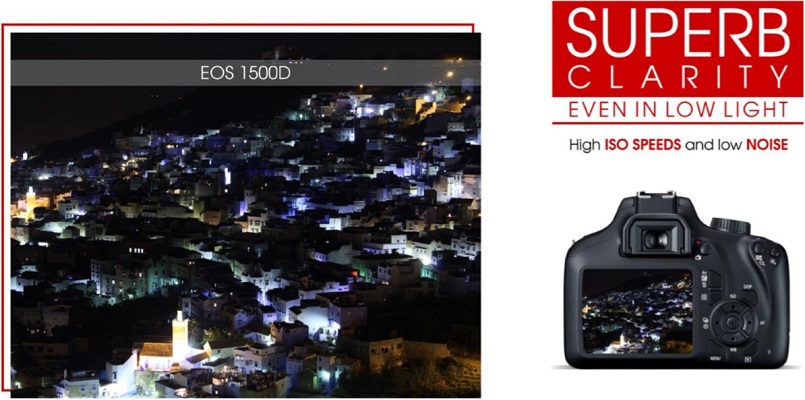 Wi-Fi / NFC-Easy pairing with smartphones, printers and other devices
Pair your camera and smartphone via Wi-Fi / NFC and the Camera Connect App, and you can easily use your smartphone to browse, save and upload your camera images to social media, or to carry out remote shooting-great for self-portraits and group photos. You can also wirelessly transfer files to printers and other cameras through direct pairing, or to TV sets via the Connect Station CS100.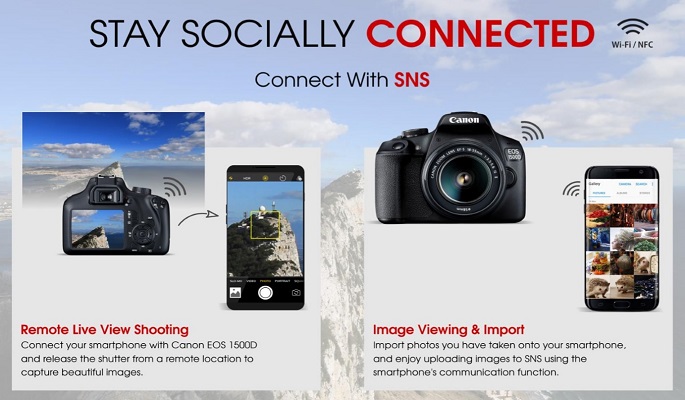 | | |
| --- | --- |
| Brand | ‎Canon |
| Manufacturer | ‎Canon Inc., value:No.18, Chen Kuo Road, Tan Tzu Dist, Taichung City, Taiwan |
| Model | ‎Eos 1500D |
| Model Name | ‎EOS 1500D |
| Product Dimensions | ‎22 x 16.5 x 14 cm; 1.24 Kilograms |
| Batteries | ‎1 D batteries required. |
| Item model number | ‎Eos 1500D |
| Flash | ‎EF S18-55 IS II,Strap, Battery Charger, Battery Pack, AC Cable |
| Digital Storage Capacity | ‎64 GB |
| Resolution | ‎Value:full hd (1920×1080) |
| Compatible Devices | ‎Smartphone,Connect Station,wi-fi printers. |
| Special Features | ‎Built-in Monaural Microphone, Sound-Recording Level Adjustable, Wind Filter Provided |
| Mounting Hardware | ‎EF S18-55 IS II, Strap, Battery Charger, Battery Pack, AC Cable |
| Number Of Items | ‎6 |
| Display Technology | ‎LCD |
| Standing screen display size | ‎3 Inches |
| Display Type | ‎Resolution_maximum:[value:1080p Full HD ], size:[unit:inches, value:3 ], technology:[value:LCD ] |
| Image Stabilization | ‎Optical |
| Has Image Stabilisation | ‎Yes |
| Optical Zoom | ‎3 x |
| Resolution | ‎1080p Full HD |
| Max Resolution | ‎24.1 MP |
| Horizontal Resolution | ‎1920 Pixels |
| Optical Sensor Resolution | ‎24.1 MP |
| Max Vertical Resolution | ‎1080 Pixels |
| Maximum Shutter Speed | ‎767011 Seconds |
| Minimum Shutter Speed | ‎30 Seconds |
| Min Focal Length | ‎18 Millimeters |
| Video Capture Resolution | ‎1080p |
| Batteries Included | ‎No |
| Batteries Required | ‎No |
| Battery Cell Composition | ‎Lithium Ion |
| Continuous Shooting Speed | ‎3 fps |
| Connector Type | ‎WiFi |
| Device interface – primary | ‎Touchscreen |
| Material | ‎Polycarbonate |
| Form Factor | ‎Hand held |
| Flash Modes Description | ‎Compatible with EX-series Speedlites |
| Lens Type | ‎Zoom, Wide Angle |
| Mounting Type | ‎EF-S Mount |
| Viewfinder Type | ‎Optical |
| Has Self Timer | ‎Yes |
| Includes External Memory | ‎No |
| Manufacturer | ‎Canon Inc. |
| Country of Origin | ‎Taiwan |
| Imported By | ‎No.18, Chen Kuo Road, Tan Tzu Dist, Taichung City, Taiwan |
| Item Weight | ‎1 kg 240 g |
Canon EOS 1500D DSLR Camera