Description
GARMIN Forerunner 955 Solar Smartwatch
Get the future of smartwatch on your wrist by getting the Garmin Forerunner 955 Solar Smartwatch with GPS. making a push for the podium? Put on your wrist this thin smartwatch. Put yourself in the running for the win at your next race by training and competing at your very best. Made for medals this smartwatch comes loaded with numerous fitness features that keep you moving. It comes with training readiness, morning report, HRV status, race widget, daily suggested workouts, Garmin coach, running power, real-time stamina, running dynamics, training status, acute load, training effect, pacepro feature, recovery time, vo2 max, performance condition, sync training plans, built-in sports apps, visual race predictor and more. With this amazing watch go the distance and know the distance as it comes equipped with an amazing navigation feature.
OUTSHINE THE COMPETITION
Pushing toward the podium? Get this lightweight smartwatch on your wrist. Train your best, perform your best, and outlast the pack with a Power Glass solar charging lens to extend battery life.

SOLAR POWERED BATTERY
Get up to 20 days of battery life in smartwatch mode with solar charging1. In GPS mode, get up to 42 hours and up to 49 hours when solar charging2. With UltraTrac mode, go even longer with up to 110 hours when solar charging2.
TOUCHSCREEN AND BUTTONS
Click or swipe through maps and stats with traditional button controls or a new, responsive touchscreen.
TAILORED TO THE DEDICATED
Clocking in at just 53 grams, the Forerunner 955 smartwatch will keep you light on your feet and attuned to your body.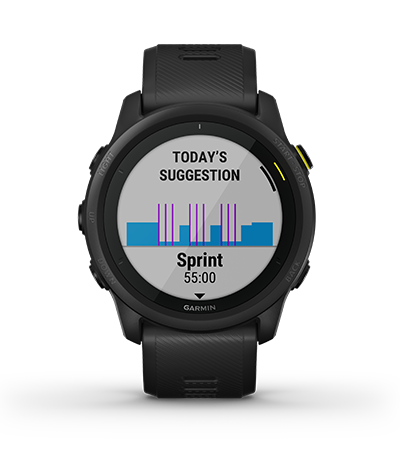 DAILY WORKOUT SUGGESTIONS
For training guidance that takes you and your fitness level into account, get daily run and ride recommendations based on your current training load and training status.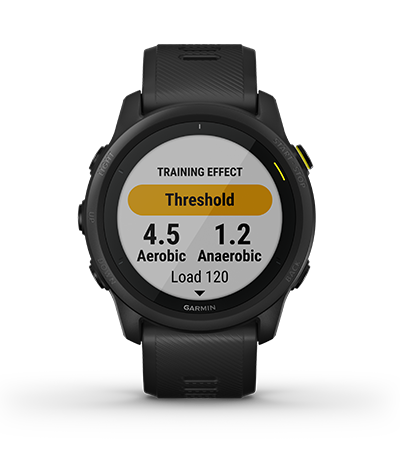 TRAINING EFFECT
See how your workouts influence the development of endurance, speed and power with aerobic and anaerobic training effect feedback.
RECOVERY TIME
After each workout, recovery time lets you know when you'll be ready for another hard workout. It even accounts for training intensity and factors such as stress, daily activity and sleep.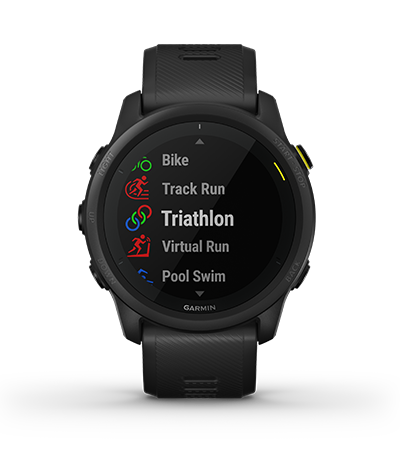 BUILT-IN SPORTS APPS
Get built-in activity profiles for running, cycling, triathlon, pool and open water swimming, track running and more. For races and brick workouts, switch sports with just one button press.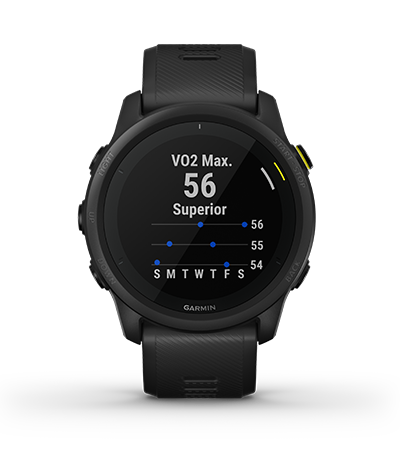 VO2 MAX
Train smarter with VO2 max, an indicator of how you can expect to perform. This metric even accounts for changes in performance that could be caused by heat or altitude.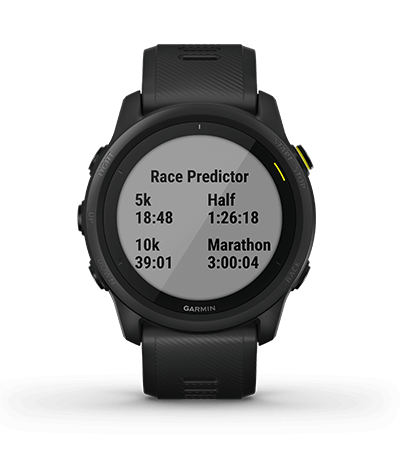 RACE PREDICTOR
This specialized tool takes into account your fitness level and training history to help you work toward your race goal and see the impact of training on your predicted finish time.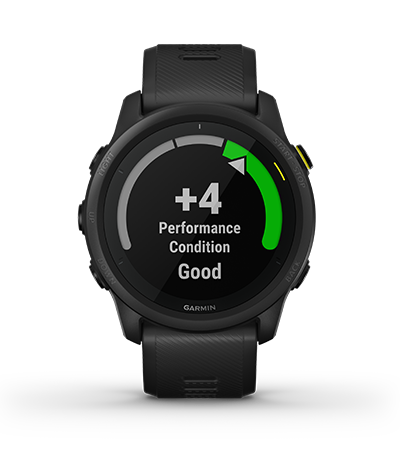 PERFORMANCE CONDITION
While you run, Forerunner 955 Solar analyzes pace, heart rate1 and heart rate variability for a real-time assessment of your current ability to perform.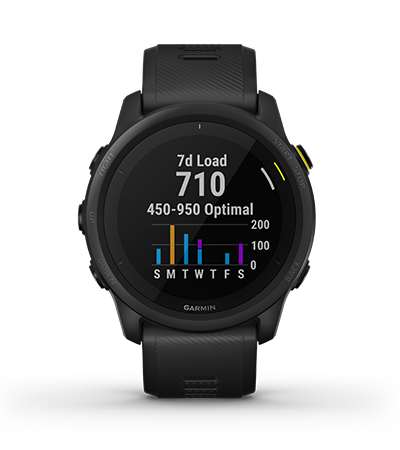 TRAINING LOAD
This stat measures your exercise volume from the last 7 days and compares it to the optimal range for your fitness and recent training history.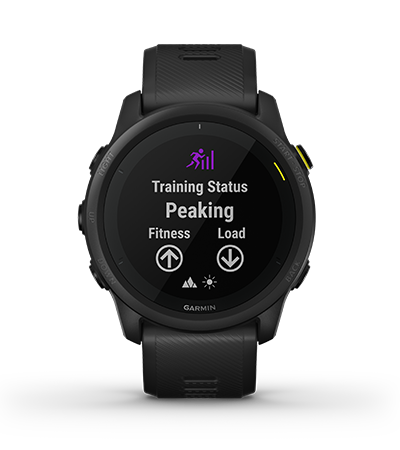 TRAINING STATUS
This metric evaluates your recent exercise history and performance indicators to let you know if you're training productively, peaking or overreaching.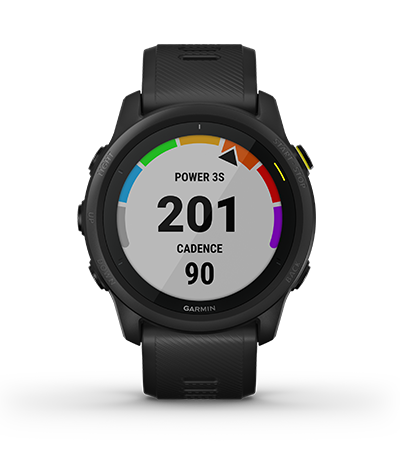 CYCLING POWER
Connect to a compatible Garmin power meter (sold separately) to work toward a more efficient ride with help from cycling dynamics, FTP and advanced training methods.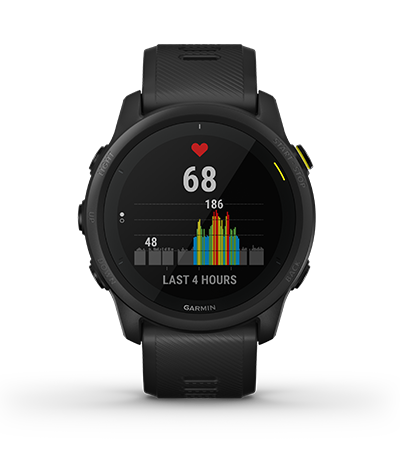 WRIST-BASED HEART RATE
Get hassle-free heart rate data1, including advanced heart rate alerts and other features, to help you get the most out of your workouts.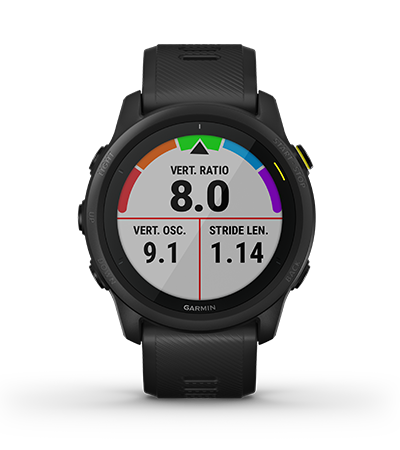 RUNNING DYNAMICS
When used with a compatible accessory2, Forerunner 955 Solar measures crucial running metrics such as cadence, stride length, ground contact time and balance and more.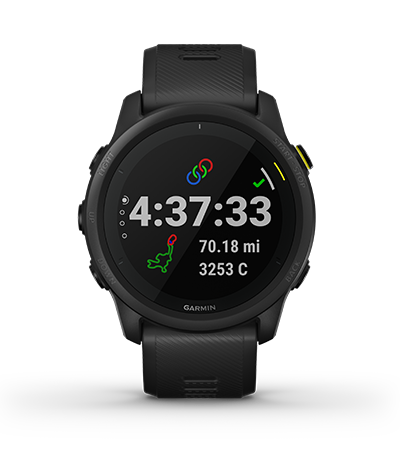 MULTI-GNSS
Access multiple global navigation satellite systems (GPS, GLONASS and Galileo) to better track in more challenging environments than GPS alone.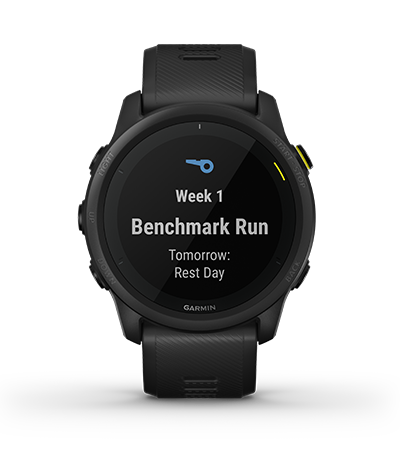 GARMIN COACH
These free adaptive training plans feature guidance from expert coaches and adapt to you and your goals. Workouts sync right to your watch.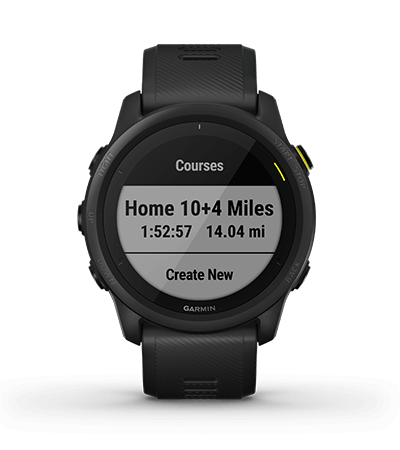 CREATE MORE COURSES
Create courses in our Garmin Connect app3, so you'll never run out of places to run. Or plan one on other platforms such as Strava and Komoot, then automatically sync them to your Forerunner.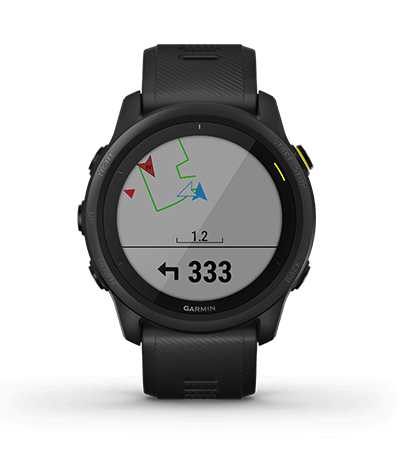 TRENDLINE POPULARITY ROUTING
Using the billions of miles of data that runners and riders have uploaded, Garmin Connect can find the best route — choosing from roads (and trails) most traveled.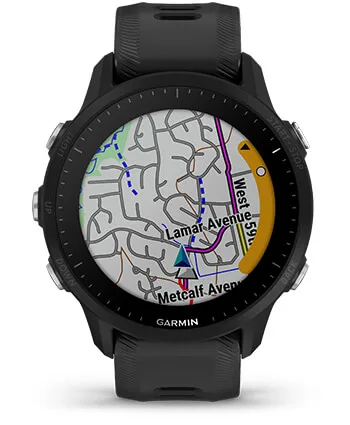 MULTI-BAND SUPPORT
Access multiple global navigation satellite systems, and get access to multiple frequencies sent by navigation satellites for improved accuracy in areas where GNSS signals are reflected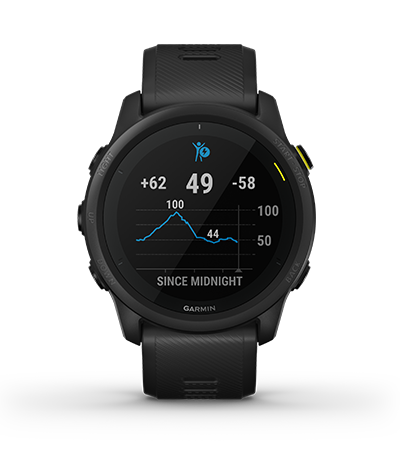 TURN-BY-TURN NAVIGATION
Follow a course with help from turn-by-turn directions, which let you know ahead of time when the next turn is coming.
| | |
| --- | --- |
| Age Range | ‎Youth |
| Batteries Included | ‎Yes |
| Brand | ‎Garmin |
| Color | ‎Black |
| Compatible with | ‎Smartphone |
| Display Size | ‎1.3 Inches |
| Included Components | ‎Watch, Charging Cable, Manual |
| Shape | ‎Round |
| Material Type | ‎Plastic |
| | |
| --- | --- |
| Number of Items | ‎1 |
| Size | ‎M |
| Features | ‎GPS |
| Sport | ‎Running |
| Style | ‎Modern |
| Wattage | ‎15 Watts |
| Manufacturer | ‎Garmin |
| Country of Origin | ‎Taiwan |
Garmin Forerunner 955 Solar
Garmin Forerunner 955 Solar Review