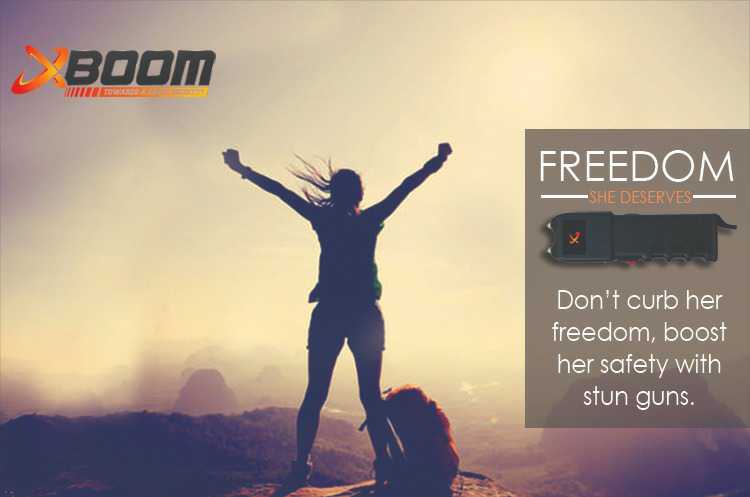 Knowing self-defense is something that everyone needs to know including what rights they have at protecting themselves and their loved ones from harm, like can they use any self-defense devices like stun guns and other safety tools.
Our Mission at XBOOM is to provide our customers with powerful self-defense devices and the knowledge needed to choose the best defense product for any unforeseen situation. We supply you with the information and tools needed to make an informed purchase, ensuring that you are receiving the right self-defense option for your needs.
In today's scenario, stun guns have become an essential gadget for girls. To make a safe and free environment for the girls and anyone and everyone, we provide you with a wide range of Stun Guns for your safety.
Stun guns are non-lethal weapons that pass an electric current to the attacker rendering them unable to attack or dazzled for up to 10 minutes depending on the intensity of the current.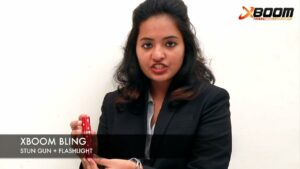 Most of the parents do not allow girls to travel alone or at night, mostly because of the society we've come to live in, which is filled with a lot of miscreants. We offer you just the right products for the safety of your girls, so you don't have to curb their freedom.
So, why curb her freedom when you can gift her both safety and freedom. Let your girls be brave and live their life while they also teaching miscreants out there how to behave! With our stun guns, you can totally relax knowing that your daughter is safe.
XBOOM stun girls are small and pocket-friendly. Just check out the variety of products:
     1. Stun gun with 3.8 million volts electric shock
–
Electra is an ingeniously concealed self-protection device. At first glance, it looks like a simple torch but it is way more than that! Just look at what else it can do:-
Generates a non-lethal electric shock of 

3.8 million volts

.
Has an instant effect of immobilization.
Disables the attacker for up to 5 minutes, allowing you time to escape or get help.
Boasts of an incredibly powerful flashlight of 210 lumens that can be directed up to 200 meters to help you navigate in the dark.
Can handle up to 1000 recharges.

Comes with a built-in safety lock feature to prevent accidents.
    2. Electra Stun gun cum flashlight –
Electra- Stun gun cum Flashlight, is a powerful 2 in 1 self-defense weapon used by men, women, security personnel, or senior citizens. It is a proximity self-defense device that uses high-voltage electricity to stop an attacker by momentarily disabling muscle control. 
     3. Stun guns with 6.8 million volts electric shock
–
Electron+ is a cleverly designed self-protection device. The design conceals a heavy-duty stun gun that uses high voltage electricity to momentarily paralyze an attacker.
High capabilities as an AC discharge circuit.
LED flashlight saves energy and is highly durable.
Aircraft-grade aluminum, HA III anodic oxidation
This is not all! At XBOOM, we carry a variety of high-quality stun guns available for online purchase and doorstep delivery! We carry models that range from the regular stun gun that is depicted in movies and TV shows, to complex models that expand from a baton into a stun gun cum flashlight. These stun guns are non-lethal and very effective. They generate high electric shock to paralyze the attacker for 3-5 minutes. Stun guns are a must-have security gadget for anyone looking to protect themselves against rising crimes like rape, molestation, harassment, physical attacks, robbery, chain snatching, theft, and abductions.
With the increasing instances of cases like Molestation, Rape, Harassment, and physical abuse, stun guns are a must-have for you and your children, especially girls.
So, why stun guns? Here are a few reasons:
Personal security for ladies, travelers, senior citizens.

Helps to enhance the security capabilities of security personnel.

Protects the assets and cash carried by transporters, cash collectors, and logistics delivery agents.
How do I use stun guns?
The device is built to be straightforward: you have a toggle switch that allows three modes:
The switch is moved to the front to function as only an LED flashlight. The stun gun cannot be used in this mode.
The switch is in the middle preventing the accidental use as either a torch or a stun gun.
The switch is moved to the back end to prepare the stun gun for use. The electric impulse is activated by pressing down the round button on the body of the torch. The torch does not function in this mode.
The stun gun needs to make contact with the attacker's body to be effective, sending a wave of electric shock through their body, without an actual injury. The goal is to prevent the attacker from getting to you and to give you time to regain control of the situation.
The effects are not meant to be permanent; the attacker will regain full functioning within a maximum window of 10 minutes. The device comes with a charging cable, and a red LED bulb – which glows when correctly plugged in.
So, Stun Guns are very important to have in today's scenario, and here at XBOOM, we offer you a lot of options and types of Stun Guns that you or your children might require.